Wednesday, Aug 14, 2013 | Place: Mumbai | Agency: DNA
66 years after Independence, it is still not Mera Bharat Mahaan for crores of Indians.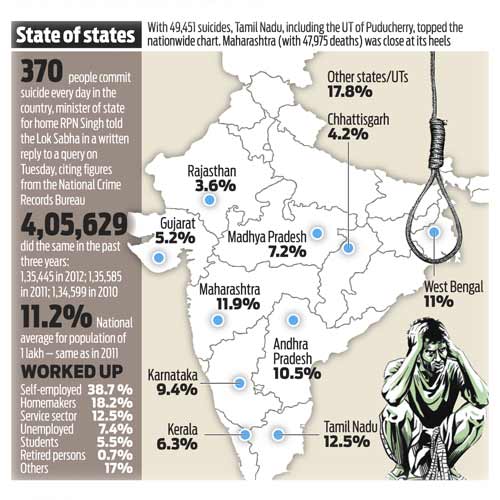 To Rambhau Bapurao Borkhede, Madhukar Gangaram Shivnakar, Gajanan Hiranna Gatkawar and Hirendra Tahkare, freedom was probably an idea in abstract. Tied to their land, the four farmers from the Vidarbha region killed themselves over a span of just 48 hours, beginning Monday, when their crops failed them twice.
With their deaths, the toll of farmer suicides in the state this year rose to 518.
The western strip of Vidarbha has been ravaged by one of its worst floods in recent times, with Washim and Yavatmal districts, where the four farmers lived, bearing the brunt.
While Borkhede hailed from Sawali village in Manora tehsil of Washim district, the other three were from the Ralegaon tehsil in Yavatmal — Shivnakar from Dahegoan village, Gatkawar from Wanjari village and Tahkare from Kosdani village.
The floods, which killed about 170, left over a lakh homeless.
Standing paddy, soya and cotton crops in over 5 million hectares of land were flattened twice in succession, leading to a collective loss of over Rs20,000 crore.
Help, too, is a distant dream. Maharashtra chief minister Prithviraj Chavan, who visited the region on July 28, had announced a Rs2,000-crore relief package, but nearly a fortnight later, the local district administrations have not even begun conducting surveys to identify the beneficiaries, alleges farm rights activist Kishore Tiwari of the Vidarbha Janandolan Samiti.
Vidarbha lies at the heart of the worst agrarian crisis in the country. "More than 10 million people in rural Vidarbha are facing difficulties without food, electricity and health care. People are angry and want the government to act quickly and provide them relief," says Tiwari.
Taking a swipe at the government's repeated assurances for aid, Tiwari says, "If this is the promptness with which the government reacts at a time when passions on a separate Vidarbha are high, you can imagine the apathy otherwise."
In areas where surveys have begun, farmers allege that the administration is trying to make losses look smaller. "Fights between revenue officials and farmers, who feel cheated, are only adding to the rising political temperature of the region," says Tiwari.
Repeated attempts to get a reaction from Chavan drew a blank.