In a photograph taken at the meeting, Hari Krishan alias Kasooru can be seen with Singh and sitting BJP MLAs of Kishtwar, Doda and Bhaderwah in Jammu and Kashmir
Written by Arun Sharma | Jammu | Published:March 14, 2016 4:35 am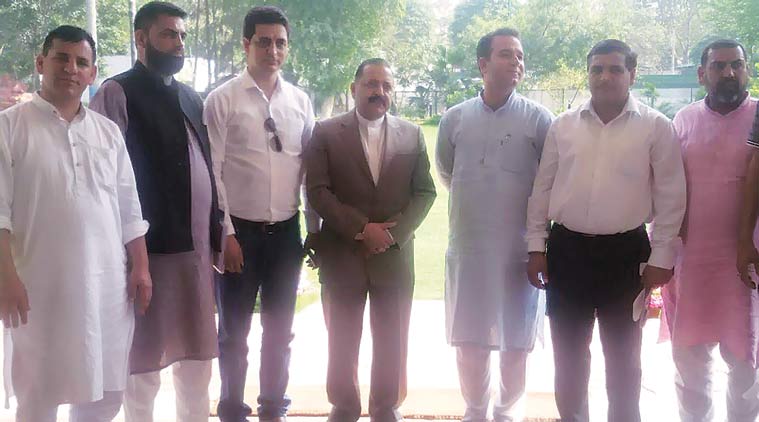 Singh (centre) with Kasooru (extreme right) at his houseWANTED by the Jammu and Kashmir Police for a murder during the 2013 communal clashes in Kishtwar, and declared an absconder by court, a BJP leader from Paddar surfaced at the official Delhi residence of Minister of State in the PMO Dr Jitendra Singh on Friday.
In a photograph taken at the meeting, Hari Krishan alias Kasooru can be seen with Singh and sitting BJP MLAs of Kishtwar, Doda and Bhaderwah in Jammu and Kashmir.
Kasooru and nine others are accused of murdering 52-year-old Lassa Khandey during communal clashes in Kishtwar around Eid in 2013. Khandey was accompanying his injured son and brother in an ambulance to Gulabgarh, from where they were to be airlifted to the Udhampur Military Hospital. A mob had attacked the ambulance en route and abducted Khandey. His body was found by police next day.
Denying any connection with Kasooru, MoS Singh said he was part of a delegation from Paddar brought to him by local Kishtwar MLA Sunil Sharma. He said the delegation was seeking Scheduled Tribe status for some people in Paddar area in Kishtwar.
"We meet a large number of delegations daily and many of the people are not known to us," Singh said.
Sharma, who was a minister in the PDP-BJP coalition government, urged The Indian Express not to carry the news report of Kasooru being part of a delegation led by him, saying, "It is not proper to speak about own people."
Kasooru incidentally had campaigned for both Sharma and Singh during the 2014 Assembly elections and the general elections, respectively. Kishtwar is part of the Udhampur parliamentary constituency from where Singh was elected.
BJP Doda MLA Shakti Parihar, who is seen in the photograph along with Singh and Krishan, also denied knowing Kasooru. Talking about Sharma, BJP Bhaderwah MLA Dileep Parihar and himself, Shakti Parihar said, "We had gone to Delhi to meet Union Minister for Road Transport and Highways Nitin Gadkari to apprise him that roads in the Chenab Valley region had not been covered in the recently released Central Roads Fund. After meeting Gadkari, who assured the release of funds in April, we went to meet Dr Jitendra Singh. A delegation from Paddar including Krishan was already there. I do not know him. Someone may have taken his photograph along with us."
The other leaders in the photograph are Tariq Hussain Keen and Showkat Daing, who had contested the 2014 Assembly elections as BJP nominees from Inderwal and Banihal but lost.
Significantly, this is not the first time a person wanted on charges of murder in connection with the 2013 communal clashes in Kishtwar has been seen rubbing shoulders with senior BJP leaders. In May 2015, Rohan Lal, wanted for burning alive one Bashir Ahmed Moochi, was seen watching a cricket match in Kishtwar town along with then Minister of State for Revenue and Roads & Buildings Sunil Sharma.
Roshan Lal had left the venue along with the minister before police got alerted to his presence, and remains absconding.
Kishtwar Senior Superindent of Police Sandeep Wazir admitted that of the nearly three dozen people wanted for murder during the Kishtwar riots, only seven had been arrested so far. Of them, two are out on bail.
"Police parties have been raiding the suspected hideouts and native places (of the absconding 29) from time to time, but they have not been traced so far. Local sources say they have left the district," the SSP, who took charge four months ago, said
While police booked over 300 others on charges of arson and looting, even of those, only a few could be arrested and challenged. http://indianexpress.com/article/india/india-news-india/wanted-for-riot-murder-jk-bjp-leader-surfaces-at-mos-pmo-house/