In India and Nepal, agents and middlemen charge up to £1,000 in illegal fees to recruit workers for World Cup 2022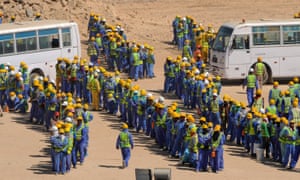 A group of young men jump to attention as Vishnukanth Thapar nonchalantly sweeps past to open the front door of the Career Wings travel agency. Seconds after stepping into a shabby, ground-floor office he stops at a wooden shrine adorned with Hindu deities, bowing his head and joining his hands to pay obeisance before the day's work begins. There is a lot to be thankful for.
The men are summoned, gathering around a large wooden desk as they provide verbal CVs and contact details. Today's offering includes eight bricklayers, three metal workers, six HGV drivers and a dozen labourers. As he busily scribbles notes, a bell rings on Thapar's mobile, announcing the arrival of an email, which he flicks open with his finger. After reading it, he looks up to proclaim: "I need drivers and labourers. Who wants to go?" They all hold up their hands.
Behind the benign name and a misleading advertising hoarding offering services such as Tourist PR (sic) and luxury holidays, accompanied by eye-catching photographs of London and Sydney, Career Wings specialises in an altogether different form of foreign travel. And business has never been so brisk, driven by Qatar's preparations for the 2022 World Cup, which has led to a construction boom and an unprecedented demand for labour in the Gulf state.
There are an estimated 1.8 million migrant workers already in Qatar, with 600,000 Indians and 500,000 Nepalese making up the largest number, followed by those from other south Asian countries. The gas-rich nation is spending about £400m a week on infrastructure projects, directly or indirectly related to football's most prestigious tournament, and the demand for labour is expected to increase over the coming year as work intensifies.
It all represents rich pickings for the likes of Thapar, whose business forms part of a flourishing, pernicious chain that begins in remote villages in India and other south Asian countries and ends on the bustling hi-tech construction sites of Qatar. Human rights activists describe it as a form of "modern-day slavery".
Located in Nawanshahr, in the north Indian state of Punjab, Career Wings is one of 150 unregistered recruitment agencies dominating the streets of the provincial town of almost 50,000 people. Middlemen often bring in potential workers from surrounding villages. Once recruiters like Thapar have taken their details, they are referred to registered agents in the city of Jalandhar nearby, who make the final arrangements and award the jobs.
Thapar demands £100 from each worker who secures a job through the agency he deals with in Jalandhar, which provides him with daily updates on the types of workers it requires. Village recruiters usually charge about £50. The main agencies demand between £400 and £800. The result is that workers can end up paying up to £1,000 or more in illegal commissions.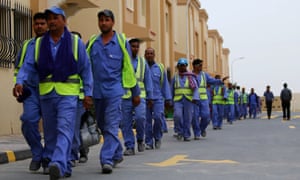 "I don't care what happens to them once they get to Qatar," Thapar says dismissively. "I just send them to the big agents in Jalandhar. I just feed the monster."
The treatment of migrant World Cup workers in Qatar returns to the spotlight this week when the International Labour Organisation debates proposals at its annual meeting in Geneva to force the country to implement labour reforms or face a commission of inquiry. This is the highest sanction of the UN agency, which is made up of trade unions, employers' groups and government representatives from 187 member states, including Qatar, India and other south Asia nations. Central to the demands for the inquiry is the recruitment process.
Sharan Burrow, general secretary of the International Trade Union Confederation, whose members sit on the ILO, said: "It is highly exploitative. Laws are not being enforced and nobody is policing the system. Those involved are making a fortune at the expense of the workers. We demand an inquiry because we believe that Qatar is not serious about addressing how migrant workers are treated in recruitment and other key areas."
Indian law states that only registered agents can recruit workers for jobs abroad and the maximum commission they can charge is £250 or the equivalent of 45 days' salary (whichever is less).
They are also not allowed to use unlicensed sub-agents, such as Thapar. All workers have to be provided with contracts before departure and agents also have to ensure that employers adhere to the stipulated pay and conditions.
For those hoping to go to Qatar, there is little awareness of their rights or knowledge about the 2022 World Cup. They are motivated by a golden opportunity to improve their lives by significantly increasing their pay.
In the village of Langroya, 10 minutes away from Nawanshahr, Arvinder Kumar, 25, is one of scores of young men eager to go to Qatar. He now earns £50 a month as a plumber and has been offered work by a recruitment agency promising him more than £350 a month. In return, it is demanding £500 commission.
Kumar is well aware of the pitfalls. His cousin Jaswinder recently returned after two years in Qatar. A qualified electrician, his contract said he would be paid £400 a month but he received just over half that. He stayed because he had a loan to pay off and because his salary was still six times more than what he earned in India.
Langroya and other villages across Punjab, a state that provides some of the largest numbers of migrant workers to the Gulf region, are awash with similar stories of workers being exploited by agents at home and employers in Qatar and its neighbouring countries.
"We all know that we are going to be cheated. First in India and then when we go abroad, so it doesn't matter what the law states because it won't make any difference. I don't know anything about the World Cup or football, I just know that there is work in Qatar," said Kumar. "But we are promised one thing and then get something completely different. Ultimately, it's just a question of fate and luck."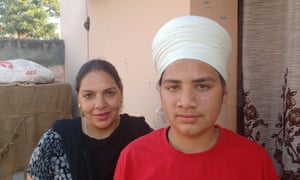 Paramjit Kaur Minhas has an equally resigned approach in her quest to contact the agent who sent her husband Saroop to Qatar last year and establish why he has not been paid for two months. He was charged £800 commission for a job as a lorry driver ferrying construction material which was supposed to earn him £425 a month, but this was reduced after he was involved in an accident and his employer docked part of his wages. In India he was earning £60 a month as a bus driver.
Minhas, 36, who lives in the village of Dahumunda with their children Gursharanpreet, 15, and Gurjot, five, said: "My husband had no choice but to go to Qatar because we have a family to raise and bills to pay and we couldn't survive on what he was earning here.
"Each time I ring the agent to ask why Saroop hasn't been paid, he just hangs up the phone or tells me he will look into the matter. My husband is too afraid to complain to his boss because he might lose his job. People are desperate in these parts, that's why they go abroad for work but it's disgraceful the way they are treated.
"The world needs to know what's going on but nobody is interested in helping us."
In neighbouring Nepal, the situation is equally perilous. Amnesty International is to publish a report on the recruitment of workers going to Qatar later this year and estimates that there are up to 80,000 unregistered agents, charging commissions as exorbitant as those in India. Under local law, these are meant to be capped at £76 and all workers are supposed to be issued with a free ticket and visa.
Angela Sherwood, Amnesty's migrants rights researcher, who spent several months travelling around Nepal to compile the report, said: "There are rules in place to regulate labour recruitment but governments are not putting any resources into implementing them. There is a need for better monitoring and we want the authorities in south Asia and Qatar to take action to reduce the vulnerability of migrant workers."
Campaigners claim that one of the main reasons why south Asian governments are reluctant to enforce existing laws or complain about how their citizens are treated in Qatar is because they are desperate for them to find work due to high unemployment. Migrant workers also play a crucial role in the economy. According to World Bank figures, last year Indians sent home almost £55bn, the bulk from the Gulf region, while foreign remittances account for almost 30% of Nepal's gross domestic product.
The recruitment process is only one of a number of criticisms levelled against Qatar over the World Cup. Others include workers being underpaid, poor living and working conditions and the kafala sponsorship system, which prevents them from changing jobs or leaving the country without the employer's permission.
The ITUC claimed in December 2015 that as many as 7,000 migrant workers will die on World Cup-related projects by the time the tournament kicks off, which was denied by the Qatari government. A report by Amnesty International last March, which focused on migrant workers building the Khalifa International Stadium in Doha, which is expected to host World Cup matches all the way up to the semi-finals, found they were living in squalid accommodation, with the majority not being paid for several months and employers confiscating their passports and not issuing them with exit permits to return home.
In response to mounting pressure, Qatar announced a number of reforms last December heralding that it had ended the kafala system. The government said at the time that it was committed "to the development of a labour system that is fair to employers and employees alike. These legislative changes, combined with ongoing enforcement and a commitment to systemic reform, not just in Qatar but also in countries of origin, will ensure workers' rights are respected across the entire labour pathway."
Critics protest that the reforms have been little more than window dressing and that considerable loopholes remain, meaning the kafala system and other repressive labour laws exist under different names. Trade unions remain banned, while employers are still able to stop workers from changing jobs for up to five years. Passport confiscation, officially outlawed, is also permissible under certain circumstances.
Trade unionists also claim that no action has been taken to address the recruitment process, which they want to be managed by credible international agencies operating to the highest corporate standards. As the wealthy, influential player in the labour chain, they insist that Qatar is best placed to enforce change.
Kasi Ram (not his real name), a trade union organiser working secretly in Qatar, said: "It is Qatar that needs the workers and is in the best position to ensure that they are treated properly and fairly because, compared to India and Nepal, it is far richer and more powerful. But these are reforms in name only, the reality is that nothing has changed on the ground. The workers are exploited every step of the way, from the moment they step into a recruiting agent's office right up to living and working in Qatar."
The Indian government maintains that it is implementing a number of measures to clamp down on rogue labour recruiters, such as instructing state-level police to take action and doubling agent registration fees to £60,000. However, its own figures show that only 24 prosecutions took place over the past three years, despite almost 700 complaints.
Qatar, meanwhile, has been vociferously lobbying ILO members in the run-up to this week's debate to persuade them to drop demands for an inquiry, arguing that its reforms will take time to "bed in". It also continues to push ahead with its nine new state-of-the-art, temperature-controlled stadiums, an entire city outside of Doha, shopping malls, transport links, several roads, a new central sewage system and 20 skyscrapers.
With an estimated final cost of £160bn, the 2022 World Cup is expected to be the most expensive in the tournament's history, but those being recruited to transform Qatar's football dream into reality are already paying a high price.
QATAR IN NUMBERS
1.8 million. Total number of migrant workers estimated to be involved in World Cup projects, directly or indirectly.
2.1 million. Total number of migrant workers in Qatar.
2.67 million. Overall population of Qatar, an increase of 64% since 2010 when the country was awarded the 2022 World Cup, mainly due to an influx of migrant workers.
60% of Qatar's population live in labour camps, the overwhelming majority single men from south Asia.
9 new World Cup stadiums being constructed and three existing stadiums being renovated in addition to other major developments.
£400 million per week being spent by the Qataris on World Cup infrastructure projects.
1,800 The number of migrant workers who died in the three years to 2014, according to a report commissioned by the Qatari government.
7,000 The number of migrant workers who will die on World Cup-related projects by the time the 2022 tournament gets under way, according to the International Trade Union Confederation.
£101,406 Qatar's average per capita income, according to the World Bank and International Monetary Fund, making it the richest country in the world.
£475 The average monthly salary for Indian construction workers doing 60 hours a week, according to the International Labour Organisation.
£262 The average monthly salary for a Nepalese working about 70 hours a week.
https://www.theguardian.com/world/2017/mar/19/qatar-world-cup-workers-india-nepal-cheated-deceived?CMP=share_btn_link