Three killed in north Dinajpur: Lynched as cattle smugglers, family say they were construction workers
Heavy police force has been deployed in local markets and streets of Chopra post the lynching of Delhi construction workers alleged to be cattle smugglers by violent and unruly mob at Durgapur village of North Dinajpur district.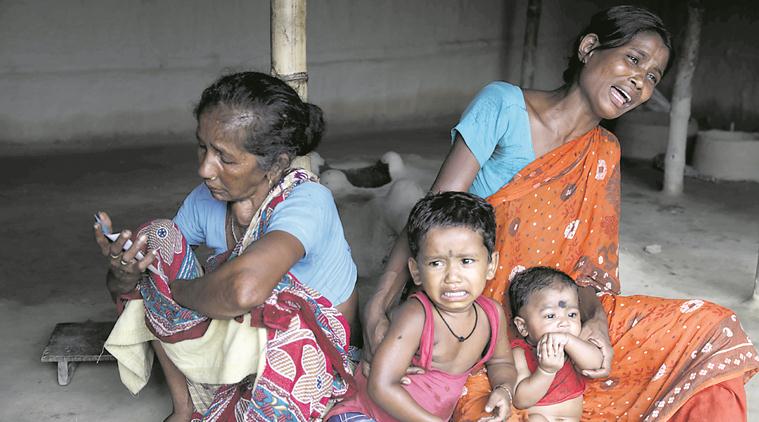 Md Nasiruddin's wife, children and mother Zarina Begum (left). Partha Paul
Md Ashin Ali (60) lost his son on Thursday night. Suspected of being a cattle thief, Md Nasiruddin was lynched in Durgapur village of North Dinajpur district. "He was a construction worker and also sometimes used to work as a day labourer. That evening, around seven, he received a call and went out. Next day afternoon, we were told of the incident," said Ali, a resident of Dhulagach village under Islampur police station. Along with Nasiruddin (24), Nasirul Haque (28) and Mohammad Samiruddin (32) also fell victim to the mob under Chopra police station.
"We have already made arrests in the case. The three who were lynched were cattle thieves and they had a record," said Amitkumar Bharat Rathod, SP of North Dinajpur. But the father differed.
"Please ask anyone in the village if he ever stole anything. He had a clean record," said Ali, who lodged a general diary with the police thereafter.
Nasiruddin left behind his parents, wife Aneesa Begum and their four-month-old son.
Under the neighbouring Chopra police station are the Kutipara and Kandarpara villages where Haque and Samiruddin were from, respectively.
"My husband, like his brothers, worked in Delhi as construction worker. He was supposed to leave for Delhi after Eid. I feel like killing myself. He went out last evening after a phone call. The three (who were killed) knew each other and sometimes worked together," said Marjina Khatun, Haque's wife who is pregnant. Samiruddin's family, meanwhile, suffered their second tragedy. Four years ago, his elder brother Alam had gone missing in Delhi.
"My husband used to run a business of making concrete slabs. He was the only bread earner of the family of five, including an old father, his brother's wife and three of us (two children aged seven and 11). He was planning to buy an auto soon," said wife Husnera Begum.
Reports of cattle smuggling out to neighbouring Bihar and Bangladesh is quite common in the Islampur-Chopra area. The area remained tensed on Sunday. Heavy police was deployed in local markets and streets.
"Last year almost on the same time clashes erupted between Hindus and Muslims in Chopra area after miscreants vandalised a rath. Though no one was killed, but shops were ransacked. After this incident we are all living in fear," said Rafiqul Alam, a local resident.
ss.com/article/india/three-killed-in-north-dinajpur-lynched-as-cattle-smugglers-family-say-they-were-construction-workers-4721861/