Yogesh Pawar
day, 22 July 2014 –  | Agency: DNA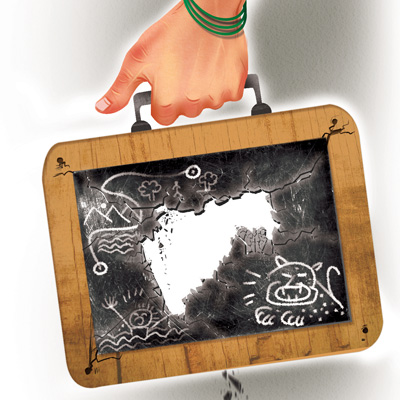 Assam diaries
On April 8 2014, 11- year-old Radhika Gurung, studying in Class IV, was returning from school nearly 7 km away with her sisters Chandra and Maya along the river Teesta near Bardang, Sikkim. Suddenly, without having any time to respond, all three school girls were washed away by force of water released by upstream Teesta dam. While Maya and Chandra were lucky to be saved, Radhika wasn't. She lost her life.
Mumbai diaries
An 11-year-old was killed by a leopard in Mumbai's Aarey Colony in October last year. Prashant Salunke was returning home from school over 5 km away with two classmates around 5.15 pm when the animal struck. Prashant and two of his friends had taken a shortcut through the bushes when Prashant was attacked by the animal, which was hiding there. His friends immediately ran to seek help, but by the time the locals arrived 10 minutes later, the leopard had dragged Prashant into the forest. His body was found at quite some distance from the spot where he was attacked over an hour later.
If one goes by the blitzkrieg of advertisements — strangely enough, even on metro-centric English news channels and in newspapers — the Right to Education (RTE) and Sarva Shiksha Abhiyan (SSA) are doing a spectacular job in improving access to schools and education. But grassroots realities like the examples above tell us a different picture of how bad the situation is not only in remote interiors but also in the country's financial capital!
Maharashtra, be ashamed
Under the RTE, government rules stipulate that primary schools should be located a kilometre away, higher primary schools 3 km away and secondary schools should be located 5 km away at the most so that accessibility does not become a reason for drop-outs.
For a state which prides itself as the fifth most developed state in the country, in Maharashtra 2,085 villages have no schools forcing children to either travel or walk to other villages for schooling often covering between 8-10 km, according to data gathered by the Directorate of Education. "This data is a result of a meeting held in June 2009 when the need for such a survey was expressed. But though the data came in July 2009 itself, the state education ministry has shown little interest in doing anything about it," rued a senior bureaucrat in the ministry. "This also violates the state government's own stipulations that there will be a primary school per 200 population and a secondary school for every 2000."
A watery education
Who will the know the pain of this better than Kalamboli village, barely an hour and half's drive away from Mumbai, in Bhiwandi tehsil of Thane district. Children from this village have to strip to their undergarments and swim across choppy waters of the Bhatsa river with uniforms and school satchels in a polythene bag. With no bridge, all the children who want to pursue education beyond Std IV are forced to undertake this arduous route as the local zilla parishad school is only from KG to Std IV.
After all, the Bhatsa has claimed lives every year. The monsoon before last, Gavhshya Bhoir, 12, died while returning from school after Independence Day celebrations. "He kept insisting on going to school and his parents gave in. He didn't want to put the paper flag in a bag as it would get crumpled. As he struggled to hold the flag, he was washed away in the swollen monsoon currents," recalls village headman, Rambhau Patil.
Girls suffer the most
The worst hit are of the course the girls in the village who have to drop out after Class IV. Indu Palvi, 19 says, "In today's times, girls need education more than boys, but because of the river-crossing involved, like me and my elder sister Sunanda, most girls drop out. It's not like we don't want to study and take up jobs. But how can we strip and swim like the boys?" With no state transport buses and the journey from village to the highway and then to the other side being 25km, the over 500 locals seem to have no choice but to risk their lives daily.
Standard answer
State education director Sarjerao Jadhav admitted he was aware of the statistics and said, "We are working on improving the situation." Maharashtra school education minister Rajendra Darda too said, "The state government is seized with the issue and steps are being taken." Repeated calls to Union HRD minister Smriti Irani went unanswered.
Interestingly, Bihar which has always been treated as a basket case, does better than Maharashtra with only 1,781 villages without schools. Many attribute this to the Nitish Kumar government's insistence on improving education in the state.
Cry, the beloved nation
UP: 9,812
Rajasthan: 6,951
MP: 5,112
Haryana: 4,987
Maharashtra: 2085 http://www.dnaindia.com/mumbai/report-what-rte-maharashtra-simply-has-no-schools-in-2085-villages-2004112
Bihar: 1,781
Read mor ehere –