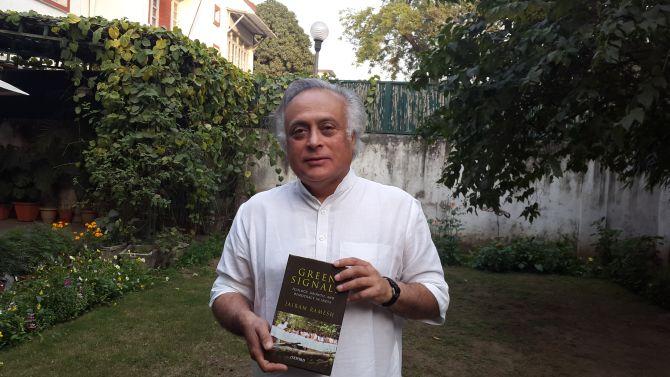 Image: Jairam Ramesh with his new book, Green Signals.
'This is not a Sanjay Baru or Natwar Singh type of book. It's not a memoir. It's not a book to reveal conversations, real or imaginary. This is not a book to position myself at the centre of the world.'
'In 1991, I was a believer in the blind pursuit of economic growth. I had single minded obsession with economic growth. But over a period of time, as I travelled and got exposed to different situations, I began to change.'
Jairam Ramesh, the former environment minister, in a fascinating two-part interview with Sheela Bhatt/Rediff.com
Jairam Ramesh is a complex politician, but a brilliant organiser of thoughts in Indian public life.
Even though he is not a man of the masses, not at all a popular netaji who can win elections, his brain power is appreciated by the first family of the Congress party.
It can only happen in the Congress that he was made a Cabinet minister with serious portfolios like rural development and environment and forests.
Even though Ramesh is 'different' from the typical politician, he has distanced himself from the privileged class as well. His survival talent is such that for the last 15 years or so he is permanently placed on the periphery of Sonia Gandhi and Rahul Gandhi's sphere of influence.
His connections with the corporate world and his grasp of communication and the media keeps him closer to decision-makers in his party.
His grasp of issues related to finance, industry, commerce, environment, China too is known, but Congress cadres have strong reservation about intellectuals like Ramesh and P Chidambaram enjoying access to the Gandhis. Their intellect has not helped the party win elections or expand its influence over Indian voters, they complain.
In 1975, after obtaining a degree in mechanical engineering at the Indian Institute of Technology-Bombay, Ramesh went to study public policy at Carnegie-Mellon University. He also did a graduate programme in technology policy at the Massachusetts Institute of Technology.
His first assignment in government began in 1983 when he was appointed a consultant in the advisory board on energy in the Cabinet secretariat, and then an additional economic advisor in the industry ministry. He had stints at the finance ministry, the Planning Commission and was even an officer on special duty to then prime minister P V Narasimha Rao for a few months in 1991.
The Gandhis and the Congress needed someone like him and frequently assigned him to draft the first copy of important public policies and views of the party. During the United Progressive Alliance regime he drafted the land acquisition bill. However, the bill was changed many times over and some say mutilated by many within the Manmohan Singh government.
In a party where treasurer Motilal Vora at 87 wields power, Ramesh truly belongs to the 21st century. The man who was identified along with Narasimha Rao and Manmohan Singh's economic thinking had a change of heart as the times changed. His critics say he made a smooth shift from Sonia Gandhi's office to Rahul Gandhi's camp.
In this interview with Sheela Bhatt/Rediff.com, Ramesh explains why he shifted from the Right to the Left.
Ramesh has been blamed for taking Rahul Gandhi on the path of left-of-centre politics on issues related to mining, land and tribals when he was minister in the Singh government.
Currently a Rajya Sabha member from Andhra Pradesh, Ramesh is sharp and witty. He is apt in branding events. The concepts of 'Chindia' — a collaboration and cooperation between China and India — and 'Rurban' — development of rapidly urbanising rural areas — are credited to him.
He is currently chairman, engagement committee, Future Earth and also connected to the Tata Institute of Social Sciences, Mumbai. He is also a distinguished visiting fellow, Indian School of Business, Hyderabad.
Ramesh has written many books and monographs that includes Indo-US Relations (2000), Globalising India (2003), Making Sense of Chindia (2005), Ecology, Democracy and Growth, India's Maoist Challenge, A New Deal for Land Acquisition.
Ramesh spoke to Rediff.com about his new book Green Signals. It records the transformation of India's environment ministry, the issues and people's response to it. He wants to take credit for making the environment ministry transparent and people-friendly.
So soon you have come out with a book.
Well, this is not a Sanjay Baru or Natwar Singh type of book. It is not a memoir. It is not a book to reveal conversations, real or imaginary. This is not a book to position myself at the centre of the world.
It is not an anecdotal book. It is a written record, a collection of all the things I put on paper when I was environment minister between May 31, 2009 to July 12, 2011.
All my speaking orders, notes, parliamentary interventions, letters to the prime minister, chief ministers, ministers, speeches I made, some of which were in the public domain while some of them were not in the public domain etc.
So it is not an oral record, it is a written record. All the material there in the book — it is a 700 page book — has been deposited in the Nehru Memorial Library.
It sounds like a very boring book.
I am sure it is boring. It does not have masala.
Does it mention the 'Jayanti tax'?
No mention of personalities. As I said, it is about environmental issues.
In the book you mention India's 1991 moment. What is it about?
The 1991 moment was a decisive transformation in Indian economic policy when Dr Manmohan Singh became the finance minister. So I thought of 2009, when I became environment minister, I saw it as an opportunity of bringing about a decisive change in the way people look at environmental issues.
The traditional approach has been, arey theek hai environment ministry approval mil jayega (environment ministry? you will get approval). It was a thappa (stamp). It was a fait accompli.
You could go, you could manage the ministry. If you were influential, you could navigate it.
You had laws, rules and regulations, but they were not being enforced, so I saw 2009 as an opportunity doing to the environment what happened with economic policy with Dr Singh, bringing about fundamental transformation in the way people looked at environment.
You claim that when you became the minister you wanted to transform the ministry and India's approach towards the environment. But you haven't made the fundamental changes that true grassroots warriors of the environment wanted. Like the concept of eminent domain.
You did not change ownership of pasture land, grazing land, community land. It is still not with the panchayats or with the villagers, but it is still with the State.
There are two factual errors in your questions. I was not there for a long time. I was there for only 25 months. Factual error number two: The environment minister does not have control over these issues. These are issues dealt with by state governments.
Land is a subject of state governments.
When I became rural development minister in September 2013, since you asked me about eminent domain, we brought a new Land Acquisition Act which replaced the 1894 Land Acquisition Act, which was based on the principle of eminent domain.
The 2013 Act actually abandons the principle of eminent domain. So the ministry of environment cannot do much on eminent domain, but when I could do it through the Land Acquisition Act, I was able to do it.
I understand your point exactly. It is not a factual error. I am saying as the environment minister, it was your political duty to voice your concerns.
Again, if you read my book, you will see the large number of letters that I addressed to the chief ministers, larger number of communications I took up with the PM and my ministerial colleagues, one of the most important things I did, which unfortunately has been undone by the NDA (National Democratic Alliance) government, is you see there is a Forest Rights Act of 2006 and on August 3, 2009, there was a guideline that we issued from the ministry of environment and forest that no clearances for projects will be given in forest areas unless the rights of local communities are settled under the Forest Rights Act.
And we implemented this decision. But unfortunately that has been undone by the new government. So where the ministry of environment and forest could have intervened, I intervened.
You have served in the finance ministry before you became minister. Your writings were read widely. We knew you as a person who understands Indian corporates, commerce and industry. Then you became the environment minister. Suddenly we saw a sea change in you. It is such a contradiction that we failed to understand it.
Good question. It is not a contradiction. It is evolution. People change, evolve and get wisdom.
In 1991, I was a believer in the blind pursuit of economic growth. I had single minded obsession with economic growth. In 1991, I was in the PM's office which did all these reforms.
But over a period of time, as I travelled and got exposed to different situations, met different people, saw different people's movement coming up, I began to change.
Even when I was in the PM's office in 1991, people like Medha Patkar, Sunita Narain, Chandi Prasad Bhatt of the Chipko movement were the people with whom I used to interact with.
Over the years I began to see what the consequences of growth can be if they are not properly handled.
When I became environment minister my objective was not to promote economic growth, but to protect the environment and to enforce the laws which have been passed by Parliament.
When I became minister, I asked myself why am I environment minister? Am I environment minister to dismantle laws, regulations and rules like the current environment minister (Prakash Javadekar) seems to be thinking or am I environment minister to implement the laws?
That is what I have described in the book — how my transformation took place from becoming an agnostic when it came to environmental issues to becoming a believer.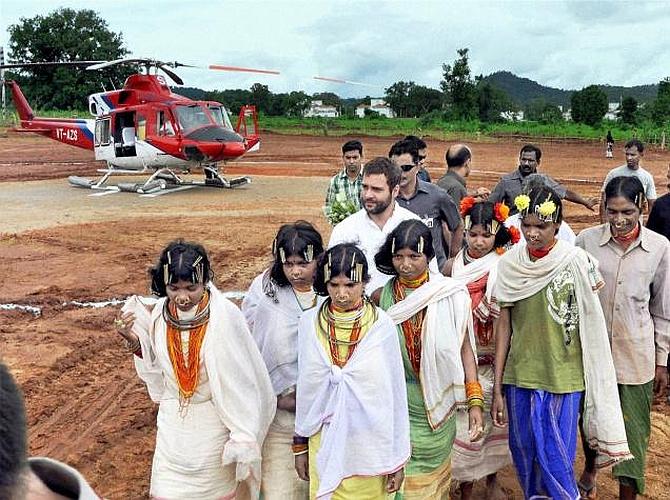 Image: Rahul Gandhi with tribals in Niyamgiri, Odisha.
People in the Congress — particularly those who wanted fast development — and who were entirely for growth in the UPA government accused you of misleading Rahul Gandhi.
Rahul Gandhi has his own mind and has his own agenda. He makes up his own mind. Neither Rahul Gandhi nor Mrs (Sonia) Gandhi, in the two years that I was minister, once spoke to me on any issue regarding my ministry.
He had strong views on Niyamgiri. His colleagues from Gujarat had told him about the Nirma factory controversy, about Bhavnagar cement. Sanat Mehta (the veteran Congressman) came to meet me. We are an open society and people have different points of view and we are in a public domain and we have to listen to everybody.
I don't need any certifications from any industry association or any pink paper about my commitment to economic reforms. I was part (of the reforms process), long before the 1991 reforms when Rajiv Gandhi was prime minister between 1987 and 1990.
I was in the Planning Commission and we were preparing all the papers at that time for economic reforms which were then implemented in 1991.
I played — I would like to think — a role in that process and everybody knows that. So I don't need any certificates from any corporates.
You need it because people are questioning you. Who stopped millions of rupees investment from POSCO coming to Orissa?
POSCO got environmental clearance in 2011. Four years have passed, but the POSCO project has not taken off.
Vedanta broke the laws of the land. Lavasa broke the laws of the land.
Guys who are raising the maximum noise are people who broke the laws of the land.
Almost 99 per cent of the projects went through.
One very commonly and a bit simply argued issue in the environment sector is that the Western world did not keep the balance between economic growth and ecological security when they were developing.
Now when things are out of control all over the planet, they are telling countries, India and China particularly, to maintain and follow environmental rules.
Now why should developing countries listen to them? Some argue that India should do its bit after India develops in certain parameters. What is your view?
I call it the 'Grow Now, Pay Later' model. It is a very attractive proposition. But there are many reasons why we can't do it.
First of all, the public health consequences are going to be disastrous — air pollution, water pollution, chemical contamination. So let us look at the public health cost of doing this.
Second, we are 1.24 billion people. We are going to add 400 million people in the next 30 years. 1.7 billion people are going to use up all your water, coal, iron ore, pollute air and water while leaving nothing for future generations.
Third, the consequences of what you are doing are visible in climate change. What is happening to the monsoon/coastal areas/glaciers/?
Fourth, you need to preserve your forest areas for ecological purposes. You have 200 million people who depend for their livelihood on forests and if you are going to destroy your forests in the name of extracting coal, you are going to impose a very heavy ecological and social price.
Ultimately, environmental issues in India are issues of livelihood. In America, environmental issues are lifestyle issues.
The Chipko movement, POSCO, Vedanta, Nirma cement are all livelihood issues. So you have to protect the livelihoods of people. Nobody is saying don't grow or don't develop.
But the environmental restrictions and high cost of green technology would slow down development.
I have explained five reasons why India should not repeat the mistakes of the US and China. If you want to repeat them, then fine. But if you have an opportunity of not repeating the mistakes, I think we should show a different model.
Also, there is a cultural reason for this. There is no culture in the world that respects nature the way we do. We worship our rivers, forests, mountains etc.
We have Durga who rides on a lion, we have Durga who rides on a tiger, we have Ganesh who goes on a mouse.
We have Vishnu who rests on a serpent, we have Krishna who plays with cows.
Which culture do you find this respect for biodiversity?
Would you like to name projects which are good examples where development is done keeping in mind environmental norms?
There are many such projects. I don't want to take individual names. I will give you one example of the Navi Mumbai International Airport.
When it first came to the ministry, it was a disaster. It was going to destroy hundreds of acres of mangrove forests. Mangroves are a natural bio-shield when you have tsunamis and so on. So I did not clear that project.
Everybody got upset with me. All my ministerial colleagues were upset with me. Praful Patel got upset with me. Sharad Pawar got very angry with me. Ashok Chavan, my own party man, got angry with me. So I sat with them. I said my job is not only to identify the problem, but also to work out solutions.
It took six months. Finally we redesigned the entire airport and we added more areas under mangrove cover. That is an example.
You have to have a willingness to look at different points of view. The problem with environmentalists in India is that they don't look at the growth aspect and the growth-wallahs don't look at the environmental aspects.
You have to bring about a balance between the two. And bringing about balance is not philosophy, you have to show it on the ground. There are contradictions, trade offs and conflicts and those have to be managed.
What is the fundamental difference between India's current thinking and approach to environment if compared to China? 
In the last 5 years, the Chinese position on environment has changed dramatically. Dramatically!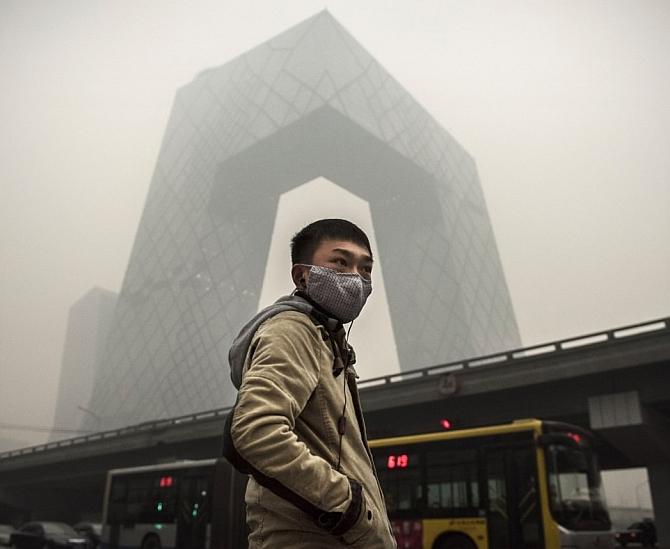 Image: Chronic pollution in Beijing caused China to relook its growth story, says Jairam Ramesh.
For good?
Yes, for good. Because Beijing has become the most polluted city in the world. children are being contaminated with lead. chemical contamination, water is polluted.
Pollution issues, contamination issues in China have forced the government to adopt a more responsible attitude.
Just two weeks ago there was an article in the Global Times, which is a party newspaper, where it said that China no longer worships Gross Domestic Product. China is now looking at the quality of GDP, and not the quantity of GDP.
The Chinese didn't say this five years ago. In five years's time I have seen the Chinese position evolve. And I am saying these are the same issues we have.
Delhi is already more polluted than Beijing. In people, cardiovascular incidents have increased, Asthma has increased. cancer is now commonly heard.
Look at what is happening in Bhatinda. Look at the entire Indo-Gangetic belt on arsenic contamination in drinking water. These are environmental issues.
So we must pay attention to these issues. We must deal with them and recognise that these are issues that cannot be postponed for 20 years. Do it now.
Do you think what the Narendra Modi government has been doing in the last nine months is the right way?
I don't think so. I think they set up an expert committee under a retired Cabinet secretary (T S R Subramanian) who knows next to nothing on environment. I mean nothing. I mean his knowledge of environment is a big zero.
A good man, fine man. A good friend of mine and I would say it to his face. He was given two months extended by one month to prepare the report. He was told what to write and he wrote.
And what you are seeing is and what you will see is the systematic weakening and dilution of all laws relating to the environment.
If (businessman Gautam) Adani can go to Australia and the Australian government can give him clearance for a mine subject to 36 conditions, why can't he accept the same approach in India?
The approach is acceptable to Indian businessmen in Australia, but when somebody tries to do it India and we said 'No, we are not going to give you clearance till these 36 conditions are met and are enforced,' they get very upset.
As if it is anti-development…
It affects development and (they
This Queensland project is a classic example. The 36 conditions have been agreed too, there was no protest.
My book is not about Modi by the way…
http://m.rediff.com/news/interview/what-we-did-for-the-environment-has-been-undone-by-the-new-govt/20150217.htm