'What about the army officers who stand for long hours everyday to protect our borders,' asked a man to an army officer in an ATM queue.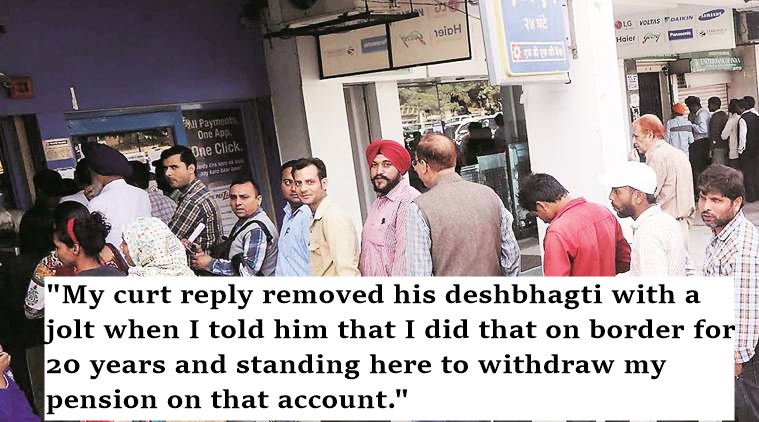 An army veteran's reply to a man in an ATM queue is absolutely savage! (Source: File Photo)Queues in front of banks and ATMs are far from receding even three weeks after the government announced the move to demonetise old Rs 500, Rs 1000 currency notes. There are rampant public complaints about the mismanaged implementation of demonetisation. Meanwhile, a common remark that a lot of people are increasingly using is how our soldiers in the army stand for long hours everyday to protect the borders, while we make a deal of standing for a little longer in queues. From what it seems, somebody happened to say that to another person in an ATM queue, but little did he know that he was talking to an army veteran himself!
Darshan Dhillon, who served in the army for 20 years and was there to withdraw his pension, gave it right back to the man, as he mentioned in a Facebook post.
This was his reply.
"I was standing in long ATM Q and getting irritated on mismanagement on a good issue. The fellow Modi bhakt behind gave me a quick reaction by saying, why are you perturbed think about about army persons standing 20 hrs in day on border.
My curt reply removed his deshbhagti with a jolt when I told him that I did that on border for 20 years and standing here to withdraw my pension on that account. He should show his deshbhagti in getting us actual OROP and CPC from Modi ji rather than issuing certificates in ATM lines.
Fauji Baba"