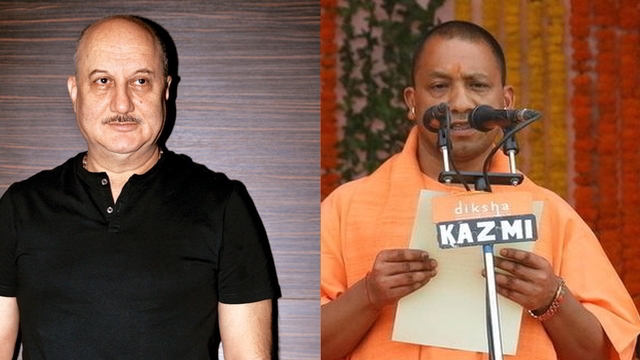 Bet Anupam Kher didn't think he would be talking about the new UP CM.
BJP's hardline Hindutva poster boy and five-time Member of Parliament (MP), Yogi Adityanath was on Sunday sworn in as the 21st chief minister of Uttar Pradesh, heading a 47-member council of ministers that includes two deputy CMs. Adityanath, who has been attacked for his inflammatory remarks against Muslims in the past, asserted that his government "will work for all sections of the society without any discrimination" and "will ensure balanced development of UP".
One person who has criticised Yogi Adityanath in the past is Bollywood actor and Modi supporter Anupam Kher. While he was thrilled after the UP elections results and had tweeted that he could hear the 'echoes of the slap' (of the mandate) till Los Angeles, saying people wanted 'development', he was extremely reticent post the announcement of Yogi Adityanath. Perhaps because he had been highly critical of the new UP CM.
दोस्तों!!! इस थप्पड़ की गूँज तो लॉस ऐंजेलेस तक सुनाई दे रही है। अब तो चन्द लोगों को समझ आ जाना चाहिये कि देश विकास चाहता है, बकवास नहीं।:)
At the height of the intolerance debate in March 2016, Anupam Kher had launched an impassioned defence of PM Modi and hit out at BJP 'members' like Sadhvi Prachi and Yogi Adityanath who he claimed promoted 'intolerance'.
He had said at the Telegraph Annual Debate: "There are some people in the party (BJP) who speak nonsense, and ill-behave, whether it is Sadhvi or Yogi…they should be put behind bars, thrown out of the party (Hain kuch log aise party mein jo bakwas karte hain, chahe wo Sadhvi hon ya Yogi ho, unko andar kar dena chahiye aur unko nikal dena chahiye)," Kher said. "But, you can't play with the entire country and say that we have intolerance here (magar aap pure desh ke saath khilwad nahin kar sakte ki hamare desh meyn intolerance hai," he said.
While Sadhvi Prachi isn't even a member of the BJP, Adityanath had not taken too kindly to Kher's remarks.
He had said back then: "Everyone knows about the character of a villain. Kher is not only a reel life villain, but also in real life. I don't want to say anything more on his statement made in Kolkata."
To be fair to Anupam Kher, he probably did not think PM Modi and Amit Shah would pick the firebrand leader to lead UP. As Kher often says: "Kuch bhi ho sakta hai (Anything can happen)."
Yogi takes oath, promises to work for all sections
Hours after taking oath, Uttar Pradesh Chief Minister Yogi Adityanath on Sunday promised to promised to work for all sections of the society without any discrimination, with focus on development and job creation.
In a brief media interaction, he said his government will pursue the agenda of 'sabka saath, sabka vikas' and fulfil all the promises made by the party during the polls. "We will follow 'sabka saath, sabka vikas' agenda and will serve the state…Our government will work for all sections of the society without any discrimination. We will ensure balanced development of UP," Adityanath said.
His comments assume significance as he is considered to be a hardline Hindutva mascot. "I want to assure people that BJP, which got votes for development and security, will show positive resuilts soon," the Chief Minister said. "Effective measures will be taken by our government for welfare of common man and it will be devoted to welfare of people. The administration will be made sensible and answerable and emphasis will be on law and order," he said.
Accusing the previous governments of being responsible for the sorry state of affairs in the state, Adityanath said work will be done to make development agriculture-based as it is main source of income. Women empowerment, their security and honour will also be on top of the BJP government agenda, he said.
"We will focus on skill development of youths so that they can get job opportunity while government appointments will be made corruption free and transparent. Investment will be promoted for industrial devolpment and it will be done for economic develompent," Adityanath added.