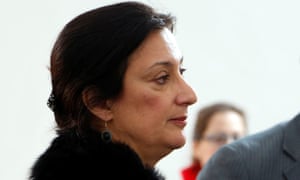 "A few seconds later, around three to four seconds, there was another, larger explosion. The car continued coming down the hill, skidding at high speed, full of fire. The car missed me by around 10 feet. I tried to help but the fire was too much and the car ended up in the field," he said.
Several hundred people demonstrated outside the main law courts in the island's fortress capital, Valletta, on Tuesday afternoon to demand justice for the 53-year-old journalist, described as a "one-woman WikiLeaks" whose blogs were as fiercely critical of the island's politicians as they were of its organised crime gangs.
"The state did not defend Daphne," said Andrew Borg-Cardona, a prominent lawyer who works with the journalist's husband. Michael Briguglio, a leading member of the island's Green party, said: "This is a political murder because it clearly has a political context and the state did not protect a journalist who was in danger."
The European commission said it was horrified by the murder. Asked if it would open a procedure to check if Malta was meeting the EU's rule of law standards, a spokesman, Margaritis Schinas, said an "outrageous act has happened and what matters now is that justice will be brought. This is what we need to see." 

Matthew Caruana Galizia said he would never forget "running around the inferno in the field, trying to figure out a way to open the door, the horn of the car still blaring, screaming at two policemen who turned up with a single fire extinguisher to use it".
One of the policemen said: "Sorry, there is nothing we can do," he wrote. "I looked down and there were my mother's body parts all around me. I realised they were right, it was hopeless. 'Who is in the car?' they asked me. 'My mother is in the car. She is dead. She is dead because of your incompetence.'"
Caruana Galizia ran a hugely popular blog relentlessly highlighting cases of alleged high-level corruption among politicians across Malta's party lines. "There are crooks everywhere you look now. The situation is desperate," she wrote in a post published barely half an hour before the bomb exploded.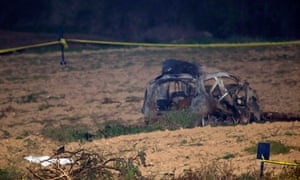 Police said the journalist had just left her home and was on a road near the village of Bidnija in northern Malta when the bomb detonated. Local media said she had reported receiving threats two weeks ago, although police officials denied receiving any complaint.
Caruana Galizia's most recent revelations pointed the finger at Malta's prime minister, Joseph Muscat, and two of his closest aides, connecting offshore companies linked to the three men with the sale of Maltese passports and payments from the government of Azerbaijan.
Muscat denounced the journalist's killing on Monday, calling it a "barbaric attack on press freedom". Muscat, who sued the journalist and won a snap election in June called as a vote of confidence to counter her allegations, said he would "not rest until I see justice done in this case".
While Caruana Galizia's targets were mainly the ruling Labour party and its supporters, she had more recently turned her fire on Malta's opposition whose leader, Adrian Delia, on Tuesday called on the prime minister to resign and the police chief and attorney general to be sacked.
"The political blame for her death lies squarely in [Muscat's] lap and he should shoulder responsibility for it," Delia said. "Everything in this country has a price now, but … You can be sure that someone will have to pay for this death."
Caruana Galizia's targets ranged from allegedly corrupt politicians to banks facilitating money laundering and the links between Malta's online gaming industry and the mafia. Her recent work had focused particularly on revelations from the Panama Papers, a huge cache of leaked documents from the leading offshore law firm Mossack Fonseca.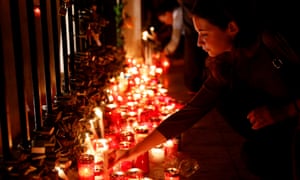 Matthew Caruana Galizia said in his Facebook post that his mother's killing was "no ordinary murder and it was not tragic. Tragic is someone being run over by a bus. When there is blood and fire all around you, that's war. We are a people at war against the state and organised crime, which have become indistinguishable."
He criticised "that clown of a prime minister", making statements to parliament "about a journalist he spent over a decade demonising and harassing", and highlighted a Facebook post by a police sergeant who shortly after the murder wrote: "Everyone gets what they deserve, cow dung! Feeling happy :)"
Caruana Galizia concluded: "Yes, this is where we are: a mafia state … where you will be blown to pieces for exercising your basic freedoms, only for the people who are supposed to have protected you to instead be celebrating it."
He said a "culture of impunity" had been allowed to flourish on the island after the prime minister "filled his office with crooks, then the police with crooks and imbeciles, then the courts with crooks and incompetents.
"If the institutions were already working, there would be no assassination to investigate – and my brothers and I would still have a mother."
After an application by the dead journalist's family, the investigating magistrate, Consuelo Scerri Herrera – who had come under criticism from Caruana Galizia in her blog and subsequently sued her – withdrew from the case on Tuesday.
https://www.theguardian.com/world/2017/oct/17/murdered-panama-papers-journalist-son-malta-crooks-daphne-caruana-galizia