Wednesday, May 15, 2013, 9:30 IST | Agency: DNA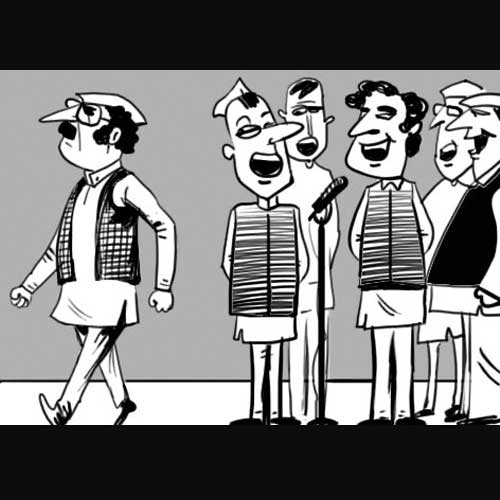 The sight of an MP slowly walking out of Parliament while the entire House stood in respect for Vande Mataram, will be difficult to forget. Yet, the BSP's Shafiqur Rahman Barq was simply exercising his rights. The fundamental duties added to the constitution during the emergency, ask us to respect only the national flag and anthem. At any rate, they are not legally enforceable. Our supreme court had held way back in 1986 that conscientious objectors were free not to sing the national anthem, while not showing disrespect to it.
Many people believe that Jana Gana Mana was written in praise of King George V, even though Rabindranath Tagore rejected that allegation convincingly. Earlier, when it used to be played at the end of a movie, such people would walk out, joining many others who felt it a waste of time to stay back for the national anthem.
The debate over Vande Mataram is more complicated. Originally, Bankim Chandra Chattopadhyay's composition comprised only the 14 lines which are today the text of the national song. In 1881, he expanded it into a hymn to goddess Durga, and made it part of his anti-Muslim novel Anand Math.
Till the 1930s, everyone, Hindu or Muslim, sang it with fervour.  In fact, the Vande Mataram flag also had the Islamic crescent and star on it. But as objections to it grew from Muslims within the Congress and outside, Congress heavyweights Nehru, Azad, Bose and Acharya Narendra Dev, decided in 1937 that the original two stanzas were not only unobjectionable, but had developed an identity of their own in the freedom movement.
However, singing them would not be mandatory at Congress sessions.
In the choice for national anthem, Jana Gana Mana won, but with its inspirational history, Vande Mataram became the national song. I have heard freedom fighters sing its first few lines right till their old age, remembering the slogan they shouted as they held up the tricolour in defiance and courted arrest.
The real problem with Vande Mataram is its co-option first by the Hindu Mahasabha, then by the RSS and its allies, none of whom had played any role in the freedom struggle. The slogan 'Is desh mein rahna hoga to Vande Mataram kahna hoga' is still used to browbeat Muslims. It took a judge of the stature of Justice BN Srikrishna to declare in court, during the hearings of his inquiry into the 92-93 Mumbai riots, that laying down conditions of residence on any citizen, let alone a community, by another group was not just communal but also fascist.
But much before 92-93, Mumbaikars were losing lives over Vande Mataram. In 1973, the Muslim League objected to the Shiv Sena's decision to make its singing compulsory in Municipal Corporation meetings. Sena-League riots followed in which five persons died.
But a few months later, the "patriotic'' Sena thought nothing of taking the help of "traitors" to get its candidate elected as Mayor. Bal Thackeray and GM Banatwala, head of the League, led Sudhir Joshi's victory procession together.
Vande Mataram has a deep historical link with Mumbai. The first time it was sung from a political platform was in 1896 by Rabindranath Tagore in the Congress' Kolkata session.
The president of the session was Mumbai lawyer Rahimatullah Sayani.
Muslim intellectuals of this city, such as Rafiq Zakaria and Sajid Rashid (both deceased), Asghar Ali Engineer and Syed Feroze Ashraf,  have often stated that there's nothing wrong in singing Vande Mataram — out of choice. Forcing them to do so — or not to — won't do.
The author is a Mumbai-based freelance journalist.