Narendra Modi's plan to return hundreds of thousands of displaced Pandits to Jammu and Kashmir highlights the state's appalling human rights record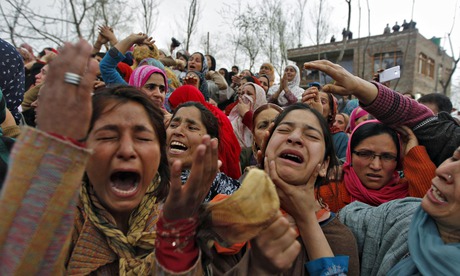 Kashmiri women at the funeral in Srinagar of a civilian killed by members of the Central Reserve Police Force (CRPF) last year. Photograph: Danish Ismail/Reuters
India's prime minister, Narendra Modi, is facing a total shutdown on his first visit to Jammu and Kashmir this week, with a mass strike planned across the state. Modi's unpopularity here is perhaps not surprising. The new government's only planned initiative in the northern region so far is a mass movement of population. Hundreds of thousands of Kashmiri Pandits – Hindus who had fled the Kashmir valley in the 1990s in the wake of popular uprisings and an armed struggle for a separate state – are to be returned to their "ancestors' land" and rehabilitated with "full dignity, security and assured livelihood". Will the security planned for the Pandits heighten repression against the majority among whom they will be settled? And what is life like today in one of the world's most heavily militarised regions?
This is a state where successive Indian governments have stationed an estimated 700,000 military and paramilitary personnel, with one soldier for every 17 civilians. They are there ostensibly to combat Pakistani-sponsored militancy. But as a senior army officer said recently, they far outnumber potential militants, who today are thought to number no more than 150 to 200 and who "may or may not have been trained in Pakistan".
There are, of course, other geopolitical reasons for the military presence, such as the fact that the state borders the Pakistani-controlled part of the Kashmiri region; or that it shares a border with China, a country with which India has a problematic relationship; or, indeed, that Afghanistan is not far away. But the fact remains that the targets of the Indian forces over the last 25 years have been mainly the local populace.
"Disappearances" and so-called "encounter deaths" are commonplace. There are thousands of unmarked mass graves in the state's northern districts. And in detention centres, as the International Committee of the Red Cross told US officials in 2005 in a secret document, "electrocution, beatings and sexual humiliation are used routinely to extract 'confessions' from detainees". Horrific violence has been faced by the women, with rape used as a "weapon of war to punish, intimidate, coerce, humiliate and degrade". The Armed Forces Special Powers Act (AFSPA), imposed in 1958 in all so-called "disturbed areas" of India, provides the army and paramilitaries with almost total impunity, enabling them to arrest people without a warrant and on mere suspicion of their planning a terrorist act and allowing the security forces to "fire upon or otherwise use force even to the causing of death". AFSPA has been condemned by the UN as a law that has "no place in a democracy".
Parveena Ahangar, the founder of the Association of Parents of Disappeared Persons (APDP), says of the night in 1990 when her own son disappeared: "He was just 15. He had just passed his matriculation exam and joined college. He used to go to his uncle's house after dinner to study and sometimes to stay over. That night at three o'clock, the security forces burst into the house. He was taken away, not even allowed to put on his clothes … I still have the shirt and trousers he was going to wear." Distraught with anxiety and grief, she and her family appealed to civil servants, ministers and the courts in the state, only to be brushed aside.
Through the years that followed, however, she came across many other parents whose children had disappeared and they began to draw strength from each other. In 1994 the APDP was set up, holding its first meetings in her house in the state capital, Srinagar. Soon they started protesting and holding meetings in public. Since then, come rain or snow, they have held protests on the 10th of every month and their numbers have grown, with hundreds of women now attending from almost every district in Kashmir.
In Kashmir, killings of children are commonplace. As reports in local papers show, the reason for these murders is often nothing more than the sadism of the army and paramilitaries. On just one day in August 2010, for example, a seven-year-old boy was shot and bludgeoned to death by the Central Reserve Police Force (CRPF), a disabled teenager was beaten to death, and a girl of 15 was shot in the head during a demonstration.
In 2011, the APDP, together with the International People's Tribunal for Human Rights and Justice, presented prima facie evidence of 6,217 unmarked and mass graves in five districts of northern Kashmir. However, although this was eventually endorsed by the state human rights commission, no independent inquiry has yet been instituted.
One may well ask, when will this nightmare end for the people of Kashmir? Will the repressive laws they face be revoked? Will they be allowed to live with "full dignity, security and assured livelihood" like the Pandits who are to be rehabilitated among them? Only Narendra Modi and his cabinet have the answers.
Read mor where – http://www.theguardian.com/commentisfree/2014/jul/03/kashmiri-nightmare-narendra-modi-pandits-jammu-human-rights