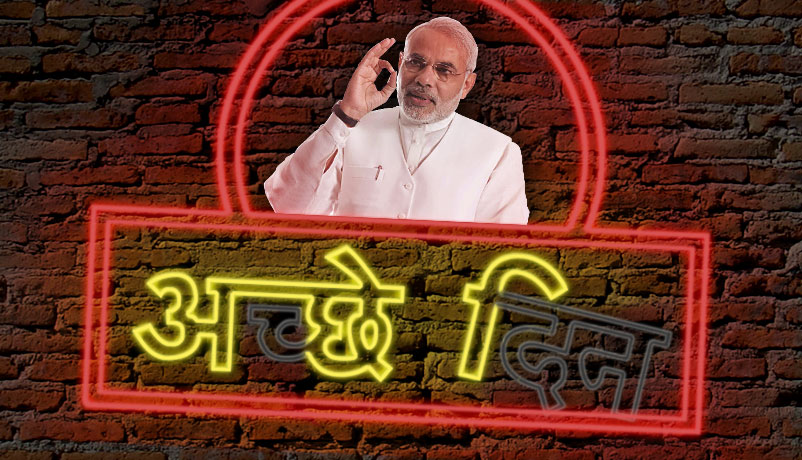 Where are the Achche Din: 5 promises that have come back to haunt Narendra Modi
Prime Minister Narendra Modi and his Cabinet seem to be publicly backtracking from the promises the BJP made during the Lok Sabha elections.
On 24 August a minister in the Modi Cabinet denied that Achhe Din was ever a BJP slogan.
Even more embarrassing is the admission of senior leaders that certain promises were just chunavi jumla (dialogues).
Here are five promises that have come back to haunt BJP.
Addressing a public meeting in Indore on 24 August, Union Minister for steel and mines, Narendra Singh Tomar said that the BJP never promised Achhe Din.
"We never promised Achhe Din. It was never our slogan. It was imposed on us by people on the social media," Tomar said.
Every time the rupee fell during the UPA's tenure, Modi made it a point to poke fun at the then prime minister Manmohan Singh. He blamed the UPA regime for the fall of the rupee against the dollar.
He promised that the rupee wouldn't face such a crisis if he is elected prime minister.
However, the reality is that rupee continues to fall and a recovery won't be easy.
As of 24 August, the value of the rupee was 66.48 to a dollar, the lowest since September 2013.
Bringing back black money
One of the most popular promises made by Modi was that he would bring back all of India's black money that has been stashed away in Swiss banks.
Not just Modi, even Rajnath Singh had promised that the BJP would bring back black money within 100 days of coming to power.
But it has been in office for 15 months now and very little has been done on that front.
Modi had promised that every Indian will get Rs 15 lakh in his or her bank account. Earlier this year, BJP President admitted that it was just a jumla (dialogue) used while campaigning.
Perhaps Modi's most aggressive attacks on the UPA were on the government's policy towards Pakistan. He accused Manmohan Singh of being a PM who lacked the guts to take on Pakistan.
But it turns out that despite Modi's "muscular" foreign policy, ceasefire violations from Pakistan have actually increased. Several Indian soldiers and civilians have died and the attempts to build pressure on Pakistan have failed.
Modi often mocked Manmohan Singh's silence. Initially, Modi seemed a welcome change as he gave louder and longer speeches. But he has remained completely silent on many contentious issues such as corruption. Nowhere is his silence and absence more glaring than in Parliament.
The Opposition has used his absence to attack the government. Even during the recent debate on the adjournment motion, Sushma Swaraj had to face repeated taunts that "Modi had left her alone to defend herself".
Modi didn't even say anything substantial to the media. Take for instance Modi response on the Parliament logjam.
There are many more promises that have remained unfulfilled – such as removing criminals from politics, reducing the price of petrol in accordance with falling international oil prices, preventing farmer suicides, jobs for all, controlling inflation and so on.
But there are many who hope that Modi will manage to achieve something in the remainder of his tenure.
Modi's failed promises have sparked many jokes on social media and WhatsApp. Here's one that summarises the pain of those who took his promises seriously:
Waiting for Achhe Din
After the BJP won the elections with a full majority on 16 May, 2014, a Modi fan fainted with happiness and went into coma. After 15 months, he suddenly came out from the coma. Returning to his senses he asked the following questions to the attending doctor.
How do you feel in "corruption free India"?
Are Rahul and Sonia Gandhi in jail or have they escaped to Italy?
Should I book a bullet train ticket to Lucknow or should I go by plane
How much black money did we get back from Swiss Banks?
After the Rs 15 lakh every Indian received from Modiji, there must be "no poverty".
Has the US dollar dropped to Rs 35?
How happy are Indians after Modiji subsidised cooking gas, vegetables, tomatoes, onions and potatoes?
After Pakistan got frightened and returned Dawood Ibrahim, what happened to him?
Are farmers happy now that the land forcibly acquired by the Congress, has been returned to them?
Have the Armed Forces got One Rank One Pension?
Listening to these questions, the poor doctor has gone into a coma, and the Modi fan was sent to a mental asylum.