Census 2011 shows the disabled have a better chance of getting married than other Indians.
The disabled in India stand a better chance of getting married than other Indians, according to data in the 2011 Census. Census data show 41.72 per cent of the disabled population have never been married — the corresponding figure for Indians who were never married is 47.14 per cent.
The findings of the Census go against the popular perception that a disabled woman faces greater problems in getting married.
According to the Census report, titled Disabled Population by Type of Disability, Marital Status, Age and Sex, 38.01 per cent of disabled women have never been married. The percentage of Indian women who have never been married stands at 42.20.
For men, the corresponding numbers are 44.64 per cent and 51.80 per cent.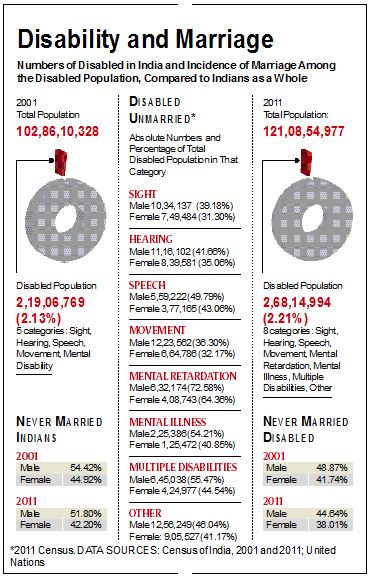 Activists working with the disabled have criticised the findings as erroneous, and alleged that the methods used in the survey raise questions over the state's intention to help the disabled.
"The findings of the Census data need to be contested. They do not give the true picture of the severity of this issue. The entire way that the Census is conducted gives the impression that the state wants to ignore the fact that the numbers of the disabled, and the problems they face, are rising," said Seema Baquer, director, Concerned Action, which works for equally opportunities for the disabled.
Activists believe that besides faulty survey methods, the social stigma attached with disability may have led to the Census throwing up inaccurate findings.
As per the 2011 Census, the number of disabled in India is 2.68 crore, which is 2.21 per cent of the population. This is marginally higher than 2001, when the disabled population was 2.19 crore, and the disabled made up 2.13 per cent of the population. However, the 2011 Census recognised eight categories of disabilities — up from the five in 2001 — including mental illness.
In spite of the increased number of categories, activists claim that the number of disabled is underreported. The United Nations believes that the total number of disabled in India stands at five to six per cent of the total population, which is almost three times the government's estimate.
"It is difficult to rely on data that is collected this way. The system is erroneous. For years we have been demanding the promotion of Village Disability Registers whereby the disabled can voluntarily come in and register themselves, and provide informationabout their conditions. That is something that is not taking place," Dr Indumathi Rao, former member of the National Commission for Persons with Disabilites, said.
Rao added that finding precise numbers was necessary to formulate an effective policy of addressing the problems and concerns of the disabled.
"Realizing the severity of the problem is necessary to formulate a policy to tackle it. But if you are basing your policies on flawed data no policy will succeed," Rao said.
See more at: http://indianexpress.com/article/explained/why-activists-are-upset-with-census-disability-numbers/#sthash.q7Mc1ZPT.dpuf