February 03, 2015 12:57 IST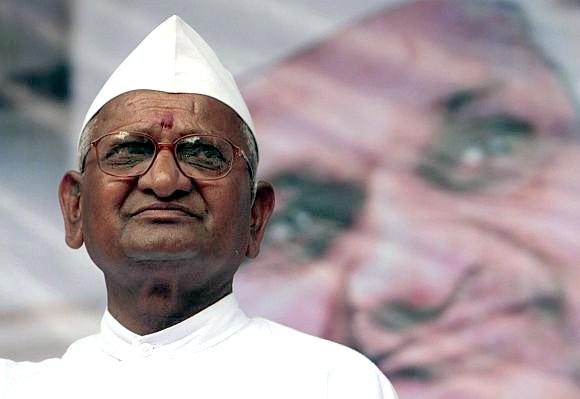 He has only himself to blame. He was blind to the fact that Kejriwal and Bedi capitalised on his success, says Neeta Kolhatkar.
The cameo players during 'Anna' Hazare's 2011 campaign against corruption have now become leaders contesting elections, and the main man is nowhere in the picture.
Kisan Baburao Hazare, who had India's top politicians dancing to his tune, is not to be seen or heard.
Former army chief General V K Singh and former Indian Police Service officer Kiran Bedi, now a Delhi chief ministerial candidate, have joined the Bharatiya Janata Party. Aam Aadmi Party founder Arvind Kejriwal does not mention Hazare in his speeches.
Hazare, the social activist from Ralegan Siddhi, a village in Maharashtra's Ahmednagar district, who had the nation's leaders vying to share the dais with him a couple of years ago, is back where he started — a lonely man.
On December 28, 2011, I asked Hazare, who was on a fast unto death in Mumbai, if he felt let down by the BJP in Parliament. Hazare, for the first time, came out in the open on his political stand, and admitted to being anti-Congress.
Hazare's lack of education and his understanding of politics let him down. There were many political nuances in his relationship with the BJP and more so between him, Arvind Kejriwal and Kiran Bedi.
At that time, during my conversations with BJP and Rashtriya Swayamsevak Sangh leaders, I learnt that Medha Patkar had convinced the RSS-led anti-corruption campaign planners that Hazare was the only man with a clean image, someone who could influence people.
While most BJP and RSS leaders accepted this, there was a glitch. BJP national President Nitin Gadkari was sternly opposed to Hazare.
After Hazare's August 2011 campaign at the Ram Lila ground in New Delhi, the BJP realised that his utility value was finished. The party had larger political goals. It wanted to build on the anti-Congress tempo.
The issue of corruption was a big factor, but it was just a step ahead. That is where differences crept in.
Three top BJP leaders made tall promises to Hazare. They had their vested interests. Initially, Hazare said he would travel to every state and appeal to voters not to elect those who had opposed the Lokpal bill.
Then in 2011, Hazare said he had political interests, but retracted later. Kejriwal was the first to show interest in politics.
The December 2011 protest in Mumbai was organised purely for Bedi and Kejriwal to score personal points. Hazare missed the message. I strongly believe he is to be blamed for getting isolated. He was blind to the fact that Kejriwal and Bedi were capitalising on his success.
In the 1990s, when Hazare would stage various protests and campaigns, his mother called him foolish. No one in this country, she said, ever listened to a hungry person and would dissuade him from going on a fast.
She would say that her son was fascinated by the idea of sacrifice and thought that would take him centre-stage. Her son did not listen to her.
Today, Hazare is not even mentioned except for giving television news channels a 'reaction' to developments in Delhi. Nobody rushes to his village and fights for an interview that would boost TRPs.
Today, Kisan Baburao Hazare is a lonely man, used by people to ascend higher in the political arena. The BJP has moved on and its leaders say Hazare should have listened to them, and not Bedi and Kejriwal. Hazare's stubborn nature compelled BJP leaders to keep their distance.
The BJP has warmed up to V K Singh and Kiran Bedi whom the RSS then felt were trouble-makers. Politics does make for strange bedfellows.
http://m.rediff.com/news/column/why-anna-hazare-is-a-lonely-forgotten-man-today/20150203.htm