SUCHETA DALAL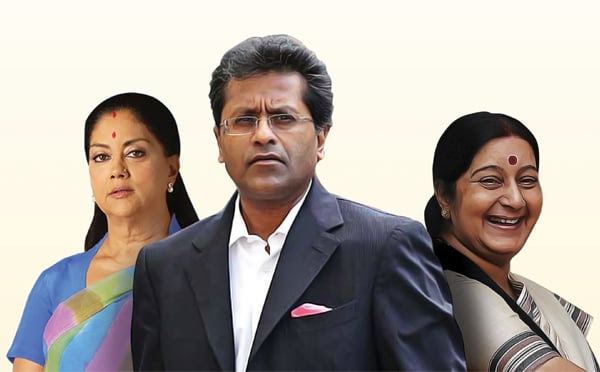 The PM's apparent lack of respect for institutions like CVC, CIC, FTII etc. and those who head them, is worrying
The media hysteria over the Lalit Modi-Shushma Swaraj-Vasundhara Raje saga has exposed ethical transgressions, incestuous equations and dubious financial transactions which only show that the Bharatiya Janata Party (BJP) was hardly different from the Congress and its allies. Deals of BJP leaders, either when they were in the opposition or in BJP-ruled states, were well known; but they seemed distant memory after Narendra Modi took charge. Now, two senior leaders stand badly exposed. As we go to print, a news channel is crowing about how the two powerful ladies, caught in the crossfire, may soon resign.
It is interesting to note that Lalit Modi had been in London for four years of the
United Progressive Alliance (UPA)
government. UPA made no attempt to extradite the flamboyant czar of the Indian Premier League. Far from hiding, Lalit Modi seemed to mock Indian authorities with his endless tweets and television interviews; he heckled politicians and also had a lot to say about the Sunanda Pushkar murder. Indeed, Union minister Shushma Swaraj should not have interceded on his behalf, especially when her husband and daughter were on Lalit Modi's legal team. And Vasundhara Raje role as a 'secret' witness for him stinks, now that Modi's financial deals with her son are out in the open.
Suddenly, the BJP is looking rather shaky on its high moral perch. That there have been no major scams in National Democratic Alliance's (NDA's) first year is an empty boast if many small ones begin to erupt from various states and ministries. And let us not forget the eerie silence about the 41 mysterious deaths in the cash-for-jobs scam (Vyapam scam) of
Madhya Pradesh
, which include even governor
Ram Naresh Yadav
's son.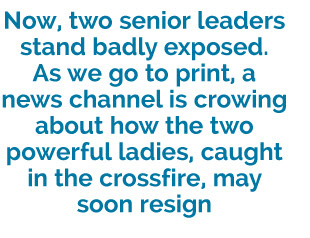 Will prime minister (PM) Narendra Modi be able to exert enough control to prevent a string of small scams from inflicting major damage? Mr Modi's worst detractors agree that he is personally honest. But the same was said about Dr Manmohan Singh; and, yet, he presided over the most corrupt governments in recent history. Unlike Dr Singh, Narendra Modi is a leader and not a proxy; he also rules with an iron hand. But that can be a double-edged sword if past indiscretions and newer ones begin to blow up in the media with regularity.
What should worry the BJP's core of middle-class supporters are some ominous signals that reflect the PM's apparent lack of respect for institutions and those who head them. A pattern is beginning to emerge and this has nothing to do with BJP wanting its own people in key positions. Consider these examples:
• 
Public Sector Banks (PSBs):
 It is more than a year since the BJP has been in power, but key banks remain headless. At Rs.2.78 lakh crore, the gross non-performing assets of PSBs are a serious problem. There is growing pressure on the government to use taxpayers' money, once again, to recapitalise them. A shortage of senior officers is also a concern; but the government is in no hurry to complete the appointment process. While banks have remained headless for over a year, the swift appointment of former Bank of India chairman Vijaylaxmi R Iyer as a whole-time member of the insurance regulator less than a month after her retirement has raised eyebrows. Why isn't the same alacrity shown in appointing even non-executive chairmen at PSBs after the post of chairman and managing director has been bifurcated? It is not even clear what knowledge of insurance she brings to the job. TM Bhasin's appointment as vigilance commissioner on 9th June is stranger still. While Indian Bank, reeling under bad loans, remains headless, Mr Bhasin, who was its managing director and CEO was allowed to quit and is appointed as the CVC. He was also the chairman of
Indian Banks Association
. Now, both remain headless.
• Central Information Commissioner (CIC): Vijai Sharma, the new CIC has only 179 days to retire. The backlog of cases has mounted to over 40,000, as the post was vacant for over nine months. What is worse, the government filled only one out of four vacancies for the posts of information commissioners when it appointed Sudhir Bhargava. There is no explanation for why it did not find any suitable candidates from over 500 applications. Activists suspect that the PM has never been in favour of the Right to Information (RTI) Act and that is why it is being deliberately weakened. This would be a real pity. If India erupted in anger at the colossal corruption in every walk of life and was swayed by Narendra Modi's promise of good governance, it is because thousands of empowered citizens used RTI to get facts and expose wrongdoing. A natural corollary to Mr Modi's election promises would have been to strengthen this institution rather than weaken it.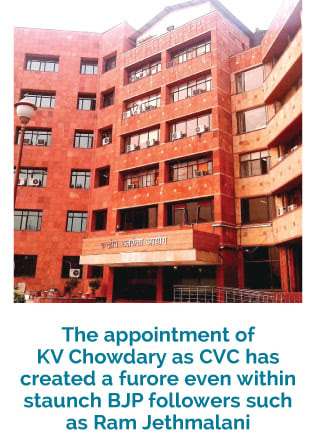 • Chief Vigilance Commissioner (CVC): The appointment of KV Chowdary, former chairman of the Central Board of Direct Taxes (CBDT), created a furore even within the BJP's staunch followers. The formidable Ram Jethmalani, once the law minister in a BJP government, was incensed enough to write to the PM about his objection and post his letter on social media. Pointing out that Mr Chowdary faces several inquiries, Mr Jethmalani's angry missive ended with this flourish: "Now we shall fight it out in the Supreme Court and the court of the people of India. My diminishing respect for you (the PM) ends today." Well-known advocate Prashant Bhushan has also levelled several charges against the new CVC.
• The Film & Television Institute of India (FTII): The controversy over the appointment of Pahlaj Nihalani as chairman of the Censor Board has not even died down when students of FTII have erupted in anger at the appoint of a little-known television actor, Gajendra Chauhan, as chairman of the governing council of FTII. Like with the Censor Board (where even avowedly pro-BJP members are at loggerheads with Mr Nihalani), the issue is not about a political appointment but respect for the institution by appointing the right person to head it. Mr Chauhan is merely known for playing the role of Yudhishtir in the television series Mahabharat. Eminent film-makers correctly say that a prestigious institution like the FTII, which counts some of India's finest actors and film-makers among its alumni, must be headed by a person of eminence and all round knowledge of film-making. It is not as though the BJP could not find such people even among its supporters. Media reports have pointed out that someone like Anupam Kher or Raj Kumar Hirani (both FTII alumni), if appointed as chairman, would not have angered students or the film fraternity. Incidentally, Mr Nihalani continues to spark new controversies at the Censor Board every few days.
Ironically, and in stark contrast, the government is simultaneously working on an electronic system to streamline the functioning of the appointments committee of the Cabinet headed by the PM. This will monitor vacancies, bring in more transparency and facilitate proper appointment of Union secretaries and directors on the boards of public sector entities. Since the government does not communicate, we are clueless about the strange contradiction in its actions.
Appointing the wrong people to institutions, or failing to fill vacancies, is the path to mistakes and indiscretions. And, when you have a PM who is hands-on and unabashed about centralised decision-making, the buck will only stop at his door. It is possible that you may not have gigantic, UPA-style scams, but the lesson from the Lalit Modi-Swaraj-Raje drama is that even small transgressions flare into a media frenzy, especially as the country heads towards major state-level elections. The PM's apparent lack of respect for institutions, and those who head them, is worrying.