'Which leader in the world follows people who make rape threat to their rivals?'
'Which prime minister in the world follows people who give death threats routinely?'
'It is shocking. There is no other world leader who does it.'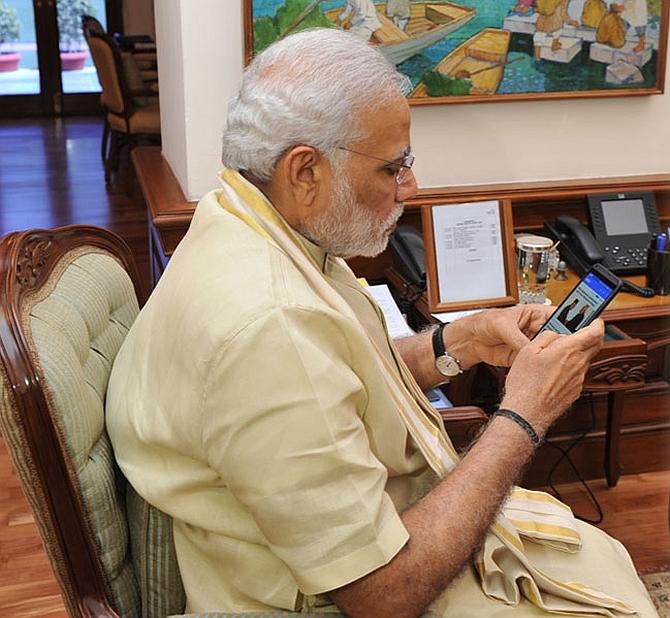 Journalist Swati Chaturvedi's latest book I am a Troll charges the ruling Bharatiya Janata Party with sending trolls after mediapersons and threatening some women with rape on social media.
In her book, Chaturvedi quotes Sadhavi Khosla, a former member of the BJP's IT cell who accused the party of targeting minorities, liberals, journalists and the Gandhi family.
Earlier on Wednesday, December 28, Arvind Gupta, convenor of the BJP's IT cell, denied the allegations and said Khosla was never a part of his team in an interview to Rediff.com
The BJP, Gupta said, had never indulged in trolling.
A couple of hours later, Chaturvedi spoke to Rediff.com's Syed Firdaus Ashraf and challenged Gupta's statements.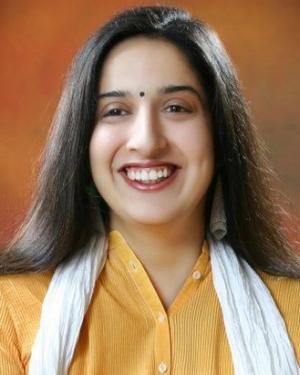 I interviewed Arvind Gupta head of the BJP IT cell and he said Sadhavi Khosla had never worked for them.
That is rubbish. I have documentary proof. That is complete rubbish.
He also said the BJP doesn't indulge in trolling, that they have a policy against it.
Yes, and we all believe that (laughs). If you are on Twitter, you will come to know all about this.
He also questioned why no mediaperson had flagged your past of being an abusive troll on Twitter.
There is one tweet when the Charlie Hebdoincident happened. I called somebody an ass. Now is calling someone an ass abuse?
If thousands of his people attack me, abuse me… and if I say 'ass', that's an abuse?
I am an investigative journalist, who has always written against the government in power.
When I got serial rape threats in September 2014 I called the hyena pack 'fuck wits' which the Oxford dictionary defines as 'stupid or contemptible.'
I stand by that. It cannot possibly be trolling as I was responding to serial attacks and sexual harassment.
I have a 20-year distinguished career in journalism. Why doesn't Gupta do some research before he says something like this?
Why is he not addressing the fact that the ruling party and the cell that he presides over are actually abusing citizens?
Forget journalists, but citizens too.
Is this okay in a democracy?
And why is Prime Minister Narendra Modi following abusive (Twitter) handles that post rape threats and death threats? I have documented all that.
And why are government handles like Digital India calling journalists 'presstitutes'?
Gupta denies Sadhavi Khosla worked for the BJP IT cell. He says he met her once, and that she now works for the Congress party in Punjab.
That is a slanderous allegation.
Sadhavi Khosla runs a knowledge person outflow and is a documentary filmmaker.
Maybe Mr Gupta is so unnerved that he has resorted to making this ridiculous argument.
Why did you write this book?
I am seeing a culture of frightening bigotry and hate being hoisted in this country by the ruling party.
No action is being taken against communal incitement by the (Twitter) handles of the ruling party.
As an investigative journalist, I wanted to investigate this phenomena and I kind of cracked the link it has to Mr Gupta.
He cannot dodge responsibility.
Rather than addressing these issues, why is he resorting to personal abuse and slander?
By the way, it justifies my thesis because that is all that they do.
Also, I am worried that tomorrow we will probably have riots in our country because of the amount of hate and bigotry that the BJP is mainstreaming though social media. They are attacking people who have different viewpoint from theirs.
Why is the BJP targeting people who they see are adversarial to them?
Do you feel these Twitter handles create an impression in the public that journalists are 'presstitutes', and fuels intolerance against the Muslim community?
Of course! They create an atmosphere of bigotry and anti-Muslim venom that incites communal incidents.
The fake cow slaughter videos… what about Malda (riots)? All these things that they have done has been documented in my book. All of this is designed.
My fear is that they are creating the hate online and mainstreaming it, eventually translating into offline riots.
Every woman who is liberal is attacked.
Every journalist is attacked.
They have a hit-list.
How can a ruling party and a minister in the ruling party use the word 'presstitutes'?
We are still a democracy and the media is non-negotiable in democracy.
You have to live with the media.
The way the media is being targeted and trolled by the BJP is scary.
But they are not taking the law into their hands… they have not beaten up anyone so far, one may argue.
They have… a person named Tajinder Singh Pal Bagga, who is followed by the prime minister on Twitter, went to (lawyer) Prashant Bhushan's chamber and beat him up.
The prime minister held a meet-and-greet at his official residence for all these trolls. They call them their yodhas (warriors).
That is the mindset we are dealing with.
Again and again, I am emphasising that I do not want to get into a tu-tu main-main (argument) with Arvind Gupta.
He cannot resort to personal slander and abuse.
Why is he not answering the fact which I have raised in the book?
Did he send that WhatsApp on Aamir Khan or not?
Did he send that awful thing about Aamir being a Muslim to Sadhavi Khosla?
… but he denies that Sadhavi Khosla worked with him.
I have those WhatsApp forwards. He cannot deny. It is documented.
Where did she work from? Which BJP office?
She was a social media volunteer. They work on WhatsApp.
She went to meet him (Gupta) at the BJP's Ashoka Road headquarters and it is described in the book. She did not take any money.
Why did she not file a complaint if she was upset about these hateful trolls?
She raised this with (BJP General Secretary) Ram Madhav on Google Hangout. I have video proof of it.
I have hundreds of screenshots which Mr Gupta shared with her. I have pictures with the chai pe charcha she organised.
I have pictures of her campaigning with Kiron Kher and Smriti Irani in Gurgaon.
Do you feel the prime minister should unfollow these abusive Twitter handles?
Which leader in the world follows people who make rape threat to their rivals?
Which prime minister in the world follows people who give death threats routinely?
It is shocking. There is no other world leader who does it.
Why is no action taken against those who issue rape threats to women online?
Nothing happens because it has got State support.
All these people who abuse and give rape threats are members of the ruling party.
We have all the laws in place.
America is a beacon of free speech laws, but hundreds of arrests are made every year on social media when people incite communal incidents or post rape or death threats.
Do you feel a strong message will be sent against such people if one of them is arrested?
Clearly! Tell me, why does the prime minister of India follow trolls?
When you ask this question to him, he keeps silent. Is that what he should be doing?
How do you feel when people call you a Congress supporter?
I find that ridiculous. I have always been against the party that is in power.
I have written a column a week ago that Rahul Gandhi is a monumental disaster and that he must retire.
The argument that I am a Congress supporter is a joke.
We may be living in a post-truth world, but calling me a Congress sympathiser is ridiculous.
They call you all names, 'sickular' and 'presstitutes'. It is awful. Is this how they want the debate to stoop?
What image are we showing to the world?
You are harassing people who have a counter viewpoint.
Syed Firdaus Ashraf / Rediff.com