For a search giant that answers online queries instantly, 
Google
 raises deeper questions in the real world. What if internet users knew in 2005 that Google would be reading all our content on Gmail? Would we have sacrificed the convenience of free 
Gmail
 to protect our 
privacy
?
Today, the company knows even more about our online habits, but the choice to use Google or not rests with the user. It's an interesting parallel to Aadhaar at a time when the government is making the unique identification number mandatory across a spate of services. The most controversial step in late March was a call to link the Aadhaar number with permanent account number (PAN), which identifies Indian nationals who pay income tax. Everyone has to work for a living.
In effect, Aadhaar—unlike Google or any digital service—is compulsory, when India doesn't even have a data protection and privacy law. On 19 May, according to a news agency PTI report, senior counsel Shyam Divan told the Supreme Court (SC) bench of Justices AM Khanwilkar and Navin Sinha that Aadhaar "cannot be made compulsory and they cannot coerce people to give their biometrics." On the other side, Attorney General Mukul Rohatgi argued that making it mandatory is vital to eliminate fake and fraudulent accounts that get subsidies.
Ongoing SC petitions argue that Aadhaar was envisaged as a voluntary ID. The move to make it mandatory is seen as 'draconian' by activists, and as 'governance' by the other side. But there is a middle ground: of the people. And Aadhaar-enabled Payment System (AEPS) provides us with a statistical-perspective of people's position on Aadhaar's utility.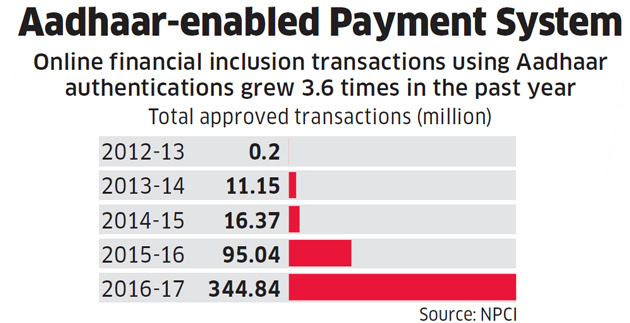 DIGITAL ID FOR SUBSIDIES 
In April, a Lok Sabha question from Trinamool Congress MP Saugata Roy to the electronics and information technology minister elicited a remarkable growth stat. Roy's query was on services available through AEPS, and details of the transactions using this disbursement route to citizens. The National Payments Corporation of India (NPCI), an umbrella organisation of banks that validate retail payments, responded: 344.84 million approved transactions in 2016-17.
At first glance, the figure (more than 3.5 times the transactions clocked in 2015-16) is a testament of the reach and effectiveness of Aadhaar. It demonstrates the vision of seeding Aadhaar numbers to social welfare schemes for electronically disbursing money to specific beneficiaries. More than 300 million unique beneficiaries have availed of AEPS in less than five years, which adds up to well over 600 million approved-transactions in this period. But the UIDAI's ambitions are far higher, which puts these staggering figures in perspective.
It has been entrusted with issuing Aadhaar IDs to all residents of the country. It is building capacity to carry out 100 million biometric authentications every day. In 2016-17, its rate was 1.26 million transactions per day. So, there is a lot of ground to be covered. These beneficiaries, who have linked Aadhaar number to a bank account, directly receive entitlements in some form. The seamlessness is possible because their names and bank account number are already in databases of government departments from whom they receive social benefits. Aadhaar helps a department be sure who the money is going to and leaves a digital trail.
Aadhaar has proven to be a juggernaut on the enrolment front—1.13 billion IDs issued in six years. But the UIDAI cannot afford to carry out authentication-based rollouts across schemes in haste. For, unlike any online service like Google or Facebook, the failure rate of AEPS can lead to denial of direct benefits. It can erode public faith in Aadhaar— and, by extension, the government.
This is an economic reason to retain Aadhaar as a voluntary factor, at least until the government solves on-ground issues around Aadhaar-based authentication. "In a welfare state, if every citizen has to get a particular benefit, that ration should not be denied," says Anupam Saraph, a professor who has been an advisor to urban e-governance initiatives in Pune and Goa. "But this (AEPS) is a system of distrust: if that Aadhaar authentication does not work for a beneficiary, he or she will not get his ration."
Malavika Raghavan, project head for finance initiative at IFMR Finance Foundation, a think-tank to ensure individual to financial services, concurs: "At the end of the day, whether you are giving credit on the phone, digitally or otherwise, it is credit to the needy." It needs to be safe and reliable. This takes us back to the original promise of Aadhaar: reliable disbursement enabled by a unique ID. That was Nandan Nilekani's pitch in Imagining India (2008) before becoming the UIDAI foundingchairman:
"Creating a national register of citizens, assigning them a unique ID and linking them across a set of national databases can have far-reaching effects in delivering public services better and targeting services more accurately," he wrote in 2008. That is yet to be demonstrated at India's scale. That's what AEPS is fundamentally about: delivery at scale. An ex-employee of UIDAI cites the LPG subsidy to explain the value of AEPS to both, the citizen and State. It forms a large chunk of the AEPS use-cases currently. "To deliver the cylinder to a beneficiary, the subsidy money has to come into the beneficiary's bank account thanks to the Direct Benefit Transfer (DBT)," he says. Under the DBT mission, there are more than 200 welfare schemes from 45 ministries. Only 32 of these schemes like financial inclusion programme Jan Dhan Yojna use Aadhaar to confirm the beneficiary.




INSIDE AUTHENTICATION
If an LPG agency had been diverting cylinders to a restaurant and putting it against a beneficiary's name, it can't do that anymore because the cylinder has to be delivered at the full price. The LPG subsidy comes into the beneficiary's account after his/her Aadhaar authentication. "So it stops diversion, and Aadhaar has just made it easy to send money to the bank account. For the state, it removes fakes from the system."
Here's how rubber meets the road. For beneficiaries' bank accounts to be linked to their respective Aadhaar number, the biometric (fingerprint) authentication is done at the local LPG-dealer's outlet at the time of registration. After that is done, the ministry of petroleum and natural gas database tallies each payment due against the Aadhaar number, before disbursing the subsidy to the registered beneficiary. Similarly, AEPS has been used in rural development initiatives like SC-ST (scheduled caste/scheduled tribe) student scholarships. But for payments related to schemes like Mahatma Gandhi National Rural Employment Guarantee Scheme, scheduling happens across 13 states that have on-boarded using Aadhaar for authentication.
Biometric validation is as per payment schedule across each state, at each instance of the payout per beneficiary. Every individual entitled to the payment puts his thumb impression and validates. After this, the ministry of rural development transfers money directly to bank accounts. Growth-uptake in AEPS transactions in 2016-17 was because of withdrawals by people, according to a source working closely with UIDAI. 'Business correspondents' (BC) use AEPS the most—at a rate of nearly 1.5 million transactions per month—when account holders want to withdraw cash. BCs carry hardware for people to authenticate transactions. The accountholder types his/her Aadhaar number, followed by a thumb impression to authorise the withdrawal.
NPCI has not disclosed the failure rate (number of unapproved transactions yet) for AEPS, though states like Telangana have reported a poor record. "It varies from application to application (subsidy to subsidy), and state to state," says the source, who cites 99.6% as a best-case scenario and as low as 67% for certain government service applications in some states. In effect, almost one-third of beneficiaries of some schemes do not receive their entitlements using Aadhaar for authentication.
TRAVAILS OF AEPS
For beneficiaries who depend on public distribution systems (PDS) for rice, sugar, kerosene or oil, authentication failure is a serious problem. To solve this, the BCs who man the authentication hardware at PDS outlets have to be trained continually in standard procedures and the right authentication hardware. Second, the equipment has to be of high quality. And three, connectivity has to be reliable because it affects acceptance rates when people authenticate using their fingerprint.
"The UIDAI has a crack team under each of the regional officers to solve such problems and improve acceptance rates," the source says. The largest failure rates occur in PDS, where the BCs depend on mobile phone coverage for authentication. "Wherever there is radio link, VSAT (a satellite communications system), or good line connection, the acceptance rates are higher than in those where mobile phones are used," says the source who is working with the UIDAI. There are pieces of the AEPS implementation that have to demonstrate error-free execution at scale for better acceptance rates. Take Aadhaar seeding, for example.
It is a process by which Aadhaar numbers are included in the servicedelivery database of service providers to de-duplicate (clean up fake accounts) and enable Aadhaar authentication. The UIDAI recommends a manual approach for correctness, which means seeding at bank branches, or door-to-door campaigns. The latter involves a gram rozgar sewak and teachers writing Aadhaar numbers on a sheet of paper to reduce recording errors, after visiting each home. The data is later updated in the service-delivery database. Alternately, the official has an app installed on a tablet or smartphone to record the Aadhaar number for a scheme identifier.
The push for Aadhaar is happening in this milieu, when the original mission of targeted subsidy is being overtaken by a government mandate for anti-fraud measures and transparency. A consultant in Bangalore says: "The government wants it to be mandatory. Sure, it will reduce—if not eliminate—the benami or fake names. But the risk then is beneficiaries are dependent on one system of identification." But how safe is the Aadhaar apparatus?
Explains another UIDAI ex-employee: "Every record is tamper-proof and digitally signed. That means nobody can change the information (in the Central Identities Data Repository, or CIDR). It ensures integrity of data. And then, it is encrypted at source, which ensures confidentiality of data." According to three persons who have worked closely on Aadhaar, the number-holders' demographic and core biometric information don't reside in one database, but in distinct databases.
"The whole idea has been to build for India's scale – this needed capacity building," says an entrepreneur who has volunteered for think-tank iSPIRT (Indian Software Product Industry Round Table). "Technology can play a big role in building capacity of the state to hand out entitlements more efficiently. That was the basis of Aadhaar." Making it mandatory is a departure from those roots.http://economictimes.indiatimes.com/small-biz/policy-trends/why-governments-push-to-make-aadhaar-mandatory-could-erode-public-faith-in-aadhaar-enabled-payments/printarticle/58796875.cms