After scrapping monthly medical allowance, staff across categories are being charged the same amount of premium for buying insurance from Anil Ambani's Reliance.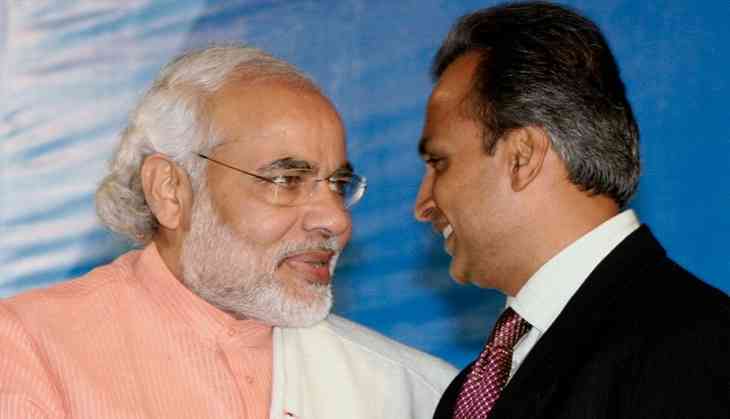 The Modi government seems to be going out of its way to help fill the dwindling coffers of Anil Ambani's Reliance group — as is most recently being alleged in the Rafale scam.
Now, the Centre has made it mandatory for all state government employees in Jammu & Kashmir (J&K) to buy health insurance from Reliance General Insurance Company Limited. What is even worse, the government has scrapped the monthly medical allowance paid to state government employees.
The governor's administration in J&K announced the Group Mediclaim Insurance Policy for all state employees and pensioners on September 20.
It said "the policy has been tied up" with Reliance General Insurance — instead of a government-owned insurance company, as one would expect at least from a government scheme meant for state employees.
"The policy has been tied up with M/s Reliance General Insurance Company Limited on annual premium of Rs 8,777 and Rs 22, 229 (for employees and pensioners, respectively)," said the order by the J&K Government.
"The policy is mandatory for all the state government employees (Gazetted as well as Non-gazetted), State Universities, Commissions, Autonomous Bodies and PSUs," it added.
However, the policy will be optional for pensioners, accredited journalists, and other categories of employees.
The policy will provide health insurance coverage of up to Rs 6 lakh per employee/pensioner per annum along with his/her five dependent family members on floater basis.
Ensuring a Market For Reliance's New Foray?
On September 18, two days before the J&K order was issued, Anil Ambani's Reliance officially announced that it was setting up a standalone health insurance company, Reliance Health Insurance — separate from Reliance General Insurance.
This new company dedicated to health insurance — set to become a burgeoning market, what with Modi's Ayushman Bharat health insurance scheme — is expected to become operational by early next year, within this financial year itself.
As for the health insurance policy in J&K, it came into effect on October 1, for a year — and is extendable annually for three years, based on "satisfactory performance" of the insurer, as Principal Secretary Finance Navin K Choudhary said, according to PTI.
So is the Modi government already securing J&K as a market for the upcoming Reliance Health Insurance — which is why it has made the policy mandatory for all serving state employees?
Premium Unfair, Allowance Scrapped
What's more, the insurance premium (as mentioned above) is Rs 8,777 annually for all employees — across categories and levels.
So, from a Class-IV employee, such as a peon, to officers in the Kashmir Administration Service (KAS), all would pay the same amount of money as premium — which would be mandatorily deducted from their salaries.
Never mind that the salary paid to a peon is a pittance compared with what is paid to a KAS officer, for example.
And employees in the state have objected to the order. As reported by local publication Daily Excelsior, the Employees Joint Action Committee (EJAC) has opposed the premium as "unfair, unjustified and unacceptable".
Speaking to Newsclick, Shyam Prasad Kesar, state treasurer of the J&K unit of the Centre of Indian Trade Unions (CITU), said,
"State employees of J&K used to get a medical allowance of Rs 300 per month, which has been stopped. This used to give workers some relief in their smaller expenses on medicines and visits to doctors. In fact, employees had been demanding that the medical allowance be enhanced to Rs 1,000," said Kesar.
"But with health insurance, employees would only be able to claim it for inpatient treatment, once they are admitted in hospital, not for the regular expenses of outpatient care," he added.
He said the fact that this scheme has been made been mandatory  is problematic, because there are some employees who have already taken health insurance policies. "This will result in double payment of premium for such employees. Therefore, this policy should have been kept optional," he said.
As for the same premium being charged from employees across categories, Kesar said it was not just "grossly unjust" but "discriminatory".
"How can the government impose the same premium for all? This means that employees who get paid Rs 20,000 as well as those getting paid Rs 1.5 lakh have to pay Rs 8,777. When the salary is not the same, on what basis is the premium being deducted from the salary the same?" he said.
"This is absolutely discriminatory. The government should have considered the salary of employees across categories and fixed the premium in a graded manner, at the least."
Kesar also said it was a "tragedy" that the annual premium for pensioners was as high as Rs 22,229.
"First, the government goes with a private insurance companies, which are known to be unreliable. As anyone can tell in current times, corporate houses cannot be trusted. And then the government puts this burden on lesser paid employees, while scrapping the monthly medical allowance."
Reliance Favoured Over Others?
The same Daily Excelsior report said that according to the EJAC members, the state government had held a meeting regarding this Mediclaim policy between employees' representatives and the representatives of ICICI Bank "under the chairmanship of (Principal Secretary Finance) Naveen Choudhary".
The EJAC said that with ICICI Bank, the annual premium was fixed at around Rs 5,300 while giving the same amount of insurance cover — but that "now a deal has been struck with Reliance Insurance with more than 65% increase annual premium that is Rs 8,770 of Reliance Insurance from Rs 5,300 of ICICI Bank, we smell a rat in it."
"It is just to benefit a particular company that government employees are being made scapegoats" the EJAC members said, according to the report.
https://www.newsclick.in/why-has-modi-govt-made-reliance-health-insurance-mandatory-jk-employees