: Systemic corruption
Opposition leaders issued their usual Facebook statements and accusations against each other with an eye on the Assembly elections.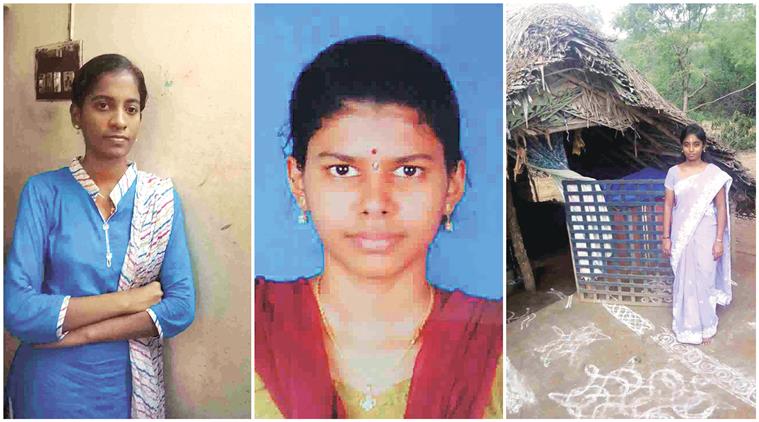 T Monisha, V Priyanka and E Saranya. All the three came from modest families.
"In Tamil Nadu, right for entertainment supersedes all other fundamental rights of people," scribbled a frustrated Tamilian on Facebook.
On the day when three girls of SVS Medical College of Yoga and Naturopathy, a private college approved by the Tamil Nadu government, allegedly committed suicide by jumping into a 50-foot farm well, no one knows what reactions they expected to their tragic act but random Facebook scribblings could not have been one of them.
After widespread protests over Rohit Vemula's suicide the previous week, they may have hoped for media criticism of the owner of the illegal medical college to whom they had paid several lakhs of rupees, state-wide protests and even the arrest of the college owner Vasuki Subramanian, her son who allegedly harassed them, her driver who, they said, used to threaten them.
Watch Video: Villupuram Student Suicides: Visuals Of The Medical College
In the past, students have fought a dozen cases against the intimidating management in the Madras High Court, leading to protests for over one year including two failed suicide pacts before the Villupuram Collectorate (one an attempt of self-immolation by half a dozen students, another by six students eating rat poison); they have sent dozens of petitions to the district collector, vice chancellor and the registrar of Tamil Nadu Dr MGR Medical College (the authority that gave a clean chit to the college), the state health secretary and even the Chief Minister J Jayalalithaa. Yet, nothing has happened.
This time too: after the suicide of the three girls, no political party in the state took up the students' cause wholeheartedly. Opposition leaders issued their usual Facebook statements and accusations against each other with an eye on the Assembly elections. Their suicide failed to invoke any traction on social media; neither the vice-chancellor (VC) nor the state health minister were 'trolled' on Twitter. The media response was tepid until their college was sealed and locked. No one has been arrested: not the Registrar of MGR Medical University or the corrupt officials who conducted periodical inspections in their college and forged facts to help the college owner.
There was no statement from the health secretary or the health minister. And finally, all that their families received was Rs 1 lakh compensation from Jayalalithaa who had disbursed Rs 3 lakh to the families of each of those who had committed suicide after her conviction in 2014. 'Amma' also refused a demand by their parents for a CBI-CID probe, alleging the suicides were murder.
The reasons for such indifference are many: the private medical education sector in Tamil Nadu runs a Rs 1,000 crore business by selling MBBS-Dental-Nursing-Ayurveda-Alternative medicine seats — a model evolved between the government and the Tamil Nadu Dr MGR Medical University, the affiliating authority to majority of these institutions. The sale of seats in these courses starts from Rs 40 lakh (MBBS) to Rs 6 crore (PG) each (note: each college recruits 150-250 students per year, the rates vary if the candidate is an NRI, cash should be in suitcases, no receipts) and Rs 2 lakh to Rs 10 lakh for other medical degrees.
After the government approves the establishment of a medical institution and it is affiliated to the medical university, there are three major parameters to be verified periodically – 1) infrastructure, 2) teacher-student ratio (and patients to study, an essential part of medical education, and 3) transparency.
The affiliating authority was supposed to conduct periodical checks at the institution for its facilities. Technically, documents show Dr MGR Medical University, SVS Yoga Medical College was inspected every year, at times twice or thrice a year. How then didn't they notice the deficiencies like a lack of laboratories, zero faculty and hostel facilities? The inspectors who visited the college on several occasions had also failed to notice that the college had been offering allopathic treatment without doctors and nurses. It had operation rooms, a dialysis unit and even radiology wings – all without permissions and on the pretext of running a yoga naturopathy college.
While these facts expose the nexus between private college owners and the senior most health experts and officials who work with the state government, they also highlight corrupt practices that have evolved over the years.
A senior official being corrupt may not be news. However, corrupt practices of a top official who has worked with the Directorate of Medical Education (DME), a wing that controls the entire medical education sector in the state including deemed universities, still raises eyebrows with allegations that she asked for iPhones, iPads and Kancheepuram sarees.
The three girls who allegedly committed suicide hailed from modest family backgrounds in rural Tamil Nadu. All three had sold their land and taken educational loans to fund their studies. They had hoped to find employment in the world of alternative medicine. Their deaths once again raise questions of a corrupt system
– See more at: http://indianexpress.com/article/explained/why-is-tamil-nadu-indifferent-to-the-suicide-of-three-girls-systemic-corruption/#sthash.qI9Gsl3N.dpuf