A Malayali Muslim bride demanded 50 books as part of a custom in Muslim weddings, only that the custom has mostly seen woman's family demanding gold or money.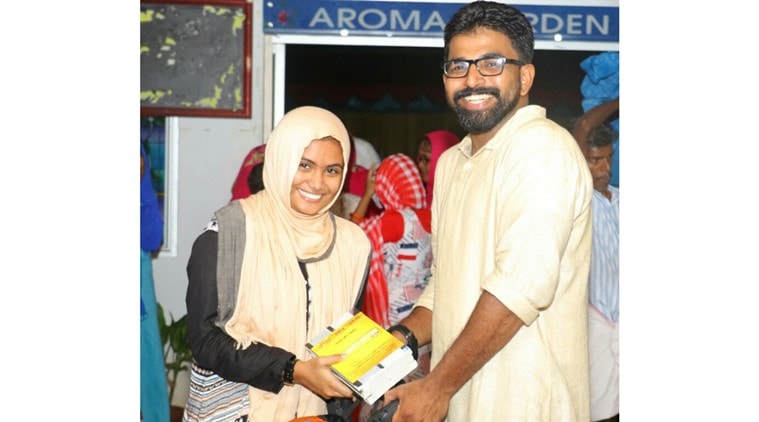 This Malayali Muslim bride decided to break stereotypes, the religious way, on the day of her marriage! (Source: Sahla Nechiyil)How often do you see a woman demand books as mehr, and not the customary jewellery or gold. In Kerala's Malappuram district, a woman set an example for her community. A post graduate in political science from the Hyderabad University, Sahla Nechiyil never dreamt of a perfect, fairytale wedding. But when she decided to get married, she also sent across a social message to the "gold-obsessed" Muslims in Malappuram.
Nechiyil decided to demand 50 books from her fiancé as mehr, a mandatory payment in the form of money or possessions paid or promised to be paid by the groom to the bride at the time of marriage. She asked for books as mehr because of two reasons. "One, because according to the religious texts, a girl can demand anything she wants and the groom cannot disagree. And second, because I wanted to show the Malappuram Muslims that a wedding can take place without obsessing over the amount of gold transacted between both parties," she said.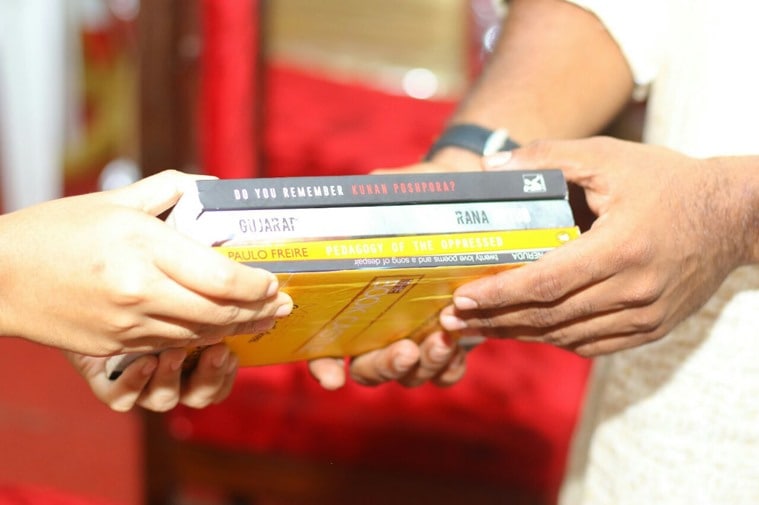 (Source: Sahla Nechiyil)Her husband (they got married on August 11) cannot agree more with Sahla and supported her stand wholeheartedly. "Mehr is the right of the woman, not the generosity of the man," he said. Anees Nadodi  was promptly handed a list of 50 books by Nechiyil, and he went all the way to Bangalore to find all the books that she wanted. All this amidst much disapproval from both the families. In Nechiyil's case, however, more than her parents, her relatives disagreed. "They could not argue for long, because we were not doing anything against the religious texts," said Nechiyil.
Nechiyil explained that this is not the first time that a Muslim woman put up a brave front and demanded something in accordance to her wish. "In the early days of Islam, women would demand mehr. But elders brought the situation to the notice of the Prophet, because women were not allowed to think or decide for herself. Though the Prophet explained that they were doing nothing wrong, the practice saw more and more Muslim women quoting not their demands, but those of the elders as mehr," she said.
Anees Nadodi with the books Sahla demanded for. (Source: Sahla Nechiyil)Nechiyil demanded a list of books that include Islamic feminist literature, feminist literature, fiction, politics etc. and with that, Anees and Nechiyil probably became the first Muslim couple to not have any gold or monetary transactions as mehr.
"The religious texts allow us to live according to our wish, yet these girls fear to speak up or decide for themselves," she said. "Ani (Anees) had to struggle a little looking for the books I demanded. Making your husband struggle a little is the idea of mehr, anyway," she added.
Anees, on his part, enjoyed the "book-hunt" his wife had organised for him. He went to Bengaluru's popular Blossoms, Gangaram and Bookworm bookstores looking for the rare titles that Nechiyil had meticulously listed.http://indianexpress.com/article/lifestyle/life-style/this-malayali-muslim-bride-is-breaking-stereotypes-the-religious-way-2970808/