With the Trinamool government and NGOs stalling the Haripur nuclear plant, will the DAE allot the Russians another site elsewhere in India? Indrani Roy/Rediff.com reports.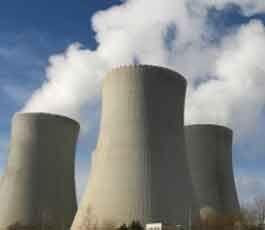 Prime Minister Narendra Modi and Russian President Vladimir Putin will unveil on Thursday, December 11, a vision document to meet India's energy needs.
While the central government seems keen to sort out India's power woes, the status of the nuclear power plant at Haripur in West Bengal's East Midnapore district continues to be in limbo.
During his visit to Russia in 2011, then prime minister Dr Manmohan Singh signed an agreement with the Russian government to collaborate on setting up five nuclear plants in the country, including the one at Haripur.
Haripur was an important part of the Centre's plans to generate 30,000 mw of nuclear power by 2030.
The project was given environment clearance in January 2010 and land was allotted to the Russian company Rosatom to develop a nuclear park for its 1,000 mw atomic power plants.
Coastal Haripur was identified by the Centre because of its low population density. Haripur reportedly had the potential for six reactor units.
Local farmers and fishermen, supported by non-government organisations like the Paschim Banga Khet Mazdoor Samiti and National Fish Workers Federation, and the Trinamool Congress (then in the Opposition) launched an agitation against the project.
Eminent writer-activist Mahasweta Devi was vehement in her protest against the proposed nuclear plant. "The Haripur plant will usher in death and disaster for the people of Bengal," she had told Rediff.com
Soon after coming to power in 2011, the Trinamool Congress government said it would not permit the Haripur project. State Power Minister Manish Gupta informed the state assembly that the Bengal government would oppose the proposed nuclear plant.
Trinamool Congress Member of Parliament Subhendu Adhikary told the media in 2013 that setting up the nuclear plant in Haripur was out of question. 'It is a densely populated area and such projects will spell doom for the locals,' Adhikary had said.
In 2011, Rosatom asked the Department of Atomic Energy to allot it another site in another part of India for the plant.
'The Haripur project is not deleted from our scheme of things,' Dr Srikumar Banerjee, the former chairman of the Atomic Energy Commission, told the media when he visited Kolkata recently.
'If the government is planning to go ahead with the plant, we will relaunch our protests,' Anuradha Talwar, an activist of the Paschim Banga Khet Mazdoor Samiti, was quoted by the media as saying in 2013.
Indrani Roy / Rediff.com in Kolkata