Travelling daily on empty stomach
Anita (in pic) says that as the hospital did not admit her, she has been travelling everyday from her house, around 27 km away, for the past three days for the abortion
She says since the doctors had told her to have an empty stomach before the procedure, she has been remaining without food throughout the day and only eats when she reaches home in the evening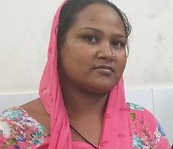 Rachna Khaira
Jalandhar, September 20
Exposing the tall claims made by the state government of having established state-of-the-art neonatal care infrastructure in the state, 25-year-old Anita — with a dead foetus in her womb — was found running from pillar to post without food and water at the Civil Hospital in Jalandhar on Sunday.Though the foetus was found dead in the ultrasound examination conducted by the hospital on the morning of September 18, the abortion could not be done till late evening today.
The reason was the heavy rush of delivery cases in the biggest hospital (450-bedded) of Punjab which is catering to patients from Kapurthala, Nawanshahr, Hoshiarpur and Phagwara, apart from Jalandhar.Anita, a resident of Pholriwal village, experienced sudden spotting on September 17 in her first trimester of pregnancy.
She was rushed to the Civil Hospital here. On arrival, the doctors asked her to get an ultrasound test conducted to ascertain the condition of the foetus."After the ultrasound, the doctor told me that the foetus was dead and has to be aborted. Though she gave me an antibiotic on the same day, she did not confirm the date and time of my abortion," claims Anita. She said that as the hospital did not admit her, she has been travelling everyday from her house, around 27 km away, for the past three days for the abortion.
She said that since the doctors had told her to have an empty stomach before the procedure, she has been remaining without food throughout the day and only eats when she reaches home in the evening.The largest government hospital in Punjab is facing acute shortage of doctors and is unable to attend to various kinds of gynae cases, putting the lives of hundreds of women at risk due to infection.
There are only three staff nurses in the department.Dr Sangeeta, HoD, gynae department, claimed ignorance about the case and assured to get it investigated. When contacted, SK Jiyani, Health Minister, called up Dr Kailash Kapoor, Civil Surgeon, Jalandhar, and asked him to get the abortion done immediately.
http://www.tribuneindia.com/news/punjab/woman-s-dead-foetus-aborted-after-2-days-due-to-hospital-staff-crunch/135801.html