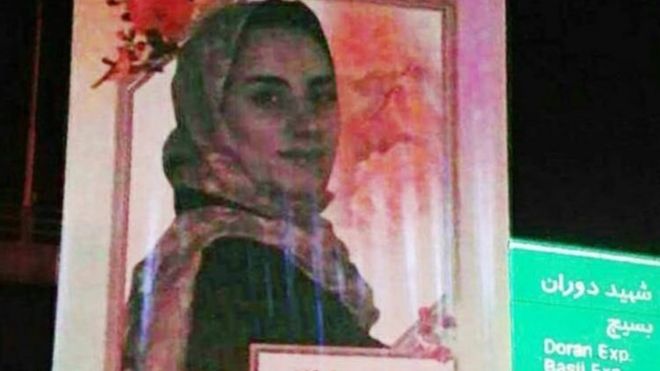 A soldier, war photographer, and an Olympian are some of the women gracing public billboards in Iran's capital Tehran in a rare move in the conservative country.
The billboards showcase the achievements of ground-breaking Iranian women, including the late mathematician Maryam Mirzakhani who in 2014 became the first woman to win the Fields Medal – the equivalent of the Nobel Prize for mathematics. She died in 2017 aged 40.
The campaign comes after a pro-reform party politician was elected the city's mayor in 2017. It contrasts with street posters produced under the previous, conservative administration that minimised women's roles to household duties.
Social media users welcomed the unusual move but some suggested the billboards are meaningless without concrete action to improve women's rights.
Last week an Iranian woman who publicly removed her headscarf to protest the mandatory hijab law was sentenced to two years in prison.
Who are the women?
The women chosen to appear on the billboards include intellectuals, artists, athletes and scientists. Some are not wearing traditional Islamic dress while others have their hair fully-covered with black veils. Some of the women in the campaign are:
Iran's first woman war photographer, Maryam Kazemzadeh, who captured the Iran-Iraq war in the 1980s.
Marzieh Hadid Chi, the first woman commander of the Islamic Revolution Guards Corps – a branch of the Iranian army. A woman's rights activist, she later became an MP.
The first recognised female Islamic scholar, or mujtahid, in modern Iran, Nosrat Amin.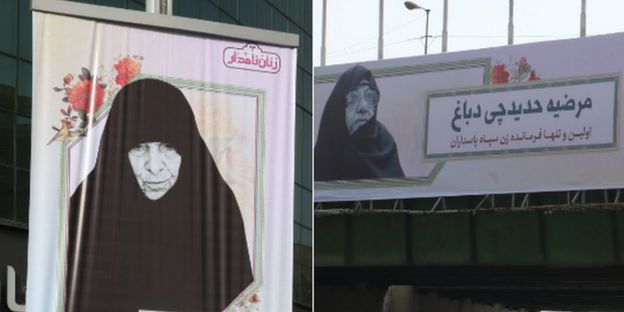 Alenush Terian, a physicist known as the mother of modern Iranian astronomy. She died in 2011.
One of the first female journalists, Maryam Amid-Semnani, who in 1913 founded an influential women's newspaper called Blossom.
Tehran Member of Parliament Fatemeh Saeedi called the campaign "good work" by the Tehran Municipality. In response one social media user wrote, "Don't be happy about this. This is just a publicity move."
Some online users supported the move, writing that it "will help women improve self-respect and self-esteem – we need to see such measures in other cities as well."
However others referred to Iran's brain drain of figures such as Maryam Mirzakhani, who made her name at Stanford University in the United States. One user commented: "She was forced to leave, not only her but a hundred other geniuses. If she lived and had returned she would not have been allowed to teach for she had not observed the hijab."
Another highlighted the ongoing protests by women against the compulsory hijab that take place in Revolution Street – the same location where on of the billboards has appeared.
In recent weeks, social media users have shared pictures of signs produced by the Tehran Municipality to raise awareness of street harassment and women's safety
http://www.bbc.com/news/blogs-trending-43386877