The Chief Minister said the biggest "concern" these days was the newfound propensity of women to lodge rape cases.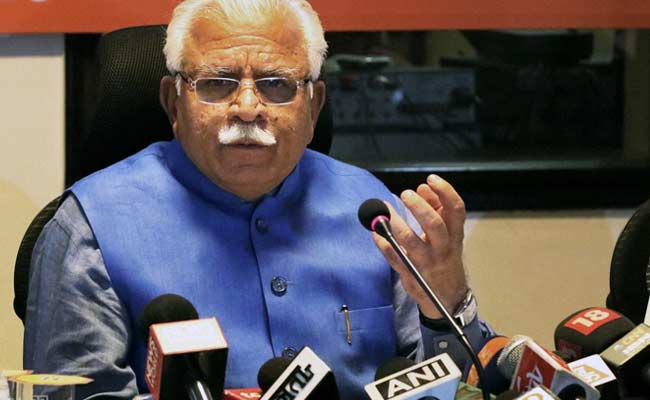 CHANDIGARH: Haryana Chief Minister Manohar Lal Khattar today waded into yet another controversy by suggesting that women file false rape cases only to get back at estranged male companions.
Addressing a public gathering in the state, Mr Khattar began by denying reports that Haryana has witnessed a spike in rape cases in recent years. "Rapes used to happen earlier and they are happening now. It's only the concerns that have increased," he said.
The Chief Minister then went on to speak on the biggest "concern", which — according to him — was the newfound proclivity of women to lodge rape cases. "Around 80-90% of the rape and molestation cases happen between people who are familiar with each other. They roam around together for days, and when they finally squabble one day, the woman files an FIR saying that she has been raped," he said.
Congress leader Randeep Singh Surjewala dubbed the statement as deplorable. "Anti-Women Mindset of Khattar Govt Exposed! Haryana CM Khattar ji makes an utterly condemnable remark. Blaming Women for complete failures to control Rapes & Gangrapes? Deplorable!" he tweeted.
This is not the first time Mr Khattar has blamed women for the increasing number of rapes in his state. In 2014, he said that women "instigate" men to sexually assault them by wearing flimsy clothes. "If a girl is dressed decently, a boy will not look at her the wrong way," he had said. "If they really want to enjoy their freedom of choice, why don't they just roam around naked? Freedom has to be limited. These short clothes are Western influences. Our country's tradition asks girls to dress decently."
Significantly, a report tabled in the Haryana assembly recently showed a 47% increase in rape cases and an over 100% spike in kidnapping of women across the state since 2014-15. The data also revealed a 26% increase in molestation cases over the last four years.
Mr Khattar is not the first politician to justify rape cases in the country. In 2014, Samajwadi Party leader Mulayam Singh Yadav had said that rapists should not be awarded the death penalty because "boys will be boys, and they make mistakes sometimes".
In 2012, a Jind khap panchayat leader identified the consumption of chowmein — a fast food item — as the reason for men getting involved in rape cases. "In my understanding, consumption of fast food contributes to such incidents. Chowmein leads to hormonal imbalance that evokes an urge to indulge in such acts," he said.
https://www.ndtv.com/india-news/women-cry-rape-to-get-back-at-ex-boyfriends-says-haryana-chief-minister-1949127