During the worst of the violence between Israel and Palestine last summer, Gaza student Hoda Elrayes shared her experiences of living on the frontline with GuardianWitness. One year on she tells us about three women in her community whose lives are still affected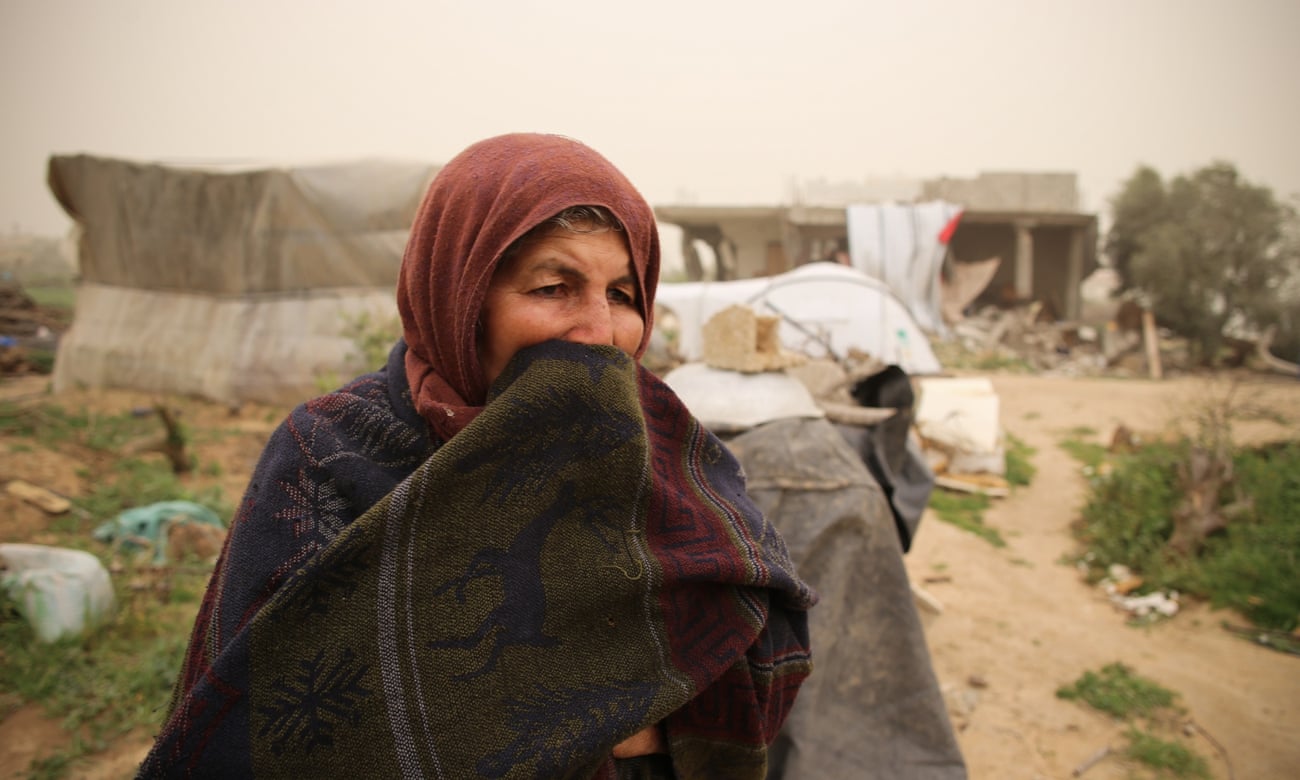 The conflict between Israel and Gaza last July has left the most acute humanitarian crisis in the Gaza Strip for decades. An international donors' conference in Cairo last October raised $5.4bn (£3.4bn) to rebuild Palestine – however, according to a World Bank report in May, only a quarter of that sum has actually been delivered to those desperately in need.
Life for women in Gaza has never been easy but last summer's escalation of violence has made the situation much worse for many. Over the last year I have have been in contact with three women whose lives were shattered – and I have approached the authorities in Gaza to find out the reasons why their situation has still not improved.
On the outskirts of Khuzaa, a farming village in the southern Gaza Strip that was destroyed during last summer's conflict, a poster with pro-resistance slogans defiantly declares a self-proclaimed victory over Israel. Inside the village, young activists have decorated the caravans that have replaced the destroyed homes, with colourful spraypaint in an attempt to show the sheer force of will of the families now living in them. However, the reality is very different; after a year the resilience of residents here has been seriously reduced by the slow delivery of reconstruction.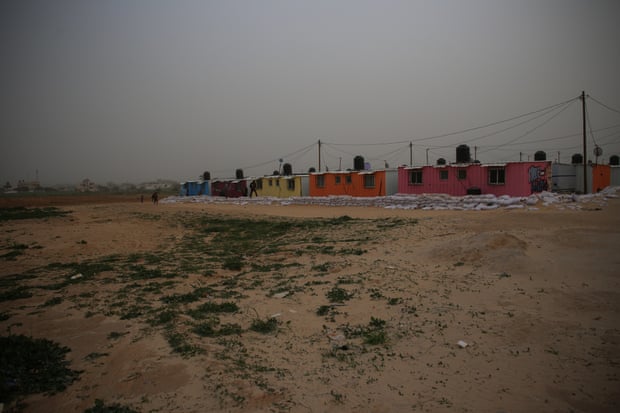 Sabiha Abu Rok: 'This is not a life'
I first visited Sabiha, 65, in February. She had lost her house in Khuzaa during the violence and spent last winter living with her three sons, daughter and grandchildren in a manmade tent of tree leaves and nylon next to her devastated home. When asked about how her life had changed, Sabiha said: "I'm afraid of everything. I lost my house. My married sons' houses were completely destroyed as well. We are all homeless now. We hear about promises of reconstruction but nothing has happened."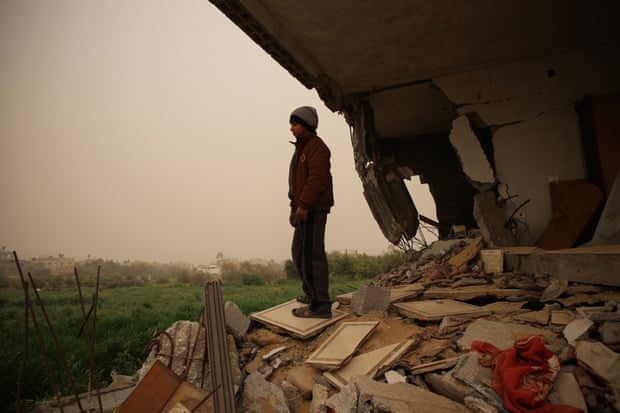 Sabiha's family asked the Gaza reconstruction committee for help. "We needed a caravan. We were calling for the officials to get us a caravan for more than five months." Instead the family received a tent but it was insufficient protection during the cold months: "We usually lit a fire to feel warm and cook but the strong winds made it impossible on some days … We only managed to take showers once every two weeks as we had no bathroom. This is not a life. If I had the choice to choose between this life and death, I would choose death." After Sabiha told me this, she burst into tears.
The effect on the family isn't just physical. Hareth, Sabiha's grandson, 11, recalls the sounds of F16 warplanes whenever he hears thunder. He showed me his bedroom which is now a small hill of rubble. "I used to cry here when I heard the shelling. The sound of thunder reminds me of war. They are very similar. Our life is very hard. It's hard to study in the tent and it is cold. I go to my aunt's house to study. Although their windows and doors are broken, it is the best place to keep my books and study. They have electricity and it is quiet there."
In July, after 11 months of living and sleeping in the tent, the Catholic Relief Services, who are working with local partners in Gaza, built a 28-metre wooden shelter for Sabiha's family, but Sabiha says: "This shelter cannot replace my house. It's very hot inside the shelter. I stay outside most of the time. I only enter the shelter when I want to sleep." As yet, there's no sign of compensation for Sabiha's family, so they can't rebuild a permanent home.
I spoke to Gaza's deputy minister of public works and housing, Naji Sarhan, about why housing reconstruction is taking so long. First he described the scale of reconstruction: "There are 12,620 completely destroyed housing units, 12,740 severely destroyed and uninhabitable housing units, and another 143,680 housing units that are partially destroyed. We cannot rebuild all of this in a day, nor in a year."
Sarhan estimates: "It may take a minimum of three years to rebuild these houses – and that's only if the promises of all the donors are fulfilled. $1.4bn out of the $5.4bn pledged is designated for the reconstruction of houses. The question is when and how these donating countries will fulfill these promises."
Sarhan maintains there are further challenges preventing reconstruction in Gaza – the political rift between the main Palestinian political factions, Hamas and Fatah, which stalls the necessary governmental administration that is needed for reconstruction – and the blockade imposed by Israel on the entry of cement and construction material (that was agreed by the UN).
"If a citizen needs a cement bag, that citizen request should be authorised by the Palestinian Authority and monitored by the UN agencies – and international community organisations so that Israel will allow the entry of that cement bag. If the UN agencies continue to comply with this Israeli mechanism, we will not achieve real reconstruction and development. Also, the Kerem Shalom crossing is the only one operating out of five commercial crossings. This is insufficient to fulfill the needs of Gaza residents."
According to OCHA, the United Nations agency which coordinates humanitarian affairs, only 1% of the construction materials required to rebuild houses have entered Gaza as of June 2015. The Israeli government defines basic construction materials as "dual usage" items that can also be used for building tunnels therefore threatening the security of Israel.
Sarhan's response to this: "Even if cement is used for building tunnels, the amount used is extremely small. Israel cannot punish all the inhabitants of Gaza because of a small minority. This is collective punishment."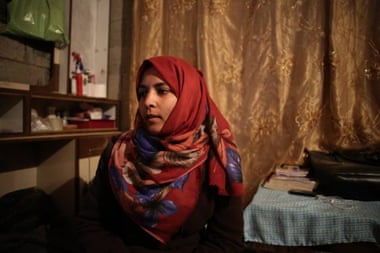 Rasha Qudaih: 'I do not encourage people to emigrate. Gaza needs our help'
Rasha, 21, is a student at the Palestine College of Nursing. Her home in Khuzaa was burnt after being hit by artillery missiles last July. Her family now spend their days and nights in one semi-lit room. When I met them in February, they were all sitting on thin straw mattresses which cover the half-paved floor.
Rasha told me: "We were besieged in this house for five days by the Israeli special forces during the worst of the violence. Then we managed to get out. When we returned, we found our house burnt. Now we spend our time in this one room as it's in slightly better condition than the other rooms."
According to Rasha, her life is much harder since last summer's violence. "Although my life was difficult before the war, I could manage to study. Now I'm unable to focus on studying while all my family are living in the same room." She continues: "We spent all the money we have on house repairs. I was about to delay my university semester because we could not afford to pay the fees. When the university heard about my situation and because I had excellent grades, it agreed to defer the payment of the fees until I manage to pay.
Rasha's education had already been curtailed because of the financial situation of her family. When she graduated from secondary school, a Syrian minister offered her a full scholarship to do her bachelor's degree overseas. That opportunity was lost because her family are unemployed and could not afford the other expenses accompanied with her studies overseas.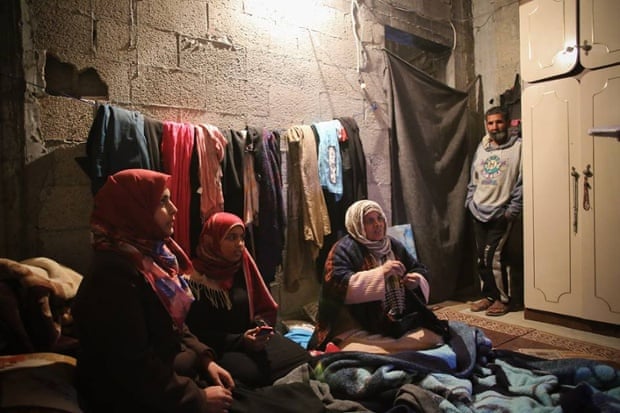 When I spoke to Rasha recently, she was no better off than before. Although she was happy aboout volunteering for a local non-governmental organisation which helps the poor, she was still preoccupied with her own problems with the fees. "I will not be allowed to enroll in the next semester in September until I manage to pay for both the last semester and the next one. I do not know how I will afford that."
Rasha's frustration is now reflected in her politics. "I do not think that the political factions here have helped us in any way. I ask the government to be more responsible for its people. My wishes are not different than those of any young woman in the world. I wish to have a normal life and help my family because I do not expect the world to help us. I have to continue my education and get a job. I do not encourage people to emigrate. Gaza needs our help. I am totally against the idea of emigration. I believe that we need to cooperate to help ourselves."
I discussed Rasha's situation with the deputy director general of international and public relations in the Ministry of Education and Higher Education, Mutasem Al-Minawe. He confirmed that Gaza students have fallen victims to the Palestinian internal political divide: "There are thousands of students like Rasha. Such students should be fee-exempted or at least receive higher education loans.
"We can't provide loans and scholarships to our students in Gaza because there's no communication with the Ministry of Education and Higher Education in Ramallah. Higher education loans should be distributed equally to the Palestinian universities in all regions. However, students in Gaza do not receive such loans. Added to this, we cannot enforce universities to grant loans and scholarships for its students when they can barely pay partial salaries for their employees."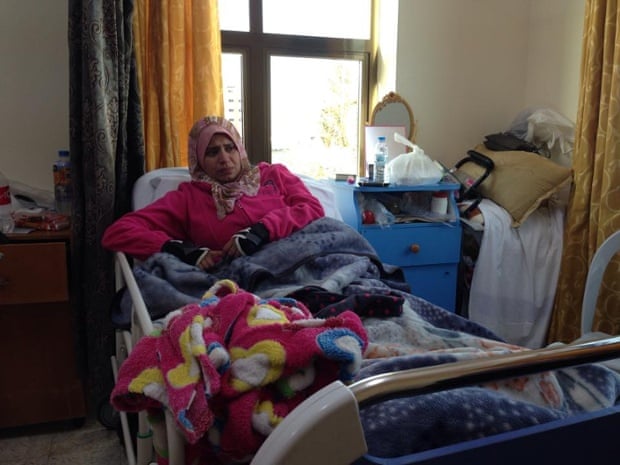 Rahma Al-Atawy: 'I'm afraid I will be not be able to take care of my daughters'
Rahma, 33, lost her seven-year-old daughter, her mother and father-in-law last summer after artillery shelling of her house in the Al-Tofah neighbourhood in eastern Gaza city. She was injured in the shelling after shrapnel entered her spinal cord, and now suffers from paraplegia. Her other four children, now looked after by her mother-in-law and sister, were injured as well.
At the time Rahma underwent surgery in Gaza's Al-Shifa hospital, and was then transferred to the Al-Maqased hospital in Jerusalem – she received further treatment in Turkey after the Turkish prime minister, Recep Tayyip Erdoğan, made an offer for some casualties to be treated there.
After returning to Gaza, Rahma spent six months at the Al-Wafa hospital for physiotherapy. Every weekend she left the hospital to go home and be with her family but now her injuries are making life very difficult. "I have four little daughters who need me. The neighbours carry me to my apartment on the third floor. When I leave my daughters every week they start crying and I feel so upset.
"My daughter in the fifth grade asks when I will be able to join the parents' meeting that's held every month in her school. I do not know how to respond. I'm afraid I will be no longer be able to take care of my daughters."
Despite Rahma's incomplete recovery, she was discharged from hospital in March. She believes this is due to lack of funds at the Palestinian Ministry of Health. Rahma is now afraid that she will never be able to fully recover. It was, she tells me, suggested in Turkey that she should go to Germany for further treatment, however there is no sign that this is going to happen.
Dr Neman Al-Jabari, a neurology specialist and member of the Palestinian Ministry of Health, which has responsibility for referring patients abroad, explained the difficulties of treating Palestinians in other countries outside Jordan, the West Bank and Egypt. "We depend heavily on the donations we receive and the rare help that some countries like Germany and Turkey offer to treat war casualties in their national hospitals.
"Even if Rahma can be treated in Germany, it is not easy to coordinate her departure from Gaza through Israel-Gaza Erez crossing. The closure of borders by the Israelis is one of the main problems we have in the referral abroad department at the Ministry of Health."
The neurosurgeon at Al-Shifa hospital, Dr Rami El-Sousi who operated on Rahma also wasn't sure if complete recovery was possible however he agreed it definitely needed further investigation. He believes that tensions between the two main Palestinian political factions, Fatah and Hamas, had held up urgent referrals of many patients. "The communication between the two factions is needed to facilitate the referral of patients. The patients are victims of this political internal divide."
Rahma agrees that peace initiatives and a political solution is imperative for long-term peace. "This is enough. We need a political solution to end this suffering once and for all. We want to live in peace. I support the resistance fighters in their battle against Israel, but the Palestinian officials should identify people's needs. I do not encourage emigration, but, if we want to live here, we want to live in dignity."
http://www.theguardian.com/world/2015/aug/20/women-gaza-israel-palestine-community?CMP=share_btn_link