Indian men in corporate boardrooms still seem to be resisting women rubbing shoulders with them. Are repeated SEBI directives and the threat of a fine forcing them to comply?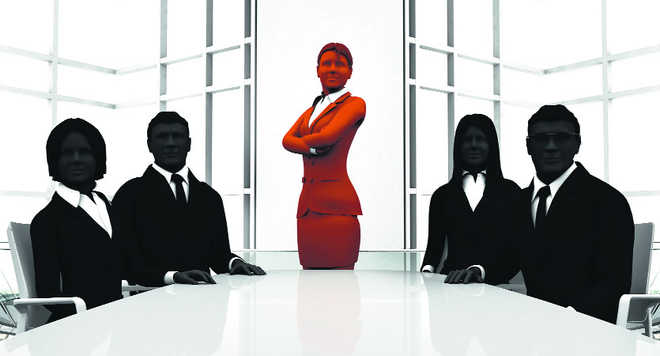 Sandeep Dikshit
Gender diversity has eluded Parliament as politicians from the OBC and Dalit streams have stymied efforts to reserve 30 per cent of the seats for women.
The bullet-proof glass ceiling that has existed in Parliament remains intact despite efforts by a few women in Rajya Sabha and Lok Sabha to blast it. While not opposing the proposal to reserve seats for women, politicians on the other side of the caste divide have been quietly content letting their OBC and the Dalit counterparts do the opposing on grounds that there must be reservations within reservation for women in Parliament. Normally extra vigilant on every issue that passes through their hands, politicians, however, unwittingly allowed the glass ceiling to be broken in corporate board rooms when they passed a new Companies Act in 2013 that replaced its 60-year-old predecessor.
The bulky tome that was in the works for nearly a decade had an innocuous sounding clause mandating all companies to have at least one woman director on their boards.On the face of it this wasn't a difficult ask. At least it was simpler than many other changes made in the Companies Act such as the code stipulated for independent directors. Instead of just making up the numbers in boardrooms, as has often been the case in the past, independent directors are now bound by a Code with regard to their appointment, remuneration and removal of key managerial personnel.
They have also been asked to recuse themselves from conflict-of-interest situation in a company and penalise themselves as well when there has been undue gain by the directors of the board.Appointing at least one woman on the board appears to be a different matter it seems.
The Indian man still seems to be resisting women rubbing shoulders with him even though a plethora of laws from banning sex determination of foetuses to the stringent Nirbhaya Law have attempted to do just that.Though the Act mandating at least one woman on the board – the strength of a board ranges from minimum two for private and three for public companies with the maximum limit at 15 — was passed in 2013, the scramble to comply began early this year.
For one year, men in corporate boardrooms took the excuse that some notifications were still pending. Once that was done, the initial goading by the Securities and Exchange Board of India (SEBI) had little effect. It was only when the sword of a Rs 25-crore penalty was dangled, companies woke up to the new reality — the Indian man should not rest on his oars after having been goaded into ensuring a gender-neutral and friendly workplace.
In effect what the SEBI told him was that there was room for gender equality at the top of the company pyramid as well.The Nirbhaya case and the law that followed had an effect on the reflexes of male-dominated boardrooms. No effort was made by them to challenge this aspect in the courts nor was there any attempt to lobby with the political class for a relaxation in rules. The presence of women in the financial segment of the media had an effect as well. Articles regularly began popping up about the foot-dragging by corporate board rooms.
This publicity helped stiffen the SEBI's back and when April 1, the start of the new financial year 2015-16 rolled in, an encouraging 88 per cent of the companies had complied though the resistance was there to see — 280 boards appointed women only last month after it became clear there was no loophole in sight to be exploited. 
This percentage of 88 per cent seems too good to be true. And it is because the figures hide a small untruth. The 88 per cent largely-enforced gender diversity is limited only to the 1,456 companies listed on the National Stock Exchange (NSE). Of them, only 180 failed to appoint a woman director, including 32 central public sector enterprises and public sector banks, presumably waiting for recommendations from their political and bureaucratic masters in central ministries.
The number of companies, where the gender ceiling is yet to be cracked, may be higher because no figures have yet been compiled on how many of the 5,500 companies – three times more than the ones listed on NSE – have complied. But obey they will have to because SEBI will be scrutinising their compliance statements to stock exchanges very carefully this time. Even this `encouraging' 88 per cent hides the fact that of the 1,200-odd women on boards of NSE listed companies, more than half are related to the promoters of the companies.
But at least the image of the company boards, typified so far as male bastion in cartoons by cigar chomping and brandy swilling directors have changed. From just five per cent women before the SEBI cracked the whip, the figure now stands at 12 per cent. And this leeway should be given because many companies are family dominated where women of the house when appointed to the board have also performed well.
The more than doubling of women representation — so far, on NSE listed companies — may not appeal to the feminists among men or the women campaigning for greater gender diversity in all fields because women constitute about 48 per cent of the country's population. But they can take comfort from the fact that bias against the less fortunate or the suppressed is alive and kicking in what is called the developed world.
Women constitute only 3.1 per cent of board members in Japan. In Norway, which routinely tops on all social and human development indicators, women still account for only 33 per cent of total board room positions. In the US, blacks, Hispanics and Asians still do not get their due.
White males constitute 78 per cent of the board room composition. In Deutsche Bank, with its home base in egalitarian Germany where the chief political executive has been Angela Merkel for a decade, blacks and Hispanics constitute just four per cent of the board room. Comparing women representation with developed countries, however, is tricky because critics can claim India is still a hazardous place for women to freely move around and meet their family responsibilities where they have historically done the heavy lifting.
Fortunately, the new Companies Act has certain provisions that ensure women directors need not jet around all the time. For instance, Directors are now allowed to participate in board meetings by video conferencing and if there is need for voting, this, too, can be done electronically.
As there is penalty for tampering with the minutes, those who can't attend but have participated by electronic means can rest assured that only the most intrepid and foolhardy will try to misrepresent in the minutes what has been stated by video conferencing. In addition, the Act has banned board meetings to be held on national holidays so that given the reality of Indian homes, women need not take a tough call when there is a conflict between meeting professional and personal obligations.So grant the Indian politician his due.
Along with changes made in law to weed out several ills of corporate governance such as insider trading, buy back of shares, minority squeeze out and layered investments through subsidiaries, he has also ensured corporate social responsibility and greater representation of women. Even if he has blocked the entry of greater numbers of women in Parliament and State Assemblies, the Indian politician has at least made board room more equitable.The Indian board room has irrevocably changed.
A different view point will now be heard in the teak-panelled enclosures and the obligation of all companies to meet corporate social responsibility will not follow the usual beaten path.
http://www.tribuneindia.com/news/spectrum/women-on-board/68207.html