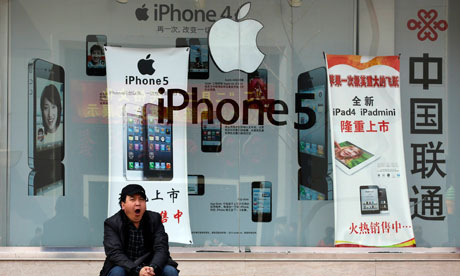 The new cheaper iPhone that Apple will unveil to a global audience on Tuesday is being produced under illegal and abusive conditions in Chinese factories owned by one of America's largest manufacturing businesses, investigators have claimed.
Workers are asked to stand for 12-hour shifts with just two 30-minute breaks, six days a week, the non-profit organisation China Labor Watchhas claimed. Staff are allegedly working without adequate protective equipment, at risk from chemicals, noise and lasers, for an average of 69 hours a week. Apple has a self-imposed limit of 60 working hours a week.
The problems were uncovered at a plant in Wuxi, near Shanghai, where Apple's first low-cost handset, dubbed the iPhone 5C, is being produced. The plant is owned by Florida-based Jabil Circuit, a US company with 60 plants in 33 countries including Scotland, and a turnover of $17bn (£11bn) a year. Jabil said it had uncovered problems last month and was taking immediate steps to investigate the allegations. Apple said its experts were "already on site" to look into the claims.
"It is the duty of national governments to regulate the conduct of their companies abroad," China Labor Watch argued. "The US government also shares in the responsibility for labour abuses committed by US companies manufacturing in China."
Jabil has 30,000 employees at Wuxi, where cases for the colourful iPhone 5C are being . The majority are hired indirectly throughemployment agencies, the investigators claim. Local laws set a limit of 30% agency workers in any company's workforce to prevent the exploitation of staff.
In order to be recruited, staff are asked to sign two-year contracts and pay significant sign-up fees, and are also charged to process identification documents, open a bank account for wages, and for intrusive medical examinations.
The report, published on Thursday, is based on interviews with about 90 employees and evidence from an undercover investigator who worked at Wuxi for a month. It also claims that female workers were asked to take pregnancy tests, which would be both against Chinese law and a breach of the code of practice imposed last year by Apple on all its suppliers.
Apple has made efforts to improve conditions in the factories where its products are assembled after uproar over the treatment of workers at the vast Foxconn factories, where iPhones are assembled.
The Jabil factory arranges accommodation for workers in dormitory blocks where some sleep eight to a room, suffering disturbed rest because the rooms are shared by a mixture of day- and night-shift staff. The report claims the base wage at Jabil is 1,500 RMB (£160) a month, half the average monthly wage in the city of Wuxi. Only by working 100 hours of overtime a month can employees secure an income that matches the average.
Because of the poor pay and 12-hour shift patterns "married workers have no choice but to leave their children in their rural homes with grandparents", the report states. Strict secrecy is imposed
to protect the Apple products they are helping to create. Staff sign confidentiality agreements and undergo security checks on entering the plant and when leaving their work station for a toilet break.
"The factory provides protective equipment," the report states, "but some workers either fail to receive it or use it in the wrong way due to a lack of risk awareness and monitoring.
"Despite this, the mechanisms for protecting important information related to products and the company are mature and well-developed, receiving a lot of attention from management."
Jabil said it had uncovered issues at Wuxi during an internal audit in August and was again sending a team to investigate.
It stated: "Jabil is committed to ensuring every employee is provided a safe working environment where they are treated fairly, with dignity and respect. We take seriously any allegation that we are not fulfilling that commitment and are taking immediate action to ensure recent allegations are thoroughly investigated and, if found to be credible, corrected."
Apple said in a statement it was "committed to providing safe and fair working conditions" adding: "We lead the industry with far-reaching and specialised audits, the most transparent reporting and educational programmes that enrich the lives of workers who make our products.
Apple is the first and only technology company to be admitted to the Fair Labor Association, and we are dedicated to protecting every worker in our supply chain.
"We are proud of the work we do with our suppliers to improve conditions for workers. Our programme goes far beyond monitoring by ensuring corrective actions where they are needed and aggressively enforcing our supplier code of conduct wherever Apple products are made. We believe in transparency and accountability, both for our suppliers and ourselves."
Jabil was founded in 1966 in a garage in Detroit by William Morean and James Golden, who combined their first names – James and Bill – to christen their company. As American companies such as Apple exported their manufacturing to countries with lower wages, Jabil followed, opening its first plant outside the US in Scotland in 1993. Operations have now expanded to China, Brazil, India and Vietnam.