Yash Chopra
's grand theme was love and it was seldom a simple affair. But his films were popular because they could be watched across generations.
Till 1973, Yash Chopra had been working under the banner of his brother, the great B R Chopra. In that year, he set up his own production house, Yash Raj Films, Daag (1973) being its first venture. 
The film was among the biggest hits of the year but Chopra dumped superstar Rajesh Khanna because of his starry tantrums. From then onwards, he forged a durable and profitable partnership with Amitabh Bachchan.
His later works, especially those he made under his own banner, had two distinct strands – mature romance (Kabhi Kabhie, Silsila, Chandni, Lamhe, Veer Zara) and action-oriented human conflicts (Deewar, Trishul). But he also occasionally surprised you with a smart thriller like Darr.
Chopra's grand theme was love and it was seldom a simple affair. In his films, it was usually a high-hanging fruit that could be attained only after navigating through a maze of complications and snuffles. Complex love triangles (Daag and Chandni), convoluted love quadrangle (Silsila), love defying category (Kabhi Kabhie), age-gap amour (Lamhe), fake young serious romance (Dil To Paagal Hai), love as sacrifice (Veer Zara), he tried to capture love in every hue.Nonetheless, his love had its share of class bias; Chopra's lovers were invariably wellheeled. The deprived never really fell in love in his films – though the great Urdu poet and lyricist Sahir Ludhianvi was a part of his musical team.Yet the beauty and the balance of it all was that you could watch these movies as much with your lover as with your grandmother. No surprise, a majority of moviegoers found them engaging and appealing as the box-office records suggest.
Music was always a hallmark of his romantic movies. He took pride in the fact that his films had some of the most beautiful lyrics ever written in Hindi cinema — and the picturisation did full justice to the lines. Amitabh Bachchan's sonorous rendition of poetry in Silsila can still induce goosebumps. And he helped revive the career of Khayyam by giving the out-of-job composer an opportunity to give music in Kabhi Kabhie. Khayyam repaid the trust by providing an unforgettable score. Chopra also worked with two classical musicians, Hari Prasad Chaurasia and Shiv Kumar Sharma. It is said Yash briefly worked for the comic genius I S Johar before beginning his career officially assisting his elder brother, B R Chopra in socially conscious movies such as Ek Hi Raasta, Naya Daur and Sadhna.
His own later work does not have the same social commitment that he first displayed in works like Dharmputra (1961) but to Chopra's credit he never compromised on his idea of creating entertaining cinema even when he fell on hard times in the mindless 1980s and delivered a succession of box-office turkeys (Faasle, Vijay). Patience has its reward. The director rode on an inspirational second wind; his last three films were all box-office biggies – Darr (1993), Dil To Paagal Hai (1997) and Veer Zaara (2004).
With advancing age, one could see a growing gap between each of his directorial ventures . The Shah Rukh Khan starrer releasing in November was meant to be a fitting swansong to his illustrious career. May be it will. But sadly, its creator won't be there to see it.
Memorable lamhe 
Born | 27 September, 1932
Birthplace | Lahore
Early life 
The youngest of eight children born to a Punjabi accountant in the PWD of the British administration in Punjab.
Was brought up mostly in the Lahore house of his second brother, B R Chopra (Baldev Raj), who was first a film scribe and later in life a movie baron.
Went to Jullunder in 1945 to continue his education Baldev migrated to Bombay weeks before the Partition.
First steps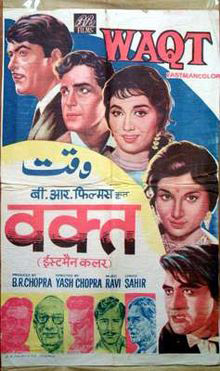 Baldev gave Yash his first directorial opportunity in 'Dhool Ka Phool' in 1959, which became a big box-office hit.
Made another four films for Baldev, notably 1965's 'Waqt'.
Married Pamela Singh in 1970. Their two sons, Aditya and Uday, were born in 1971 and 1973.
Rise & rise 
Founded Yash Raj Films in '71 From 1973 produced many of his films but also made movies for Gulshan Rai's Trimurti Films Made a number of Amitabh Bachchan-starrer films, notably 'Deewaar' (1975) and 'Trishul' (1978) In the late '80s, as the romantic genre rose in popularity, a highly successful period began in his career Made the blockbuster 'Chandni' (1989), followed by 'Lamhe' in 1991, which found favour in metropolitan cities In 1993, directed 'Darr' that marked the beginning of the celluloid journey with Shah Rukh Khan Was filming 'Jab Tak Hai Jaan' when he took ill. SOURCE: yashrajfilms.com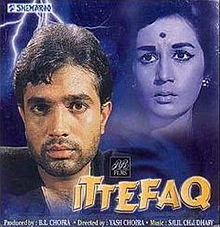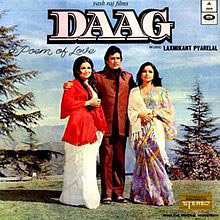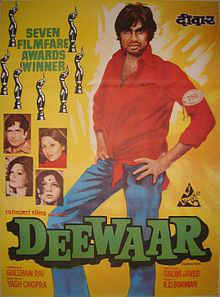 Awards and recognition 
Filmfare Awards 
1965, Best Director (Waqt) 1969, Best Director (Ittefaq) 1973, Best Director (Daag) 1975, Best Director (Deewaar) 1991, Best Movie (Lamhe) 1995, Best Movie (Dilwale Dulhania Le Jayenge) 1997, Best Movie (Dil To Pagal Hai) 2004, Best Movie (Veer-Zaara ).
Others 
2001, Dadasaheb Phalke Award 2005, Padma Bhushan 2008, Officier de la Legion d'Honneur.
National Film Award (Producer).
1998, Best Popular Film Providing Wholesome Entertainment (Dil To Pagal Hai) 2005, Best Popular Film Providing Wholesome Entertainment (Veer-Zaara ).
One of India's most prominent  filmmakers, Yash Chopra, spoke to his favourite hero Shahrukh Khan couple of weeks before he was diagnosed with Dengue
Yash Chopra, 80, passed away this evening after battling dengue for over a week. The veteran filmmaker was admitted to Lilavati Hospital, Mumbai, after being diagnosed with the disease few days ago. His last public appearance was at Amitabh Bachchan's 70th birthday celebrations.
Chopra has made a huge contribution to Indian cinema in a career spanning over five decades. Known as the King of romance, Chopra has to his credit path-breaking love stories like Daag, Silsila, Lamheand Chandni. His production house Yash Raj Films is one of the most reputed and respected companies in Bollywood today.
The director, who was all set to release his last film, the Shahrukh Khan, Katrina Kaif and Anushka Sharma starrer Jab Tak Hai Jaan, did a media interview with SRK recently, where he spoke about the making of the film, and his journey as a filmmaker. But the director passed away before he could see his last film hit the screens. His son Aditya Chopra will now have to shoot the last portion of the film in Switzerland to complete the movie, which is set to release on November 13, 2012.
Watch the video of Yash Chopra in conversation with Shahrukh Khan – the veteran filmmaker's last interview.
[youtube=http://www.youtube.com/watch?feature=player_embedded&v=vq3eXwjAy2k]
Related articles