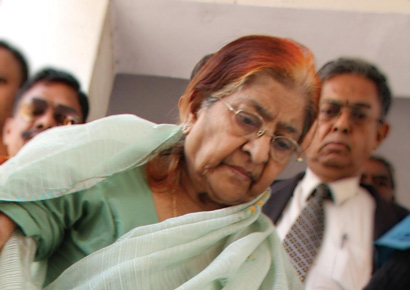 Ahmedabad,Nov 27, DNA
A local court on Tuesday ruled that Zakia Jafri, whose husband and former Congress MP Ehsan Zafri was killed in Gujarat riots, has lost the right to file protest petition against the SIT report, giving a clean chit to Gujarat chief minister Narendra Modi, due to lapse of time.
Ehsan Jafri was among 69 people killed burnt alive by a mob during the riots at Gulburg Housing Society here on February 28, 2002.
Metropolitan Magistrate BJ Ganatra ruled that Jafri cannot file the protest petition as she failed to file it despite being given sufficient time.
The court ruled that Jafri can now only make oral submission regarding her protest against the SIT report.
The court order comes at a time when the state is in midst of assembly poll campaigning and Modi is seeking a fourth term as chief minister of Gujarat.
The SIT had submitted its final report in the court regarding Gulburg Society riot case giving a clean chit to Modi and others in 2002 riot cases in February.
The SIT had provided a copy of the report to Zakia in May asking her to file a protest petition within the stipulated time of two months. However, the protest petition has not yet been filed by Jafri.
Jafri's lawyer S M Vohra told the court that they have approached the Supreme Court seeking a clarification on certain issues and the next date of hearing of the case in the apex court is December 3.
Vohra sought time from the court till the hearing in the case is over in the Supreme Court.
Vohra later told PTI that generally local courts await the outcome of the case in the Supreme Court. However, this court has chosen not to wait for the same and given an order which is "very shocking."
"We will convey this to the Supreme Court before December 3," Vohra said.
Related articles