AUGUST 5, 2020
By Marouf Gazi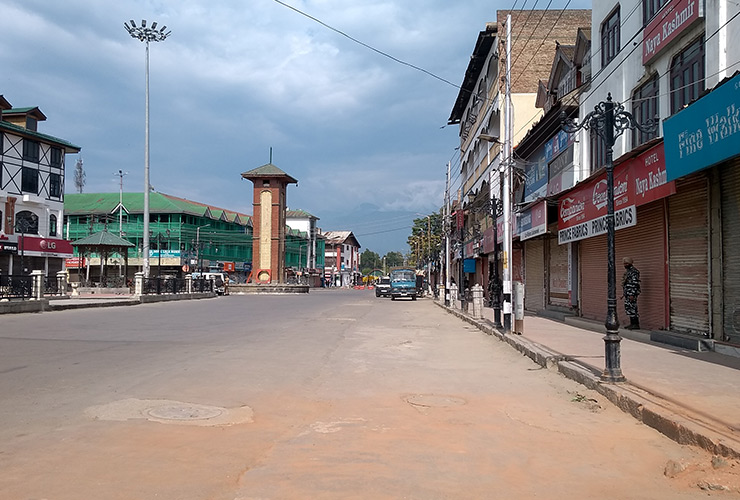 It was 2 August 2019, a sunny day in Srinagar. I was sitting at the iconic Zero Bridge with a friend, discussing work and enjoying the view of River Jhelum. Suddenly, I got a message on WhatsApp messenger. "Get back home. Something big is going to happen. Situation is getting tense," read the message. There were no apparent signs of anything huge happening anywhere. However, we left for home and could only get out again around a month later.
Before we became prisoners in our own homes, things had been 'normal' in Kashmir after a long time. The summer wasn't the usual bloody season with militant-military encounters going on in a deceptively calm countryside.
Kashmiris were busy with their lives at that point in time – studying, establishing small business ventures and earning their livelihoods. It all changed with the sudden, alarming stories and rumours doing the rounds in the last half of July 2019. These unsettling reports came close on the heels of the visit to Kashmir of National Security Advisor Ajit Doval. The ex-spy master had arrived for a three-day sojourn in the politically-charged mountains. His visit proved to be a strategic outing rather than a fleeting sabbatical in the vale.
Even though 'great games' are the cursed reality of my homeland, the question of why additional troopers were being called and stationed in a region already holding a reported 6 lakh military footprints unsettled the peak summer season of tourism and marriages. It seemed to suggest a long night ahead, sans any hint of dawn. That's how it felt. Was it going to be vintage belligerence on the border or a bloodbath in the meadows? No one could tell. But seven million people in the valley became prisoners in their own homes from then on. The overwhelming scenario that unfolded within a few days changed the likes of me forever.
Growing up during the nightmarish nineties in the conflict-battered land of Kashmir, I have always held India close to my heart, even as military offensives and sprawling graveyards abounded. Crackdowns, grenade attacks, deaths and strikes have always been a part of life in Kashmir. I grew up watching patriotic and pro-India movies like J.P Dutta's Border. I was a die-hard Indian cricket team fan who had posters — handcrafted from Lays Chips packets — of players like Rahul Dravid pasted on my wall at home.
However, as soon as I started my career as a journalist in 2015, I was faced with an uglier reality. By 2019, the country I was in love with was hating people from my community, be it demographically or religiously identified community. And I didn't know how to feel about this. Suddenly I remembered my tormented past, which I had till then overlooked for the sake of a better future.
I remember coming back from school in the 1990s, holding the hand of my elder sister, and suddenly running for my life when armoured police chased some people. I remember little kids in our neighbourhood being orphaned when their father, a street vendor, was killed in a grenade attack. And I remember how a paramilitary trooper put the barrel of his gun on my mother's forehead, asking her to stay indoors. I remember how I would hide my toy guns when the forces would barge into homes during crackdowns. However, thanks to the movies I had seen, I could never see them — the hostile soldiers — as demons, but only as heroes, protecting their beloved country. I firmly adhered to my idea of India.
But last summer, that idea changed forever.
Before the appalling decisions of August 5, I had seen satellite images showing significant movement of Indian planes near the Line of Control. It was August 1, and rumours about a possible war between India and Pakistan spread. The possibility of war frenzy was strengthened by footage shared on social media that showed artillery guns being moved to the already blazing frontiers. The thought of two nuke-armed neighbours fighting their battle over the dead bodies of Kashmiris was unsettling.
Next, rumours spread about the possible scrapping of Article 35-A, which would automatically abrogate Article 370. The state subject law, which was introduced back in the 1930s by the former monarch, Hari Singh, on the request of Kashmiri Pandits – who saw it as necessary for protecting their identity – gave natives of the former state of Jammu and Kashmir exclusive rights over jobs and land. The law had faced a smear campaign with the advent of Narendra Modi's government at the Centre in 2014. A pile of petitions was filed against it in the Indian apex court in a very dramatic manner. Ahead of any big decision concerning this law, curfew would be imposed – a familiar state of lockdown in which the Indian state celebrates Independence Day in the region.
During my five-year-long journalism journey in Kashmir, I've got acquainted with a shrewd form of statecraft often manifesting itself as psychological operations (psyop). Kashmiris aren't new to such mind games. Sudden spurts of rumour-mongering – like the freaky braid-chopping incidents of a couple of years ago – followed the same classic script and were often shrugged off by the conflict-hardened commoners of Kashmir.
Even as the madness behind the method was familiar, people would still ask and think: what are those additional 38,000 paramilitary forces in Kashmir for? The forces would first report to the headquarters of their respective battalions before being posted across the valley. Once flown into the vale, they would be stationed in marriage halls, college campuses and Panchayat offices across the valley.
In the wake of the arrival of additional troops, some reports suggested that weapons were taken away from Jammu and Kashmir Police "to avoid any confrontation". Soon the annual Amarnath Yatris, tourists and non-local students of the National Institute of Technology were asked to vacate the valley. Government notices to hospitals, asking them to be ready for any medical emergency, were circulated on social media. Rumours also had it that curfew was going to be imposed in the valley and that educational institutions (schools, colleges and universities) would be shut for a long period of time. Such was the panic that people literally grabbed anything – a kettle, water bottles, cans – to stockpile petrol.
Phones were already barred in areas near the Line of Control, including Gurez. Locals there were continuously living in fear due to shelling. Social media was full of images of satellite phones and numbers being distributed among officials and officers. During this time a bizarre rumour spread of the passing away of incarcerated JKLF Chief Yasin Malik in Tihar Jail. But, just like the rumoured Indo-Pak war, it proved to be just another false alarm.
While all this was happening, the authorities in Kashmir were affirming that the government was not thinking about doing anything. It was all very murky: maybe it was a big lie or maybe they themselves had no clue about what was going to happen. However, officials met in Srinagar to discuss an upcoming curfew in the valley. Soon afterwards, most of them were off to secure essential supplies and services for their families.
At Gupkar, Kashmir's power street, all the regional political parties, including the Congress, converged and convened an emergency meeting in the manicured garden of the patron of the National Conference, Farooq Abdullah. The unanimous statement — described as the Gupkar Declaration and issued late in the evening on August 4 – vowed to safeguard JK's special status. But soon all political meetings were prohibited and political leaders, including former chief ministers Omar Abdullah and Mehbooba Mufti, became prisoners. It was by now quite clear that Kashmir was indeed heading for heady days.
By daybreak on August 5, landline, mobile and internet services had been suspended 'till further orders.' Public movement was prohibited and all educational institutions were closed. A complete ban on holding any public meeting or rally was enforced. The identity cards of officials responsible for essential services were to be treated as passes allowing movement.
Later that day, the Home Minister of India, Amit Shah, dropped a political bombshell in Parliament with the announcement of the Union government's plan to scrap the special status of Jammu and Kashmir under Article 370. Amid the thumping of benches, he further announced the bifurcation of the state of Jammu and Kashmir into two union territories—Jammu Kashmir and Ladakh. And people in the state only got to know about it through free satellite television channels.
Shortly after the announcement, many incidents of stone-pelting took place in volatile areas like Batmaloo or Downtown Srinagar. However, slowly, everything became as calm as death itself. Nocturnal raids began. At night, masked men accompanying armed forces would come to specific houses and barge in, with the names and pet names of boys associated with stone-pelting written on a list. The youngsters were arrested and sent to either local jails or to Agra. Among the arrested individuals were politicians from the National Conference and the J&K People's Democratic Party, students, PhD aspirants, preachers, teachers, businessmen and a Supreme Court lawyer.
I remember I was trying to fall asleep one night when the sudden sound of footsteps in the lane adjacent to my room alerted me. I could hear women wailing far away. I peeped from the window and saw cops standing in the dark lane. They went to three houses and arrested four boys from just that one lane. A cop wearing a helmet knew who to pick. He obviously knew the names of the detained boys.
For weeks, their families would visit the police station. Every week they would be told they could take their sons home but, at the end of the day, they would not let the boys go. One day they were sure about getting their teenage children home. However, after media (international print) started highlighting the issue after speaking to some locals from the adjacent colony, the families had to face the wrath of the police. They had to wait again for around a week before their kids could come back home.
'Normally', when the situation gets tense in Kashmir, locals rush to the mosques and, as a sign of protest, run recorded Azadi songs. They would call each other out to assemble and protest. However, this time, as soon as the songs played, they were stopped and till today no songs have been played, at least not in Batmaloo, one of the usually volatile areas in the valley.
The forces, including the local police, had devised yet another plan to curb stone-pelting. The weak point of each individual was used to do it: they made it clear that the families of stone-pelters would get into trouble if anyone was found guilty of the act.
A 'moral' arrangement called the 'informal community bond' (involving families and acquaintances morally and emotionally pushing stone-pelters to quit) was reportedly introduced by a senior IPS officer posted in the valley. It involved forming peer group circles around youths detained for stone pelting, whose members would sign an undertaking providing assurance about the youth's behaviour in the future. The 'informal community bond' is an undertaking that has to be signed by a minimum of 30 people – including family members, friends, teachers, religious leaders and other important community members connected to the youth detained for stone-pelting – before the youngster can be released.
In the absence of any means of giving vent to their anger, local young men resorted to graffiti that expressed their resentment of the "undemocratic decision," as well as of the atrocities they have been dealing with since the insurgency began in Kashmir in the late 1980s. On September 27, when the Prime Minister of Pakistan, Imran Khan, addressed the General Assembly of the United Nations, speaking about Kashmir, firecrackers could be heard across Kashmir. People cheered up, hoping for things to change. However, every word of his and theirs went unheard and nothing changed.
After his speech, the situation became a little more tense. Shops of those who would keep them open during the day would be set on fire in the darkness of the night. Locals leaving their homes during the Bandh would be attacked. A 65-year-old shopkeeper was killed by unknown gunmen in Parimpora for keeping his shop open during the strike, even though it was a strike no one had called and no one even knew about, given the fact that communication was blocked and all mainstream as well as separatist leaders were in custody. If you had to get some essential supplies, you would either have to leave home early in the morning or after 6 pm in the evening.
Most Kashmiris were more worried about their loved ones inside and outside Kashmir than about scrapped laws. They were desperate to talk to each other. No communication was possible for around a month. After the restoration of BSNL landlines in some areas, people would rush to random people's homes, or to hotels and shops, to try and make a phone call. Kashmiris residing outside the state were like fish out of water. When they were congratulated for being true Indians now, they had no reply since any reply meant trouble and, in any case, all they could think about was how to communicate with their people back home.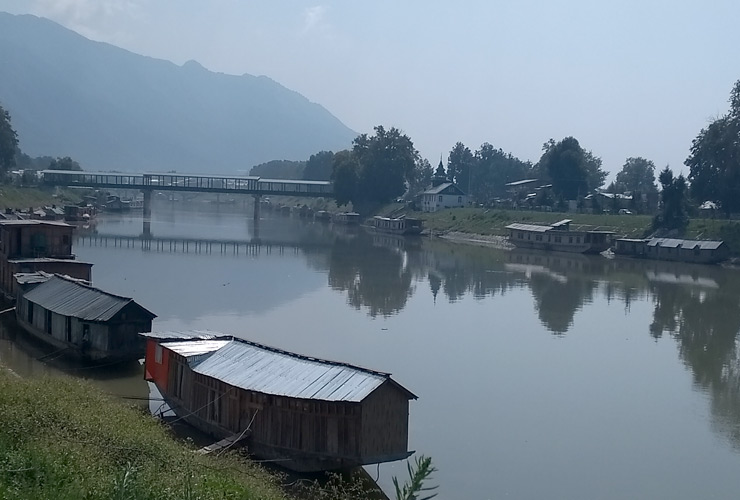 On Bakr Eid, for the first time, Kashmiris were sceptical about making the sacrifice since distributing the mutton would have meant trouble. However, many managed to do it. Gradually, people started coming out, the timings for shops became longer. No one relied on mobiles. Times would be fixed for meetings and that was it. For entertainment, people would transfer movies into each other's phones and some even began selling movies for around Rs 10 to Rs 100.
A few incidents of grenade attacks were reported soon after the market was opened. However, that is part of life for Kashmiris. They dress up thinking about what their dead bodies would look like if they die after leaving home.
At Free Press Kashmir, where I worked as a staff writer, we would initially paste notes on the walls to arrange to meet or share information about each other's whereabouts. Later landline services were completely restored. However, there was a suspicion that everything was being tapped. Mobile services were restored long after landlines. In January 2020, 2G services were restored, along with a list of 301 'whitelisted' sites. The sites were the only ones people were allowed by the authorities to visit. However, some of the sites were repeated twice or thrice in the list and some sites included in the list were not of much use to anyone. A review of the restoration of 4G internet and broadband services was going to be made on January 31. It was then deferred to 7 February. The sloth speed 2G internet made one wonder whether this was an improvement over not having any access to the internet. It is mentally exhausting to wait for hours to get one thing done.
Soon, people starting using Virtual Private Networks (VPN) but these, too, were quickly blocked by those in charge. While the rest of the world was moving towards 5G, in Kashmir, communication service providers were facing the challenge of going back to 2G and blocking 'undesirable' sites.
The authorities said militants use the internet for their activities. This may be so. But they can still manage without the internet. It is the researchers, students and commoners who suffered just because of the ineffective management of security and certain people's ideas, such as: "Kashmiris need internet to watch porn!"
After much delay, on July 26, 2020 the Union Territory of Jammu and Kashmir told the Union Ministry of Home Affairs that it did not have any objection to restoring 4G internet services, and that high-speed Net connectivity would not pose any problem. However, till today, exactly a year later, 4G or even 3G services have not been resumed. On August 3, an announcement was made that there will be curfew for two days to avoid any 'untoward incidents' on the "anniversary of abrogation of Article 370." Kashmiris were surprised to know that the expected curfew on August 5 was lifted because nothing had happened on August 4. However, they were and are mentally expecting another communication blockage or something worse.
Going back to February 2020, while there was a deafening silence in the atmosphere and people were slowly beginning to get back to their businesses, suddenly a grenade attack took place in the heart of Srinagar, Lal Chowk, making people realise that nothing has changed in Kashmir. The uncertainty continues till today – i.e., 5 August 2020. But now we also see ourselves overburdened by a new monster, "COVID-19". The deadly virus responsible for the pandemic shifted the attention of everyone from the dire situations our political fate often creates for us. One can see students studying online and attending online classes across the globe. In Kashmir, many children cannot afford a smartphone and, even if they have one, they do not get to attend classes properly because the 2G internet speed makes a mockery of online education here. Every now and then, we see politicians and higher-ups appealing the authorities to restore 4G internet services, but no changes can be seen on the ground.
Leaving that aside, Kashmiris in quarantine centres continue to see a different face of the frontline COVID warriors – i.e., the police. On May 15, panic gripped a quarantine centre in Kashmir's Chadora district after a teenaged girl was allegedly hit by a constable while she and other people under quarantine were demanding information about their COVID-19 test, accusing the authorities of unnecessarily delaying the process. An eye-witness says that the constable came from behind her and hit her on the chin and chest, after which she lost consciousness. However, the police denied all the allegations, despite a video of the incident that went viral.
Even doctors have been manhandled by the police while they were rushing to carry out their duties. A senior cardiologist at Shri Maharaja Hari Singh (SMHS) Hospital took the situation to the social media platform, Facebook, accusing J&K cops of manhandling and abusing him when he was rushing to perform his professional duty during the COVID-19 pandemic. The police, on their part, took legal action against him "for his improper behaviour with the cops on duty." After the doctors protested, the police responded by presenting them with flowers. Later, other incidents of doctors being manhandled by police were again reported.
Moreover, reports about encounters between the military and militants keep coming in every other day. Amidst the pandemic, while people were asked to follow the lockdown routine and not leave their homes, the houses of a few families were blown up in encounters aiming to eliminate militants taking refuge inside the homes of locals.
In one such recent incident, a 12-year-old boy, Basim Aijaz, a resident of Chota Bazar Karan Nagar, got injured in a building collapse after an encounter in the Nawakadal area of Srinagar. The boy did not survive the injuries. At least fifteen houses were destroyed in the gunfight in which two Hizb-ul Mujahideen militants, including Junaid Sehrai, the son of Kashmiri resistance leader Ashraf Sehrai, were killed.
It is pertinent to note that Nawakadal falls in the downtown area of the city. The ancient architecture of the area soothes one's eyes. However, the area is also congested. The houses are very close to each other. As a result, when one house caught fire, others burnt down, too. Neither do the militants refrain from entering a residential area nor do the Indian armed forces take a step back to save the lives and livelihood of locals. Despite everything, Kashmiris from across the globe contributed money to help families rebuild their homes.
Similarly, on June 26, reports came in about a 9-year-old child and a CRPF personnel being killed as militants attacked armed forces in South Kashmir's Bijbehara. Another heart-wrenching incident took place in Sopore on June 30, when a photograph of 65-year-old civil contractor Bashir Ahmad Khan, with his three-year-old grandson sitting crying on his corpse, went viral. The Central Reserve Police Force (CRPF) refuted the family's allegation that its personnel killed Khan, pinning his death on the militants of the Lashkar-e-Toiba group, who they say were hiding in a mosque near the Model Town Chowk of Sopore and opened fire at paramilitary soldiers.
Meanwhile, the repercussions of the abrogation of Article 370 can be seen creeping in across the valley. Navin Kumar Choudhary, a senior J&K cadre IAS officer from Bihar, is among the nearly 25,000 people who have been granted a domicile certificate, which allows people who are non-locals to get a residency certificate for education, employment and even buying land in the state that has become a Union Territory (UT). Till August 4, a total of 3,68,500 domicile certificates have reportedly been issued in Jammu and 79,300 in the Kashmir Valley.
In May, the Indian Army had written to the Department of Sheep Husbandry saying that it is interested in purchasing a certain tract of land which belongs to the state/UT. However, the department declined the offer saying it gets its livestock from the said area. Around two months later, the J&K administration has withdrawn a 1971 circular that required a no objection certificate (NOC) from its home department for acquisition or requisition of land in favour of the Indian Armed Forces, like the Army, the Border Security Force (BSF) and the Central Reserve Police Force (CRPF). Now the Army, the CRPF and the BSF would no longer need an NOC for acquisition/ requisition of land in Jammu and Kashmir.
Kashmir has been braving the situations it finds itself in – be it conflict related, natural disasters or this pandemic. They keep supporting each other and those in need. There is no breathing space for them. However, a breakdown happens every now and then. Even those who are not directly affected by the turmoil face the challenges. In April 2020, a report was published in the New York Times which read, "Nearly 1.8 million Kashmiris, or nearly half of all adults, have some form of mental disorder, Doctors Without Borders estimated after surveying 5,600 households in 2015. Nine of 10 have experienced conflict-related traumas." The number must have significantly increased after August 5, 2019.
And as for me, I don't know what to feel for India any more. After all, movies aren't real. And maybe heroes need to be redefined.
A Srinagar-based journalist, Marouf Gazi is the recipient of the 2019 NWMI fellowship. She is a staff writer at the Srinagar-based weekly Free Press Kashmir.