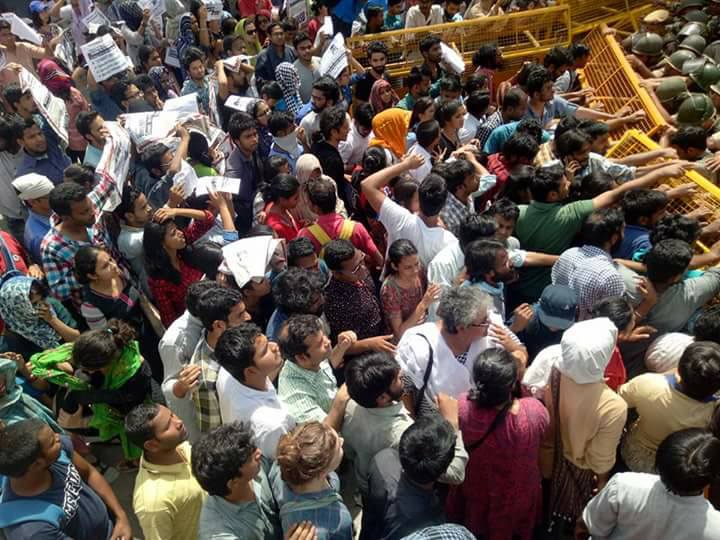 JNU students and teachers took out a demonstration today, against the UGC gazette notification of 2016. Thousands of students and teachers gathered in front of UGC today. A small scuffle took place between the protesters and the police.
We talked to the JNUSU Vice President Amal P.P. "A panel of representatives from JNUSU and JNUTA are waiting to talk to the UGC Chairperson. 4 teachers, JNUSU president and I, and 4 other MA final year students are waiting for the Chairperson of UGC for past 45 minutes. During our last visit as well, they made us wait. Last time, the UGC chairperson did not come at all. Only a Mr. Jagdish from UGC came and met us. He took the memorandum and walked away.", he said.
"Police has lathicharged our peaceful protest. Many students have been hurt, some of them have even been hospitalized", Amal added.
The UGC gazette enforced on JNU has led to a massive seat cut for research programmes. JNU is primarily a research university with 67% of the students enrolled in research. It has faced a huge set-back with the new UGC implementation. M.Phil and Ph.D seats in JNU have been drastically cut down by 84%. The seats have been reduced from 1,234 last year to 194 this year.
With the new prospectus, there would be no admissions for research this year in centres like Centre for Sociology, Centre for Pol. Science, Centre for History, Centre for Indian Languages and many more. The seats have been slashed in many other important centres as well. JNU's oldest School, School of International Studies, will offer MPhil/PhD seats in only 3 out of 13 centres.
Three schools –School of physical sciences, School of computational and School of integrative sciences, and biotechnology – and two special Centres – Centre for law and governance and Special Centre for Sanskrit studies – have no seats for the integrated MPhil-PhD programme.
The JNUSU has also continuously pointed how the current Vice Chancellor, on diktats of the RSS, is dismantling the core structure of the University. Their press release on 3rd Jan read:
"The VC is repeatedly tampering with the autonomy and quality of the University in deciding course curriculum through his insistence on imposing courses dictated by the partisan views of the government of the day. For example, while JNU has no specialisation or departments related to areas like AYUSH, the VC forced the decision that the 'AYUSH fellowship holders will be allowed to take admissions' and also that the 'AYUSH degrees can be considered for equivalence by centres', without offering any academic rationale as to which centres and faculty will admit such students! In a situation where the already existing academic infrastructure is crumbling down, where no new hostel has been constructed for students, the sudden moves to introduce such spurious proposals is nothing but a toast to the loyalty of the JNU administration to the political agenda of the RSS-dictated government, at the cost of academic rigour and the inclusive infrastructure of JNU."  Read more here.