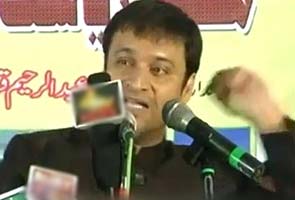 Guest post by IRSHADUL HAQUE
Translated from Hindi by Shuddhabrata Sengupta
Akbaruddin Owaisi, you are an enemy of Muslims. You are the kind of
adversary who lurks like a snake in the grass, ready to strike at the
person who cares for that patch. Your desire to provoke a
confrontation between India's 25 crore Muslims and 100 crore Hindus
reminds us of Muhammad Ali Jinnah. This is why Javed Akhtar has gone
to the extent of calling you 'the greatest enemy of Muslims'. I know
that I am not alone when I find myself agreeing with this view. Many
other Indian Muslims will be in agreement with me.
Your behaviour and your actions are reminiscent of the second phase of
Jinnah's political career. Do not forget that Jinnah played his part
in diviging this country to fulfill his political ambition. Of course
he was amply helped in this task by Hindu Fundamentalists like
Savarkar. But today's India is not the India of 1947. You might have a
voice amongst a section of Muslims in Hyderabad, but the Muslims of
India are not your inherited property.
You belong to the party All India Majlis Ittehadul Muslimeen (AIMIM)
that your grandfather Abdul Vahid Owaisi founded, and which your
family has been running like a private limited company for the last
fifty-sixty years. The Owaisi family is exactly like the Thackeray
family of Maharashtra.  After your grandfather's death, your father
Salahuddin Owaisi took charge of the family firm, and tried to expand
it. Your father occasionally roared, often talked about Muslims and
what is happening to them, and occasionally spoke against Hindus, but
you have crossed all boundaries.
People like you occasionally come out of your lair, roar, and then
hide once again in its darkness. You do not have the capacity to
engage with anything outside Hyderabad. Raj Thackeray, like you, can
spout venom in Shivaji Park about North Indian and Bihari Hindus and
Muslims, but does not have the guts to step outside Mumbai. Ordinary
people in this country now understand well that people like you and
the Thackerays are complicit with each other. One lets out his bile
against North Indian and Bihari Hindus and Muslims and the other
against a hundred crore Hindus.
Listen, Akbaruddin Owaisi. Try and understand this land. Your family
may have been feudal lords for generations but you need to get out of
the mentality of treating Muslims as your fief. You, and your elder
brother Asaduddin Owaisi are carrying the burden of the politics that
your father gave you in inheritance. Raj and Uddhav Thackeray are like
you, heirs to this fiefdom of hatred. It is possible that a minuscule
section of the 42 percent of the population of Hyderabad (the Muslims
of Hyderabad) benefit from your brand of politics, but the 25 crore
Muslims who live everywhere and anywhere in India have nothing to do
with your desire to 'teach a hundred crore Hindus a lesson'.
The six to seven MLAs of the MIM might carry some weight in the Andhra
Pradesh Legislative Assembly, but your party has  neither any
identity, nor any relevance outside of Andhra Pradesh. This is because
ordinary Hindus and Muslims have no desire to fight with each other
and bear no hatred towards each other. It is people like you and the
Bukhari clan (Imams of the Jama Masjid in Delhi) who try to teach
hatred to the Muslims of India. Your tradition links you to Praveen
Togadia and Ashok Singhal of the VHP and to the Bukharis.
Yes, I do admit that your clan runs four dozen schools, a few
hospitals, a few orphanages and some 'sewing centers' for poor women
in Hyderabad. You are also the managing-director of the Owaisi
Hospital. You arrange for the treatment of the sick. All that is just
as well. But this does not mean that in return for these 'favors' you
have the license to make hate-filled speeches to a gathering of
fifteen-twenty thousand Muslims in Nirmal Town, in Adilabad, adjoining
Hyderabad. It does not mean that you are entitled to have your cronies
give the cry of 'Nara-e-Taqbeer, Allah-o-Akbar' as a means to enact a
form of religious blackmail.
On that day, on the 24th of December, the way in which you wear
roaring in your Shervani, was reminiscent of Jinnah. You are deluded
if you think that if the police can be made to stay away then you can
teach one hundred crore Muslims a lesson. Leave Hindus aside for
themoment, Muslims themselves will teach you a democratic lesson that
you will find impossible to forget. Try and step out of your lair in
Hyderabad, just for once.m
Your public life had its 'moment of awakening' even before the 24th of
December. But even in your private life you have distinguished
yourself by your violence. You have had a history of personal enmity
with a Hyderabadi property dealer like Mohammad Pehelwan. This led to
assaults  with knives and bullets in 2011. If your personal enmity
with another Muslim peaks in confrontations over property that use
bullets and ammunition, then how can you honestly hope  represent the
struggles of poor and deprived Muslims. You issues fatwas of death to
Taslima Nasreen. Prevent her from coming to Hyderabad. All you do is
play with Muslim sentiments.
I would advise you to learn restraint in your statements and speeches.
If you have such a great desire to make your mark as a 'Muslim Leader'
it would be better if you were to pay some attention to the actual
problems of poor and pasmanda Muslim communities, in a manner that
your father and grandfather tried to do, at least to a certain extent.
This text was first published in Hindi in naukarshahi.in
Related articles