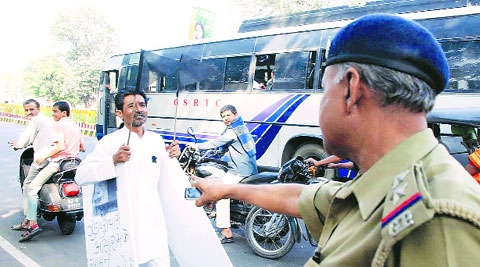 Amrut Prajapati stages a protest against Asaram.
SUMMARY
The showdown between Asaram Bapu and his aide-turned-opponent Amrut Prajapati, who was murdered in Rajkot
A pile of bricks stands outside Hrishi Bhavan on Pedar Road, Rajkot, marking the block out of which naturopathy centre Oum Shanti Arogyadham used to function. One  wall still intact bears the mark of a bullet. It had been fired at Ayurveda doctor Amrut Prajapati on Friday, May 23. Prajapati, who died on June 10, was a former aide of Asaram Bapu and had allegedly been threatened and attacked several times since breaking ties with the guru, now jailed for alleged rape.
Prajapati was reportedly introduced to Arogyadham a year ago by Dr Jaysukh Makwana, an Ayurveda dentist then attached with the centre, and who had come in contact with him at a meeting of Ayurveda practitioners in Ahmedabad around three years ago.
That Friday, Prajapati was making the second of his twice-a-month visits. He initially used to visit every Friday, "but a month ago he said he was too busy with other work and therefore would visit only twice a month", says Thakar Patel, trustee of Samaj Seva Kendra that had started Arogyadham around five years ago. Patel says he had just walked out of the main gate when he heard gunshots that day.
Saroj Prajapati who alleges her husband was attacked many times before he was killed. (FILE)He says Prajapati had no more appointments that day and would have left Rajkot in the afternoon. Prajapati was unprotected, with his guard, constable Narsinh Patel, having gone for lunch.
In the morning, Arogyadham had got a call came from someone speaking in Hindi and who the police believe was the shooter. Identifying himself as "Raju Patel from Rajkot", he had sought an appointment with Prajapati for himself and his wife. "He did not bring his wife along. Prajapati examined him. The assailant left the premises thereafter. But when Prajapati finished checking patients and emerged from his chamber, the assailant accosted him at the acrylic door, shot him and sped away on a motorbike with another man," a police officer said.
The trust began razing the block around a week after the firing, while Prajapati was still battling for life at an Ahmedabad hospital. "We had signed an agreement with a bank two months ago to rent the block out. So, we are making adjustments to the block and shifting Arogyadham to another part of the building," says Patel.
Police say this does not amount to destruction of evidence. "The panchanama of the scene has been made and forensic experts have measured the site. We have collected relevant material like a firearm and a few cartridges and the entire block has been photographed. If somebody changes the physical contours of the block now, it is not relevant to the case and does not constitute destruction of evidence,"  says Rajkot city police commissioner Mohan Jha.
The falling out
Prajapati had worked in Asaram's Motera ashram for 15 years before they fell out in 2005. Since then, he had been one of the prime witnesses in a rape case against Asaram, testified against him in a number of cases, and allegedly been attacked several times.
Among the cases in which Prajapati testified, one in which he was prime witness involves the rape of a Surat-based woman whose younger sister, simultaneously, has accused Asaram's son Narayan Sai of rape during 2002-05. Asaram is in Jodhpur jail, and Sai in Lajpore jail in Surat. Prajapati also testified against Asaram in a case relating to the death of two boys at his gurukul in 2008.
Prajapati's wife Saroj describes how her husband fell out with Asaram. "Asaram was suffering from malaria and critical and Vaidji (Prajapati) promised to treat him. This was the only time he got access into his special chamber in the ashram," she tells The Indian Express over phone.
"During these days, he saw him with three or four women. My husband was disgusted and told him he wanted to go and demanded his salary for the 15 years, when he worked for free. He was shown the door and the attacks began," Saroj adds.
"Today, Asaram is alive because of my husband and my husband is dead because of him."
Prajapati used to run a small Ayurveda clinic from a shop below his apartment on Odhav Ring Road in Ahmedabad. Saroj was his assistant. The couple had no children.
Saroj alleges that men from the ashram used to go to the clinic posing as patients and threaten him. She alleges that six of Prajapati's clinics were vandalised between 2005 to 2007, and that he was kidnapped in 2005, beaten up and released. In 2008, after Prajapati testified in the case relating to the boys' death, he was again beaten up, Saroj says.
At least three other witnesses in the Narayan Sai rape case have survived attacks. On February 28 this year, the husband of the alleged victim was attacked on his way to work in Surat. On March 10, Rakesh Patel, a former disciple now helping police, was stabbed while coming home from work. The third witness attacked was Dinesh Balchandani, who was riding his bike when two persons threw acid on his face.
After the murder
The Rajkot city crime branch is working on a statement reportedly given to Surat police by Balchandani's alleged attacker Kishor Bodke that a conspiracy had been hatched to kill six persons, including Prajapati, who had spoken out against Asaram and Sai. Bodke has reportedly told police that two men, Manoj alias Mony alias Surya and Ankit, had watched Prajapati's movements in Vadodara and Rajkot in March.
In his dying declaration, Prajapati had named six Asaram sadhaks. Five of them have filed for anticipatory bail in a Rajkot court.
Surat police have arrested five followers of Asaram and Sai for attacks on witnesses. "We have given security to seven witnesses," Surat police commissioner Rakesh Asthaana said.
Read more here – http://indianexpress.com/article/india/crime/asaram-is-alive-because-of-my-husband-my-husband-is-dead-because-of-him/99/