Police have been treating Puja Sakat's death as a suicide and have booked nine persons, on the complaint of her family, on charges of abetting her suicide.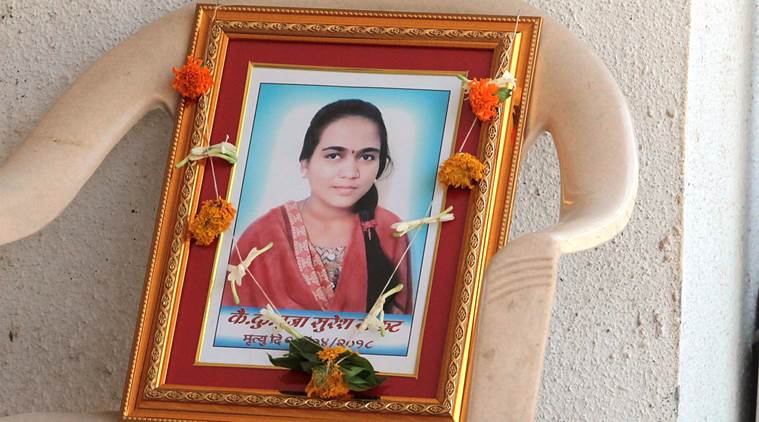 Puja Sakat. (Express photo by Sandip Daundkar)Members of a self-declared "fact-finding committee" formed by the Bhima KoregaonShauryadin Prerna Abhiyan —the body which had organised the Elgaar Parishad in Pune on December 31 — on Saturday alleged that Puja Sakat, a 19-year-old Dalit girl who was found dead earlier this month, was murdered.
At a press conference on Saturday, the committee shared its "report", along with photographs of Puja's body during post-mortem, purportedly showing marks of blood near her mouth.
Professor M N Kamble, a member of the committee as well as the Bharip Bahujan Mahasangh, said, "If the girl had died because of drowning in the well, then how could she have been bleeding from her mouth… There were injury marks on her face and hands. We suspect it to be a case of murder."
Police have been treating Sakat's death as a suicide and have booked nine persons, on the complaint of her family, on charges of abetting her suicide.
The committee, however, alleged that Sakat was "killed by Hindutva activists" and linked her death to the violence in Koregaon Bhima on January 1. The committee accused police of lodging a case of suicide instead of murder to "protect Sambhaji Bhide and Milind Ekbote."
Hindutva leaders Ekbote and Bhide have been booked on charges of orchestrating the violence in Koregaon Bhima, in which one person was killed and hundreds of others injured. Ekbote was arrested in March and released on bail later. Police have said they don't have sufficient evidence to arrest Bhide.
The committee demanded the arrest of Bhide.
Puja had gone missing from Wada Gaothan area of Koregaon Bhima on April 21 and the next day, her father had found her body inside a nearby well.
Ajay Taware, superintendent of Sassoon Hospital, where Puja's post-mortem was conducted, said, "Bleeding from the mouth is not uncommon in drowning cases. No injury marks were found on the body. The cause of death is drowning. The post-mortem process has been recorded on video."
Sakat's father, Suresh Sakat, had also expressed fears that his daughter had been murdered, but had blamed his former neighbours, with whom he had an ongoing 'land dispute', for her death. Their former neighbours, 60-year-old Vilas Vedpathak and his son Ganesh – among the nine booked by police for abetting suicide – have been arrested.
"They feared that my daughter would speak against them in court. So I suspect my daughter was kidnapped and killed. However, police have registered a case of suicide," Puja's father Suresh Nanasaheb Sakat had said.
The "fact-finding" committee included Sudhir Dhawale, Harshali Potdar and advocate Surendra Gadling, who are among the eight persons with alleged Maoist links whose residences were searched by the Pune City Police on April 17, in connection to a case filed over the organisation of Elgaar Parishad. The complainant in the case had alleged that the conference had led to the violence on January 1, when lakhs of people had gathered in the area to mark the 200th anniversary of the Battle of Bhima Koregaon.
Indian Express