Elaben (1933-2022) was the voice of the invisible women of India's informal economy
Elaben, as she was called, founded SEWA, one of the biggest women's cooperatives and national trade unions registered in 1972 that was born out of a textile trade union.
Written by Leena Misra
Ahmedabad | Updated: November 2, 2022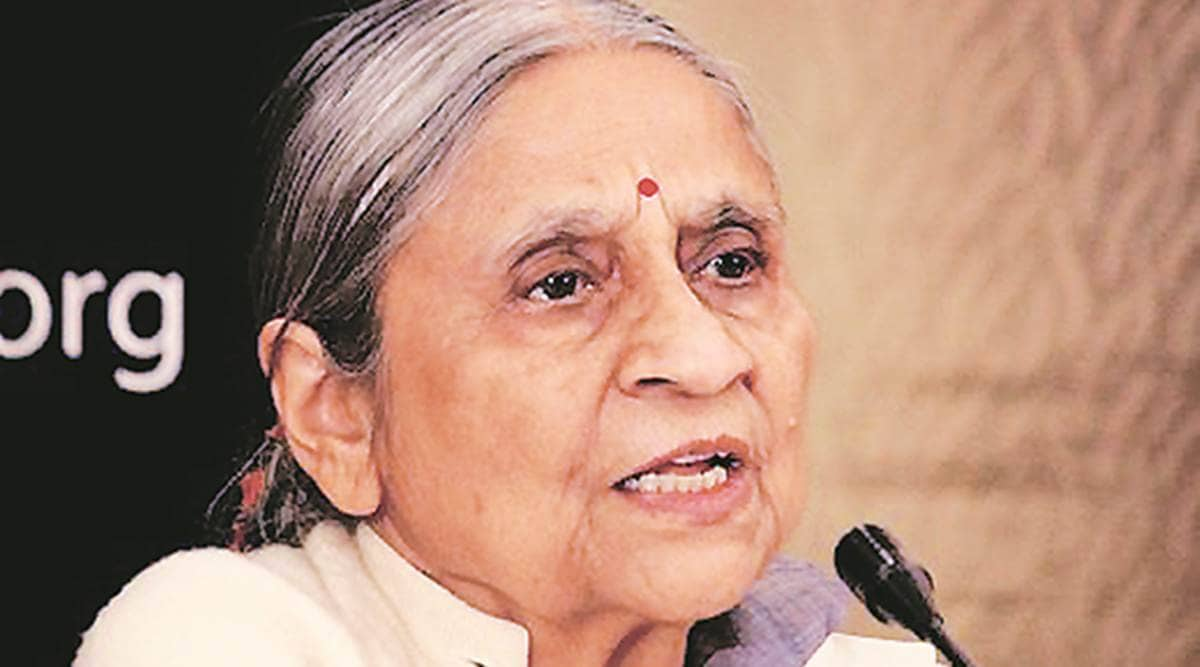 Elaben, as she was called, founded SEWA, one of the biggest women's cooperatives and national trade unions registered in 1972 which was born out of a textile trade union. (File photo)
IT WAS in the December of 2009, at a fashion show at the Kanoria Centre for Arts in Ahmedabad to showcase the ethnic embroidery work of Gujarat, where, amidst the young men and women walking the ramp, came the showstopper — Ela Bhatt, then 76, wearing a white sari with a tassled pallu.
The sari was designed by Hansiba, the clothing line named after SEWA's oldest artisan,
for the show, where over 3,000 women artisans from Kutch and Patan had designed garments in collaboration with French and British designers
That was Elaben, as she was fondly known, who broke several glass ceilings and inspired many across the globe to break them. Bhatt, the founder of SEWA (Self-Employed Women's Association), died in Ahmedabad on Wednesday, after a brief illness. The funeral will be held on Thursday morning
The jhoola at the entrance of her home, where she sat every morning, was moved to one side to make way for the stream of mourners on Wednesday. Women heading various arms of SEWA, which now has over two million members, paid tribute to their founder and mentor.
The room where she lived, and worked, has frames of the signatures of Mahatma Gandhi in 11 languages, a portrait of Anasuya Sarabhai, who, along with Gandhi, founded the Textile Labour Association (TLA), Rabindranath Tagore, several photographs of her late husband Ramesh, and her grandchildren.
This is the house that Bhatt and her husband, a professor of economics at Ahmedabad's H K Arts College, designed and built in 1959, and called 'Toy House'.
Born in Ahmedabad on September 7, 1933, Bhatt, a lawyer, first joined the legal department of TLA, and later founded SEWA in 1972, born out of the women's wing of TLA.
It was the fight for decent wages for migrant women, who worked in Ahmedabad's cloth market as handcart pullers and head loaders, that led Bhatt and then TLA president Arvind Buch to set up SEWA. As mills closed, leading to unemployment, SEWA, which had founded a bank in 1974 to give small loans to women, charted newer territory.
Its official website says that SEWA Bank established a microfinance movement and, in 1996, the International Labour Organisation (ILO) recognised home-based workers as workers. The 2014 Street Vendors Act passed by the Centre is also seen as the outcome of the "long and tenacious struggle" by SEWA, it says.
Starting from the women's wing in TLA, where the wives and daughters of textile mill workers were taught spinning, sewing, knitting, embroidery and other welfare activities, SEWA empowered the women to become self-reliant and take on jobs that were considered to be the domain of men.
Apart from its units in 18 Indian states, self-employed women in South Asia, South Africa and Latin America have also set up SEWA units. Former US first lady Hillary Clinton and UK first lady Cherie Blair were among those who visited SEWA. Besides skilling rural women, SEWA also runs a café Kamala, named after Kamala Chaudhary, IIM-A's first faculty member.
"A sea change comes over the women once they see money building in their bank accounts. They feel more self-confident knowing they have a cushion to fall back on. When financial tensions ease, the women say that their husband's attitude softens — the men are more willing to consider women as partners instead of an economic burden," wrote Bhatt in her book, 'We are Poor but So Many'.
"What she has done for the most disempowered of women is unparalleled. India can never forget her and her organisational abilities for the upliftment of the unseen and the unheard," said danseuse and activist Mallika Sarabhai, who was among the visitors at Bhatt's house.
Bhatt, chairperson of the Sabarmati Ashram Memorial and Preservation Trust, also co-founded the Women's World Banking, a global network of microfinance organisations, of which she was chairperson from 1984 to 1988.
She was also nominated to Rajya Sabha, was a member of the Planning Commission, and was advisor to organisations like the World Bank. In 2007, she joined the Elders, a group of world leaders founded by Nelson Mandela to promote human rights and peace.
Bhatt also served as Chancellor of Gujarat Vidyapith, a university founded by Mahatma Gandhi in Ahmedabad, till October this year, before resigning on health grounds
She was a recipient of the Padma Bhushan, Ramon Magsaysay Award and Indira Gandhi International Prize for Peace among many other awards.
"Ramesh opened my eyes to the world. It was 1949, and I was a shy and studious university student… he was a fearless, handsome student leader and active member of the Youth Congress," she wrote in the book, 'Women, Work and Peace'. She got to know him when he asked her to accompany him to slums to collect primary data for the census in 1951. "I joined regardless (of my parents' possible disapproval) and my life transformed," she wrote.r.html
When she was 60, she began taking music classes and would do riyaz for hours, said her family members. Bhatt is survived by her son Mihir, daughter Amimayi Potter, and four grandchildren.
Her daughter-in-law, Reema Nanavaty, recalled the time Bhatt was in hospital recently, recuperating from a difficult surgery. "As soon as she felt better, she called me to discuss her vision," said Nanavaty, who is SEWA director. Bhatt was looking forward to resuming her work on issues like clean air and groundwater levels, her family said.
Rupaben, Bhatt's younger sister, said: "What a life… She would be up till 3 am, reading, writing… She would say, 'that's when I get inspiration'… Our sibling rivalry never ended, I never forgave her for being brighter."