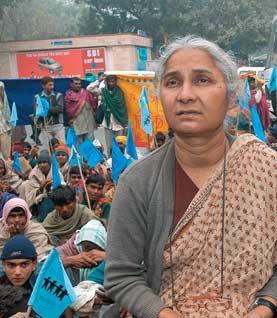 Medha Continues her Indefinite Fast in Jail
Suniti S R and Prasad Bagwe Start Indefinite Fast in Yeravada Jail, Pune Against Illegal Detention. Refuse to Apply for Bail.
Around 250 Solidarity workers protested outside Madhya Pradesh Bhavan, Delhi. Support pours in from across country. Protests planned in Andhra Pradesh, Rajasthan, Punjab, Madhya Pradesh and Elsewhere
Anna Hazare (IAC), Rajindar Sachar (PUCL), Swami Agnivesh, Manju Mohan (Socialist Janata Party), Bhupendra Rawat(DSG), Vinod Singh(Kisan Manch), Piyush (AISA) stand in solidarity with Dr. Sunilam, Medha Patkar, Advocate Aradhana Bhargava & others
New Delhi, November 6 : Medha Patkar's and others bail application could not be filed since District Collector kept misleading the advocates and others. Initially they booked them under Section 151 (s noted in jail diary), the bail plea for which was not even admitted in the court by City Judicial Magistrate yesterday citing pressure from administration. Today, realising the mistake and trying to cover for his junior's action they added charges under Section 188, which requires bail from judiciary. Challenging this, Anurag Modi of Jan Sangharsh Morcha has moved a habeaus corpus in Jabalpur Bench of the High Court, which will be heard tomorrow. Meanwhile, in Chaurai Tehsil Court, bail plea for Advocate Aradhana Bhargava was rejected, even though the charges of her arrest are not serious, Section 151. NAPM condemns this draconian act of the Chindwada administration and will challenge it in the Court and ensure that action is taken against the SP and DC responsible for continued arrest.
Medha Patkar continued her fast in jail on third day of her detention. In the afternoon, her blood pressure was reported high, though there is no immediate danger to her health but given her recent back injuries it will have adverse impact on her overall health. She also received a notice from the Jail Superintendent that she will be force bed and action against her will taken if she continues her indefinite fast, which is a crime under prisons act. She has refused and vehemently protested any action and challenged to take them to Court for all illegality.
Chief Minister, Shivraj Singh Chauhan meanwhile postponed his visit to the district citing official reasons but we believe it is due to increasing pressure and the shame it has brought to MP government from all over the country.
Delhi Solidarity Group along with other organizations organised a protest demonstration at Madhya Pradesh Bhawan today demanding the Madhya Pradesh Government to release Dr. Sunilam, Suryavanshi Parmandal and Prahlad Agarwal who have been sentenced for life on charges of murder, arson and others.
The protest was attended by 250 activists, students, organizations & solidarity workers belonging to the "Delhi Solidarity Group". The demonstration was also attended by Anna Hazare, Arvind Gaur & few others from the Anna Team who expressed their solidarity & support to Dr. Sunilam & the farmers of Madhya Pradesh. Anna Hazare said "The Government should withdraw the false cases on Dr. Sunilam & others and listen to the voices of the farmers. If these demands are not fulfilled I will sit with the people of Chindwara in their struggle." Anna along with Bhupendra Singh Rawat from Delhi Solidarity Group & Arvind Gaur met with the Resident Commissioner of Madhya Pradesh Bhawan & submitted the memorandum.
Delhi Solidarity Group condemned vindictive move by the Madhya Pradesh Government and its siding with corrupt political forces and using its administrative machinery to facilitate pecuniary benefits to private corporations. Activists demanded that Madhya Pradesh Government :
immediately release Dr. Sunilam, Medha Patkar & others and withdraw cases, against them and others of Kisan Sangharshn Samiti.
action against police officers who are behind the Farmers' massacre in Multai on January 12th 1998
stop ongoing forced land acquisitions in Chhindwara district for the Pench Water Diversion Project.
NAPM also stands behind its colleagues, 90 people, who are in Yeravada Jail, Pune for no fault. They had a demonstration and a very good meeting with the District Commissioner, Pune yesterday but even then they were arrested and sent to jail on Section 151 for two days. Activists refuse to seek bail or sign bonds for their release. We will challenge their illegal detention in Court and continue to fight for the rights of the Waang Marathwadi Dam, Tata Dam and Lavasa Hill city affected people.
Sandeep Pandey, Ulka Mahajan, Prafulla Samantara, Akhil Gogoi, Arundhati Dhuru, Maj. Gen. Sudhir Vombatkere, Sister Celia, Gabriele Dietrich, Roma, Geetha Ramakrishnan, Bhupinder Singh Rawat, Vimal Bhai, Rajendra Ravi, Ramakrishna Raju, Saraswati Kavula, Gautam Bandopahdyay, Shrikanth, Madhuresh Kumar
for details call : 9818905316
A habeaus corpus writ petition has been filed at jablpur High Court by Anurag Modi, Jan Sangharsh Morcha through advocate Raghvendra Kumar, the petition is listed to be heard tomorrow. The brief not of the petition is below, the copy of the petition and notice issued under section 144 of CrPC issued by Chhindwara colletor is attched.
That in order to deny a constitutional right of peaceful protest against illegal activity of the contractor of   Pench Diversion Project by   Adani Group of Companies, on 04-11-2012, the authorities of District Chhindwara first of all kept Ms. Medha Patkar, leader of Narmada Bachao Andolan (NBA) and National Alliance of People's Movement (NAPM), illegally detained in the house of Advocate Anuradha Bhargav at Chhindwara and in the late night   on the same day along with 19 other villagers illegally lodged her at Chhindwara jail.
That Ms. Medha Patkar arrived in Chhindwara town on 4th November 2012 early morning by Indore Chhindwara Penchveli Express.   At Chhindwara Railway Station she was informed by certain authorities that section 144 of Cr.P.C. has been enforced in Chhindwara district and entry of any person other than local resident has been prohibited in Chhindwara, Chourai and Amarwada Tahsil of the district, though no such written notice of expressing the reasons and intention was served on her. She was not allowed to proceed for her scheduled participation in ongoing agitation near Machagora village.
That on 04-11-2012 itself in the morning, she went to the house of Advocate Aradhana Bhargav to pay condolence as her mother had recently expired. She was house arrested for the entire day at Advocate Aradhana Bhargav's Residence at Chhindwara and despite her written submission and humble request to the District Magistrate, Chhindwara for permission to proceed for her scheduled program of participating in peaceful demonstration at Machagora village with minimum number of people as permitted, she was not allowed to leave the house. Around 10.30 P. M. in the night when she was having meeting with a few dam affected people inside the house where she was house arrested, she was   forcefully picked up from inside the house by the police and along with her colleague Mukesh, she was lodged at Chhindwara jail.
That she was not informed of reasons and charges when she was being arrested nor was she produced before any magistrate, judicial or executive, at the time of arrest or after the arrest. She along with other persons was not sent under any judicial order. That other 19 farmers were also arrested and first taken at different locations and later on were lodged at Chhindwara jail. None of her family members or colleagues of the organization were informed of her detention, subsequent arrest and her being sent to Chhindwara jail.
That she was not provided with nor was allowed to consult any lawyer. That on the basis of hearsay and the newspaper reports one Local Advocate Mr. D. K. Prajapati got to know that Ms. Medha Patkar and 19 other persons were arrested under Sections 151, 107 and 116 of Cr. P. C. He approached the court of Sub Divisional Magistrate (City Magistrate) for seeking bail for Ms. Medha Patkar and 19 others but the magistrate refused to take any cognizance of the application for bail and take it on record and left his office and seat in a jiffy
Related articles