October 07, 2014 14:32 IST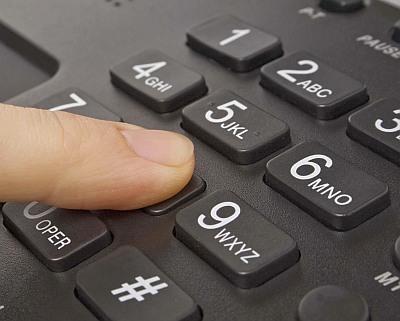 A brainchild of Vishva Hindu Parishad leader Pravin Togadia, many find its agenda divisive, say Dhruv Munjal and Hrishikesh Joshi 
In February, Bharat Pala, an ornament maker from Rajkot in Gujarat, found himself in a spot of bother. Out of the blue, he had received a call from somebody in Indore, Madhya Pradesh, who claimed to be a jewellry designer and offered to place a large order with him.
In spite of the nagging suspicion, Pala reached Indore with a sample of his work. It was worth Rs 2.5 lakh.
The man offered to place an order of Rs 5 lakh with him and said they should close the deal over lunch.
But, once the hearty meal got over, the man decamped with Pala's sample. The Rajkot resident approached the cops, but claims they were uninterested.
Finally, Pala remembered a helpline his friends from the Rashtriya Swayamsevak Sangh shakha he attended had told him about: the Hindu Help Line Centre run by the Vishva Hindu Parishad, or VHP.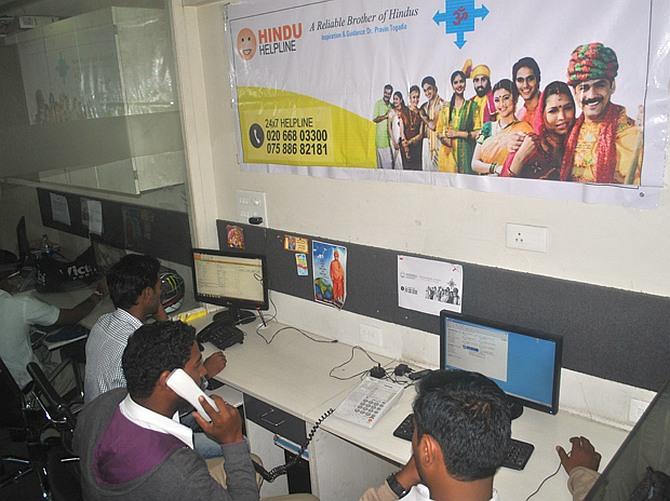 He dialled the number, not knowing what to expect.
In no time, a VHP functionary turned up to help him.
A police complaint was filed, and the alleged culprit was nabbed in the next few hours. As the man had already sold the stolen samples, he was forced to issue a cheque to Pala.
"Initially, the police did not pay much heed to my complaint. But, once VHP intervened, everything was done quickly," says Pala.
The helpline is the brainchild of doctor-turned-activist Pravin Togadia, VHP's international working president.
An unabashed votary of Hindu nationhood and one-time friend of Prime Minister Narendra Modi, Togadia has been charged with making inflammatory speeches and fanning communal fires many times in the past.
In April, a police complaint was registered against Togadia in Bhavnagar in Gujarat after an alleged hate speech made by him instructed Hindus to evict Muslims from their neighbourhoods.
A deeply polarising figure, Togadia is revered by VHP and Bajrang Dal cadres.
The helpline, he insists, is not to push his Hindutva agenda.
"We realised that that there were many organisations helping people in a community, but for basic emergencies people were left to fend for themselves."
The call centre, stationed in Pune, is manned by a group of volunteers. These volunteers are put through some basic training in communication skills and feedback management.
Ranjeet Natu, a chartered accountant, is the national president of the helpline.
He leads all operations, including recruitment and daily operations. One of the volunteers is Akshay Khandalkar.
He came on board after the helpline proved useful during a family vacation last year. Khandalkar had planned a holiday to Kerala. Due to a delayed payment, the travel agent refused to cooperate before their departure from Pune.
Khandalkar immediately called the helpline.
Not only was the family assisted in reaching Kerala, but was also provided with a tour guide for the next six days free of cost.
"The centre helped us in our hour of need. It is a project aimed at serving the nation. After benefiting from the service, I decided to become a part of it. I take great pride in what I do," says Khandalkar.
As you enter their 15×15 square feet office space in suburban Pune, a giant banner with "Hindu Help Line — A Reliable brother of Hindus" printed in bold letters catches your eye.
A small picture of Swami Vivekananda can also be seen in the background. Two young men diligently answer calls. The call centre operates in three shifts of eight hours each, with four volunteers on duty for each shift.
Most of them are very young — fresh out of college. They are paid a small salary, and are reimbursed for their telephone and travel expenses by VHP.
As the phone rings, a volunteer answers the call. "Hello, good afternoon, Hindu Helpline."
Chandrakant from Pune is on the line. "I am calling from the railway station. I've lost my bag with important documents in it. Can you help?"
The volunteer messages Chandrakant's number to the VHP team.
The second call is from a remote village on the Maharashtra-Karnataka border where Rajendra, a farmer, faces a different problem.
His truck, carrying fertilisers and seeds, has broken down. He requires immediate help. The handler transfers his call to the helpline's local coordinator.
A mechanic in the area is sent to the spot, and Rajendra's truck is fixed.
The helpline caters to about 80 callers every day and claims to have handled 85,000 calls in the last two years.
Togadia says there is no quid pro quo and the beneficiaries of the helpline need not repay VHP — neither in cash nor in kind.
Some reports have indicated that Love Jihad, the alleged ploy to convert Hindu women to Islam through marriage, forms the core of the helpline's work.
The helpline does receive such complaints, but the number of such calls is minuscule compared to the emergency-related calls it gets.
Moreover, the VHP has a strong base on the ground in parts of Uttar Pradesh to tackle the problem of the so-called Love Jihad.
Still, the religious divisiveness the helpline endorses is hard to overlook. According to sociologist Dipankar Gupta, on the face of it the initiative is definitely divisive.
"Personally, I am not in favour of community-based aid organisations. But, as long as they are helping people from all communities, it is not a bad idea," he says.
The Shiromani Gurudwara Prabandhak Committee has a helpline exclusively for helping Sikhs, while the Young Men's Christian Association operates one solely for Christians.
"Instead of having community-based organisations, we should have forums run by people from the civil society that help people in need," adds Gupta.
The helpline is overtly Hindu; what happens when it gets a call from a member of another community, desperately in need of help?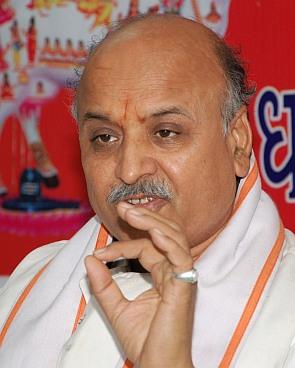 Togadia says that it's their duty to honour calls, no matter where they come from.
"We get calls from all across India. If there is somebody who needs our help, we will do all we can. Religion does not matter then," he says.
"The helpline also gets hate calls," says Togadia, "but the volunteers have been trained to deal with them."
The calls for help needed are diverse, ranging from a flat car tyre in the middle of the night to the peculiar problem of hosting a daughter's birthday party with limited money.
But, most of the grievances are emergencies, and the helpline stakes claim to a staggering 99.4 per cent success rate in solving such problems.
However, the legal aspect of some of the problems the helpline has solved remains suspect.
In the case of Pala, for example, there is no proof that the alleged culprit wasn't threatened by VHP into surrendering and returning Pala's money.
If he indeed was co-erced, wouldn't it amount to extra-judicial activism, somewhat similar to the kangaroo courts run by Naxalites in the country's Red Zone?
Officials from the helpline claim that they took the legal route in solving the matter, first taking a lawyer's opinion and then informing the police.
But there is a clear case of VHP flexing its muscle in this case.
The brass of the city police was summoned within minutes, and the whole matter was resolved hours. Togadia has a different take.
"When we get calls that have a legal angle to them, we transfer them to our local volunteers who verify the facts and approach the police with the information. The helpline does not handle it on its own," he says.
Since the helpline has no financial backing, it relies on donations, and Togadia hopes business houses will make it a part of their corporate social responsibility activities.
Togadia, in spite of all the reservations of its communal colours, wants to grow the helpline.
"We are not only targeting new centres in India but also planning to start operations in other parts of the world. There are people in need of help everywhere," he says.
http://www.rediff.com/news/special/hello-good-afternoon-hindu-helpline/20141007.htm?pos=2&src=NL20141008&trackid=++00iZKtS8tXivQaOh/ETaQINQc4ike9JdoL+z+g9jk=&isnlp=0&isnlsp=0