Union minister hints at radiation leak, scientists and fishermen confirm ecological damage; but no PIL or RTI query has managed to get BARC to release reports on radiation levels around Thane creek.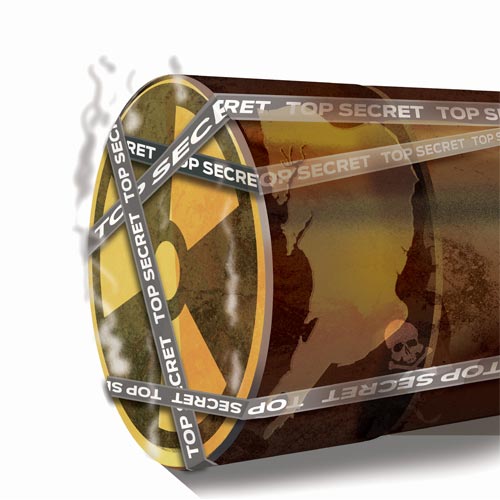 Dilnaz Biag
In the third week of June, while tackling the issue of oil spills along Mumbai's coast, Union Minister for Environment and Forests Jayanti Natarajan told dna that steps had to be taken to curtail the radioactive waste leaking into Thane Creek from the Bhabha Atomic Research Centre (BARC).
"Yes, at times radioactive material escapes and ports have to ensure that radiation doesn't spread to the people and the environment," Natarajan said.
Going by the past trends, the rare admission from the Union Ministry is possibly the closest the public may get to knowing the truth behind the radiation leak.
Citing national security as the reason, BARC for decades has vehemently refused to make public the weekly test reports on radiation levels around nuclear plants where people reside. The plea of environmentalists and scientists demanding independent investigations by third parties and transparency in testing have also been rejected.
The threat 
To most people, even the ones living in Mumbai, looking at "minor leakages" into the Thane Creek as a major threat may seem too far fetched. However, Kiran Koli, the president of Mumbai Machhimar Kruti Samiti, says that it's not just the the fisher folk who are bearing the brunt of the environmental degradation around nuclear plants. "It's not just Thane Creek that is affected, it's also the sea near the Tarapur plant.
We have raised our voices for so long but it has fallen on deaf ears. The poisoned fish in the seas will ultimately be consumed by Mumbaikars, so they need to ask the government to be accountable," he said.
Marine biologist Sashi Menon feels that previous studies by the BARC that traced Caesium 137 and Polonium 210 contamination are inadequate.
BARC's Environmental Assessment Division's research revealed that Caesium 137, a radioactive isotope that has been found in soil, water and vegetation on the Trombay coast and Polonium 210 that is one of the rarest elements and has been found in the Thane Creek. Caesium 137 can cause long-lasting damage to humans.
Exposure to it for prolonged periods through contaminated food or air may cause acute radiation sickness that includes symptoms like nausea, fatigue and hair-loss. Polonium 210 is also extremely lethal even in very small doses. Also,  its common knowledge that anaemia, bone cancer, leukaemia, miscarriages due to foetal radiation, still birth, spontaneous fractures and genetic disorders are also some of the manifestations of exposure to radiation.
Government bodies in relation to various nuclear sites have debated with protestors citing the permissible levels of radioactivity. However, experts say that there exists no permissible level of radioactive exposure. "There is no safe level of radiation exposure. It's poison, no amounts can be safe. Establishments like BARC should be away from the population.
An independent examination of the bed soil, soil on shore, sea plants, water, fish and air must be carried out and the results must be made public," said Retired Navy Captain and a nuclear expert Dr BK Subbarao. Explaining the dangers associated with radiation and exposure, he added, "Fish travel afar, water also travels in the ocean and the creek, we don't even know how far radioactivity has already spread."
Tamil Nadu-based nuclear expert Dr V Pugazendhi, who is renowned for his studies on the health impact of radiation around the Kalpakkam nuclear site, said that the rate of cancer, infertility and anaemia in a particular area should be compared to the national average in order to gauge the damage. "Abroad, if someone living next to a nuclear plant falls sick they are compensated. There is no need for the victims to prove the correlation or cause."

Need for third party assessment 
The BARC has so far denied allegations of radiation leak. On being contacted, the head of Public Awareness Division of the Department of Atomic Energy (DAE) SK Malhotra told dna, "We have no reports on radiation leak but I will have it checked."
Experts on the issue say that a thermal mapping of the area needs to be done by an independent body  to assess the nature of radioactive contamination.
"So far, there has been no study that addresses these issues in totality. Most importantly, the results should be in public domain. We don't want to see figures, we want to see images as they cannot be manipulated," Menon said.
Stressing the need to study the hazard in detail, scientist Pradeep Indulkar (see story below), says that even a single micro gram of Polonium is dangerous for humans. "Any dose is highly toxic and its effects on the environment will last for centuries."
Where PILs and RTIs don't work
Dr Subbarao said that BARC, in response to a PIL filed in the Bombay High Court by an NGO in 2005, filed affidavit confirming the presence of radioactivity in the Thane Creek from Dhurva reactor. But they so far have refused to release the any test reports citing it to be a threat to national security.
Even RTI applications filed by activists have borne little fruit. "After so many complaints, we got access to a few paragraphs of the Chaturvedi report on Jaitapur. People have a right to know how these projects will affect them. Why should it be a national secret?" asked activist Grish Raut.
Related articles