His Partner, Vasantha Kumari  wants him shifted to Hyderabad jail, says his life is in danger in Nagpur
Saibaba was sentenced to life imprisonment for alleged ties to Maoists. He is 90% disabled and his internal organs are failing. But he is not getting any medical attention.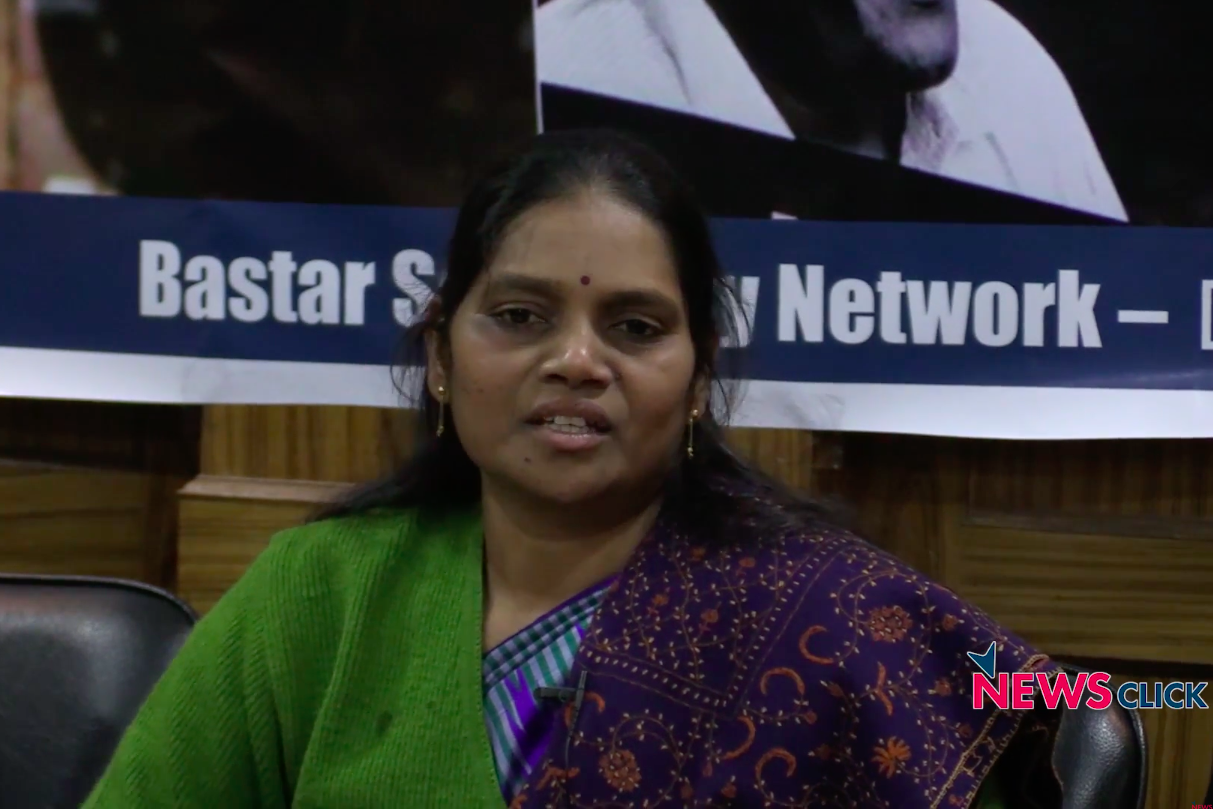 Professor GN Saibaba, who was given a life imprisonment for alleged ties to Maoists, continues to suffer in solitary confinement in prison despite absence of any credible evidence against him. Saibaba's partner , Vasantha Kumari, addressed a press conference on Wednesday, held by the Delhi Chapter of Bastar Solidarity Network. She spoke about her recent meeting with Saibaba in prison, his deteriorating health condition, and how the state is denying him basic human rights which are granted to prisoners.
Saibaba is 90% disabled and his internal organs are failing. But he is not getting any medical attention. In his last letter to Vasantha, the DU professor wrote, "I am on a month's lease of life. Justice or death, which will win?" Vasantha says the state wants Saibaba to die in prison to serve as an example to those who raise their voices for human rights and against state-sponsored oppression.
Vasantha demanded that Saibaba be shifted to a jail in Hyderabad, where his family lives, so he can be treated at good government hospitals. "He goes for many days without any medicine, and three to four times, he lost unconsciousness and bled from the ears and nose," Kumari said in New Delhi. "There is no attention being paid to his health, the doctors don't visit."
Vasantha said, "I met Saibaba on 21st December. But in Nagpur Central Jail the jail mulaqaat is such that I can't even see him properly. There are two layers of fiber glass and a layer of steel bars between us, such that I can only see a hazy vision. After lot of coaxing I could just squeeze out 20minutes from the guards. In this circumstances it is difficult to understand how he actually is. If I want not give him blanket or books, I have to make a list and give it to authorities. Similarly, if Saibaba requires something, he needs to give list. The superintendent ticks whatever he likes and only those things reach Sai. Even blankets are not given to him."
"…When I took a sweater for him, they rejected it and asked me to give a white sweater! Among magazines EPW and many others were not allowed. Even from my letters pages go missing by the time they reach Sai. My daughter's letters were not even given to him…"
"…The anda cell doesn't have a proper roof, so sunlight, rain and cold everything affects him directly. With only one arm functioning and with the immediate need for an operation as directed by the doctor, he is in an alarming state of health…"
 "Sai is suffering from 19 medical problems. He is still taking medicines for Pancreatis. He has stones in his gall bladder. He has hypertension and cardiac problems too, and he is not being given life-saving medicines. He is frequently bleeding and also falling unconscious. With the denial of proper medical care, the state clearly wants to finish him off him in jail itself.  Now, either Justice will win or death will win. Saibaba is walking a tightrope."
Vasantha further added, "This punishment is not only for Saibaba, it is for all the others, without an iota of evidence. So the fight is against the entire judgement, not just for Saibaba. Such cases have just become a tool to suppress the voice of dissent."
The state of course claims that the war on adivasis id for "development". But it is a model of development that is built on the displacement, distress, and death of millions of adivasis. It is in fact a model of corporate loot that aims at crushing the struggle of the tribals for their jal-jangal-jameen so as to extract and export trillions of dollars worth of minerals.
Any voice, like that of Saibaba, who have been vocal against this model of death and destruction in fact have been branded as "anti-development", as "Maoists".
Vasantha says, "Where is the development in Gadhchiroli? Just by putting Sai in jail have you done development there? People are dying there. Have you made public hospitals and schools there? Where are your roads? You made roads only for tankers and artillery to move to villages while people still die on the way to school or hospital. The few school building which stand, you have converted them into police posts. People are asking these questions and that is why state is killing everyone and branding them as naxals."
She urged human rights groups to come together to demand the release of Saibaba and other people who have been incarcerated under false charges.
Nandita Narain, Ex DUTA president , FEDCUTA, said "On the one hand Yogi has forgiven 22000 cases on politicians, even convicted ones have been forgiven and given bail. While on the other hand, those who raise issues of the oppressed in a country where inequality is 2nd highest in the world, they are put behind bars."
"Even on Chandrashekar Azad there are no charges because you just don't want Dalit leaders to emerge." She said, "They can't kill him like this, he has not been given a death sentence. Hyderabad jail has a nearby government hospital, so he should immediately be shifted there."
"…In this country people like Sai should be a hero, how many of us can be like him? What will the youth learn from this fiasco? To just be afraid, to mind their own business." She appealed to all to fight for his release."
Anil Chamadia, Senior Journalist, said "Chandrashekhar got bail and then NSA was slapped on him. When govt. has decided to gag someone, they won't let them go. Vasantha's tale shows how barbaric our state is.
"…The state creates a ruckus on how Indian families like those of jadhav's are misbehaved with in jails of Pakistan but what about a wife here who is not being allowed to meet her 90% disabled husband languishing in an anda cell".
Sudha Bharadwaj, Advocate, PUCL: "What is happening to Sai in the Nagpur jail is torture if we go by the Mandela rules recognised by the UN, especially  rules for disabled prisoners. Sentencing and judgement should be debated separately. Given his physical condition,he can't abscond, he cant move freely, then how can bail be denied? People are arrested in Ballarshah, produced in Aheri, and there is no explanation about where they were  for two days. Evidence is taken arbitrarily, without seal and pamphlets on democratic rights and movements are claimed to be incriminating! Even Amnesty has taken a position on Sai."
Gautam Navlakha, PUDR, said, "When you brand an organisation as illegal, no matter what your involvement in it is or is not, state will pounce on you. This goes against 3 constituitonal rights: right to assembly, association, right to profess, all in the name of security. They know they cant torture people like Sai, but they want to make an example. They criminalise the organsiation and all attached. Thereby rules of evidence can be overlooked by state machinery. Police don't even have to look for proof. Suspicion is enough in case of sedition. Jharkhand has even criminalised labour unions to such n extent that people can be jailed and punished. How do you know prove one's membership?  The possession of a pamphlet? But reading or distributing literature is legal, only inciting violence is not. The families of the many adivasis languishing in jail can't even afford a mulaqat in the Nagpur jail as it would cost them a lot to travel till nagpur. The rights and release of Political prisoners have to be fought for in a concerted manner as it amounts to a punishment for entire communities."
Biswajit Mohanty, Faculty, DU, "We need to fight against all undemocratic tendencies. We must converse with new forces unleashed. Even religious freedom is being denied to people, let us form alliances with them. Sai stood with the struggling masses and hence is being prosecuted.."
Sanjay Kak, Documentary Film-maker, said "We must remember that Bastar has faded from our memory, when just 5 years ago Green Hunt was in mainstream discourse, thanks to people like Saibaba. We are up against so much. But we have seen impossible goals through.  Let's keep talking about what Saibaba spoke of."
Nandita and Vasantha spoke about how a delegation met Home Minister in July 2017 wherein they demanded Saibaba's bail on health grounds. Both of them reiterated the demand to immediately shift him to Hyderabad as the Nagpur hospital is not equipped enough to treat Saibaba's ailments and the to and fro repeatedly from jail to hospital is bad for him too. Vasantha also spoke  of the endless adjournments demanded by prosecution to prolong the incarceration of Saibaba for which she had handed over a letter to the Parliament Standing Committee in November 2017.
The case against Saibaba
The  case began in 2013, with a police raid at Saibaba's Delhi University quarters. The police alleged he was "an urban contact" for the Maoists and that he was named by Hem Mishra, then a Jawaharlal Nehru University student who was arrested in Gadchiroli.
He was first arrested in May 2014. In late June 2015, the Bombay High Court granted him bail on medical grounds, and he was released in July 2015. He went back to jail in December 2017 and was released again in April 2016, after the Supreme Court granted him bail.
Saibaba had extensively campaigned against the Salwa Judum militia and the human rights violations that accompanied Operation Green Hunt against Maoists launched under the United Progressive Alliance government.Saibaba used to actively raise the issue of Adivasis and their rights to live in forests. He also advocated against Operation Green Hunt at international platforms.