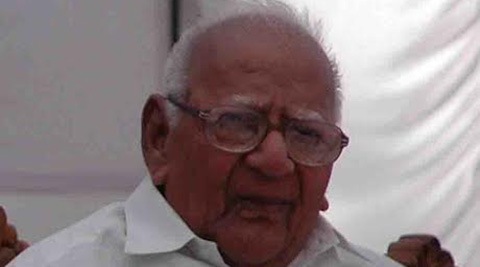 Justice V R Krishna Iyer
Written by 
Utkarsh Anand
 | New Delhi | Posted: December 4, 2014 11:37 pm | Updated: December 5, 2014 8:09 am
Only a day ago, a three-judge bench headed by Justice Anil R Dave was all praise for eminent jurist and former Supreme Court judge V R Krishna Iyer. The bench, while hearing a consumer dispute case, had stumbled upon a judgment authored by Justice Iyer in 1975 on whether the procedure or the ends of justice was more important in law.
This is how Justice Iyer had concluded his views: "The mortality of justice at the hands of law troubles a Judge's conscience and points an angry interrogation at the law reformer. The humanist rule that procedure should be the handmaid, not the mistress, of legal justice compels consideration of vesting a residuary power in judges to act ex debito justitiae where the tragic sequel otherwise would be wholly inequitable…. Justice is the goal of jurisprudence."
Enamoured, the bench, also comprising Justices Vikramjit Sen and P C Ghose, described his words as having no parallel in Indian judicial history, and observed it was one of Justice Iyer's judgments that gave strength to judges to decide a case to meet the ends of justice without getting entangled in procedural requirements.
More often than not, judgments by Justice Iyer would find resonance in the top court of the country, which has always taken pride in the fact that Justice Iyer kept the judiciary's head held high at a time when the country was in a political and legal tumult in the Seventies, including the Emergency era.
After a stint as lawmaker and minister in Kerala, Justice Iyer returned to the bar, and was elevated to the Kerala High Court in 1968 where he began his project of ushering in new dimensions of compassionate humanism to the judiciary. Soon, he arrived in Delhi as a member of the Central Law Commission.
In 1973, with his elevation to the Supreme Court, began one of the most remarkable transformations in the history of the highest judiciary, wherein jurisprudence and judicial processes underwent democratisation, public interest litigation came up as a strong tool for human rights, and the state began to bear expenses for lawyers' services for the needy.
A bench headed by Justice Iyer interpreted Article 21 (right to life and liberty) of the Constitution to direct the state to provide free legal aid to all accused, and humanised the jurisprudence of bail by laying down "bail, not jail, is the rule." His judgment prohibited routine handcuffing of accused, accentuating his lasting contribution to the liberation of undertrial prisoners. He based his verdicts on Article 21, and held: "The spirit of a man is at the root of Article 21 of the Constitution of India, personal liberty makes for the worth of the human person."
This year, a Constitution bench of the Supreme Court ruled that delay in execution of death penalty was a ground to commute the penalty — something Justice Iyer had opined in 1977. He had asserted that the death penalty was not only physically brutal, but also psychologically so, and had referred to the lengthy period between sentencing and execution as "lingering death". While a larger Bench of the Supreme Court had upheld the constitutionality of death sentence, Justice Iyer imposed stern conditionalities, making the death penalty a sentencing rarity.
Often referred to as "Bhisma Pitamaha" by former CJI A S Anand, and as a "genius in jurisprudence" by Justice Chinnappa Reddy, Iyer had, in June 1975, rejected an application by then Prime Minister Indira Gandhi, asking the court to straightaway stay the Allahabad High Court verdict on finding her guilty of corrupt election practices and disqualifying her for six years. Justice Iyer gave Indiraonly partial relief on June 24, 1975, and the Emergency was clamped the next day.
Eminent constitutional lawyer H M Seervai had described this as the moment historians would remember as the one in which the Supreme Court moved towards its finest hour. Seervai said: "In the best traditions of the judiciary, Krishna Iyer J granted a conditional stay of the Order under appeal, although he had been reminded by her eminent counsel, Mr N A Palkhivala, 'that the nation was solidly behind (her) as Prime Minister' and that 'there were momentous consequences, disastrous to the country, if anything less than the total suspension of the Order under appeal were made."
It was Justice Iyer's conviction on bringing about great functional change through judicial reforms and radical jurisprudence that prompted jurist Fali S Nariman to say:
"Some judges are compared to tall oak trees — but it is only the tallest oaks, like a Denning in the UK, or a Krishna Iyer in India — who can indulge even with some success in that delicate and unpredictable exercise: of laying down the law in accordance with justice."
He retired from the Supreme Court in November 1980, only to embark upon a journey of new battles against injustice, corruption, pollution and abuse of power — his sole post-superannuation sojourn. Justice Iyer wrote books, participated in conferences and enlightened people with issues relating to constitutional law, sentencing jurisprudence, labour law, prison justice, environmental law, legal aid and rights of women and children.
His house in Kochi gave access to people aggrieved and pained, looking for a helping hand. Often he described his house, in Mathew Arnold's words: "Home of lost causes, and forsaken beliefs, and unpopular names, and impossible loyalties."
Justice Iyer adorned everything he touched. He will be remembered as a constructive legislator, prolific speaker, forceful crusader, copious writer, and an excellent human being.
– See more at: http://indianexpress.com/article/india/india-others/the-tallest-of-tall-oaks-a-beacon-for-indias-judiciary/99/#sthash.EucbtRYe.dpuf