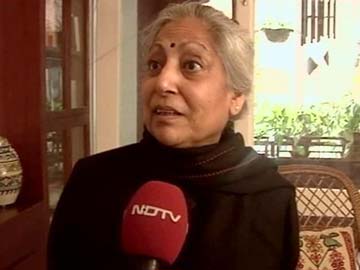 Upset over being heckled at the National Council meeting for wanting to move a resolution over tendering an apology for law Minister Somnath Bharti's vigilantism, former diplomat and Aam Aadmi Party founder-member Madhu Bhaduri has quit the party.
Bhaduri, a former Ambassador to Portugal, said she had given a formal request to the party on January 23 for a resolution and that former Navy Chief Admiral (retd) Ramdas was also aware of it.
"On the day of the meeting, when the session was going on, I again went to Ramdas, who was speaking at that time and told him that I also wanted to speak.
I had hardly started speaking and introduced a resolution when I was heckled," Bhaduri claimed.
She said she is not angry, but "disappointed and disillusioned" with the party.
"I am not concerned with whether Bharti would be removed or not, my only concern is humanity and that women are also human beings… This party does not consider them as human beings," she said.
"There is no space for women. If the other women leaders have any self-respect, they will quit too," she added.
"The party has the mentality of a khap panchayat. There is no space for women,""Women are human too but this party is not treating them like human beings," the former Indian ambassador to Lisbon said.
Bhaduri claimed that AAP is "desperate" to win as many seats as possible in the upcoming Lok Sabha elections.
Asked if she was with the party, Ms. Bhaduri told The Hindu on Sunday that she had nothing to do with a party "that humiliates women." Sources in the party, however, said they had not received any formal communication from her on this. A senior leader spoke to her on Sunday but Ms. Bhaduri said she wanted to distance herself from the AAP.
Ms. Bhaduri, the former Ambassador to Portugal, said she strongly felt that the party should apologise for the inconvenience caused to some African women in Khirki Extension, who were suspected of being involved in flesh trade and drug trafficking, and wanted to move a resolution to this effect in the National Council. She was upset that a party which professes humanism did not back her resolution.
AAP sources said Ms. Bhaduri was a "valued member of the party" and was given full opportunity to raise the issue in the council meeting. But when she tried to move a resolution on behalf of the party, some members sitting in the front row opposed her loudly, upsetting her.
A resolution has to be approved by the National Executive Committee before being moved for ratification by the National Council, the sources said. To this, Ms. Bhaduri said that she had indicated that she wanted to move a resolution and "nobody told me that it should first be taken to the National Executive Committee."
AAP spokesman Ashutosh said Ms. Bhaduri had raised some questions. "But there is a difference in her opinion and the party's. She had been given a chance in the National Council meet. The party addressed her questions."
Chief spokesman Yogendra Yadav said: "She was invited on the dais during the National Council meeting to express her views. She still does not subscribe to the party's view."
Bhaduri alleged that she was heckled at a meeting of the party's National Council here on Friday for introducing a resolution condemning controversial Delhi Law Minister Somnath Bharti's role in a midnight raid in Khirki extension.
The AAP, however, rubbished the allegations.

She is the second prominent AAP leader to have openly expressed her dissent barely within a month of the party forming the government in Delhi after its stunning debut in the Delhi assembly elections.

Vinod Kumar Binny, an MLA from Laxminagar, was expelled by AAP after he described Kejriwal as a 'liar' and a 'dictator'. He has called for a 'dharna' against the AAP government.

Asked about the Bhaduri issue, senior party leader Ashutosh said she was the only member of the National Council who was called on the stage to put forth her views.

"She tried to put her views also. It is not always necessary that an individual's views are in the line with the party.

"She was a founder member of the party. Our sympathies are with her. Moreover, AAP respects women the most and they are an important part of the organisation. I feel she should not have acted in haste," he added.

She claimed that she is not against Delhi Law Minister Somnath Bharti but the way the latter misbehaved with some Ugandan women was against the basic tenets of humanity.

Bhaduri, who was a member of the three important committees of the party — gender justice, foreign policy and national security alleged yesterday that the AAP has now become "aam aadmi prejudice party".

Read mre here — http://www.thehindu.com/news/cities/Delhi/aap-rubbishes-founding-members-charges/article5645601.ece