Miss Peru contestants accuse country of not measuring up on gender violence
Beauty pageant competitors refuse to list vital statistics during live TV broadcast, instead stating figures on violence against women in Peru
It was that moment in the beauty pageant where the contestants come forward, introduce themselves and then announce their bust, waist and hip measurements.
But in the opening segment of Sunday night's televised Miss Peru contest, a whole different set of figures were presented to the audience as each competitor listed a hard-hitting statistic about violence against women in the South American country.
"My name is Camila Canicoba and I represent the department of Lima. My measurements are: 2,202 cases of femicide reported in the last nine years in my country," said the first.
"My name is Karen Cueto and I represent Lima and my measurements are: 82 femicides and 156 attempted femicides so far this year," said the second.
Latin American beauty pageants are criticised as sexist and patriarchal in their portrayal of women. But the 23 Miss Peru contestants agreed with the pageant's organiser, former beauty queen Jessica Newton, to dedicate the event to empowering women in a country with an appalling record for gender violence.
"Greetings from Almendra Marroquín. I represent Cañete, and my measurements are: more than 25% of girls and teenagers are abused in their schools," said another.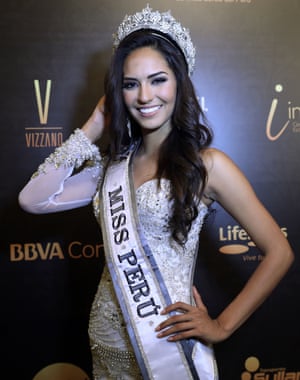 The eventual winner of the competition, Romina Lozano, said her "measurements" were "3,114 female victims of trafficking have been registered since 2014".
In one part of the televised competition, newspaper clippings about femicide killings or showing the faces of battered women were displayed behind the contestants as they spoke. Especially prominent was the bruised face of Lady Guillén, one of the widely publicised cases that sparked a multitudinous Ni Una Menos (Not One Less) march against gender violence in Lima last year.
Public indignation about violence against women peaked before the march in August 2016, when CCTV images of Cindy Arlette Contreras being dragged by the hair through a hotel reception by her naked ex-boyfriend Adriano Pozo were widely circulated on the internet. In March, Contreras was awarded the international women of courage award by Melania Trump, the US first lady.
The Miss Peru competition concluded with each woman being asked what laws they would change to combat violence against women.
"Now, nobody can be indifferent to the level of violence," said Susána Chavez, director of Promsex, a gender rights organisation in Peru.
"These competitions focus on many stereotypes about women and judge them by their physical characteristics, but they impact a broad group of women and men that we [feminist groups] do not reach.
"We've never seen a time when there is more awareness about the problem [of gender violence]."