MUMBAI: Renowned Hindustani classical vocalist
Kishori Amonkar
passed away here today after a brief illness. She was 84.
She passed away at her home in central Mumbai tonight, family sources said.
Born on April 10, 1932 here, Amonkar was recognised as one of the foremost singers in the Hindustani tradition and as an innovative exponent of the Jaipur gharana. A gharana is a community of musicians sharing a distinctive musical style.
Amonkar's mother was the well-known vocalist Mogubai Kurdikar, who trained under Alladiya Khan Saheb, the doyen of the Jaipur gharana.
While learning the finer points and techniques of the Jaipur gharana from her mother, Amonkar also developed her own personal style, which reflects the influence of other gharanas and was generally regarded as an individual variant of the Jaipur tradition.
Amonkar cultivated a deep understanding of her art, largely through extensive study of the ancient texts on music, and her repertoire was grand in its sweep.
She was known primarily for her skillful singing of classical khayal songs set in the traditional ragas of Hindustani music, but also performed the lighter classical thumri repertoire, bhajan, devotional songs and film music. Regardless of musical genre, her performances were marked by vitality and grace.
Throughout her career, however, Amonkar was both criticised and praised for her bending of the Jaipur tradition.
As she prioritised the expression of emotion in her music, she frequently departed from the gharana's conventions of rhythm, ornamentation, and broader musical structure in order to intensify the impact of the music.
Besides being a renowned musician, Amonkar was a popular speaker and traveled throughout India giving lectures, most notably on the theory of rasa (feelings, emotions) in music
The loneliness of Kishori Amonkar
In a rare interview, classical musician Kishori Amonkar speaks about learning from her mother, the difference between a guru and a teacher, and why she has no need for the Bharat Ratna.
As she learnt from her mother and other gurus, Kishori Amonkar began to look for her own style, where she put emotion first. (Source: Express archive)Kishori Amonkar doesn't like interviews. Apart from considering them a waste of time "because they take away important minutes from her daily riyaz and teaching", she doesn't like to talk about her music with strangers. So, when one of the greatest classical vocalists of our times left us stranded outside her hotel suite in Delhi almost two months ago, refusing an interview that was already fixed, it wasn't a surprise. "I am tired now. Tell her to come home if she wants to talk," she said from behind the door, as her student Nandini Bedekar looked at us apologetically.
Home for Amonkar is a small apartment in Mumbai's Prabhadevi. To her surprise, we are at her door a few months later. She wasn't expecting us to make the journey. "I appreciate that you are here. But I need to know how much you know about music before I answer your questions," says Amonkar. She sits on an intricately carved wooden swing. She sways in rhythm, slowly. The only overpowering image in the living room is hers. A black-and-white photograph from almost a decade ago, it covers an entire wall. It is an image of her bent over her swarmandal and in a trance; the lines on her forehead prominent as she concentrates on her notes. Now at the age of 84, there is a filigree of lines around her eyes and some on the face, marks of age and wisdom.
Many leading classical artistes might count live performances as their biggest source of fame, but Amonkar doesn't seem to care for them. She performs the way she wants to and when she wants to. She refuses most performances abroad because she is "uncomfortable in that environment". The number of concerts she does in a year are few and far between. When she does sing, like at a recent concert in Delhi's Nehru Park, organised by Spicmacay, it took her some time to find her bearings in the raga. Many thought that it's because of age that the raga eluded her; there are cracks in her voice and coughs that interrupt her. But the truth is that it's always taken Amonkar some time to get to her raga. At every concert, when Amonkar begins to sing, she falters. She courts failure as she tries various directions in an effort to find the right one. And then, just like that, she leaves the effort behind and reaches the raga's most sublime note.
In Delhi, this October, it was Bageshri, one of her favourite ragas. She delivered her sapat taans with lightning speed, something Bedekar, her senior student, and Tejashree Amonkar, her disciple and granddaughter, couldn't match. "How she reaches the notes is as important as the notes themselves, which is why she goes into a trance and takes us along. Her music blends emotion and technique beautifully," says thumri exponent Girija Devi.
Amonkar represents the gold standard of musical genius in the country. In Amol Palekar and Sandhya Gokhale's documentary, Bhinna Shadja, on Amonkar, tabla maestro Zakir Hussain says, "She has sung ragas that are the most immortal renderings of those ragas. Ever. When you talk of Ustad Amir Khan's Marwa, in the same breath you talk of Kishoritai's Bhoop. There are these landmark performances that take place over hundreds of years and you will talk about them for the rest of your life and rest of the many centuries to come. Her music is like a painting that embodies every detail of someone's life. There is great happiness, great sadness, great anger, frustration, the desperation. It all comes concentrated in a little piece."
Amonkar learnt music from her mother, the legendary vocalist, Mogubai Kurdikar, of Ustad Alladiya Khan's Jaipur Atrauli gharana. Her musical training included honing a voice that travelled three octaves with much flourish, as well as the capability to discover and deliver micro-notes (shrutis) in the tradition of the gharana.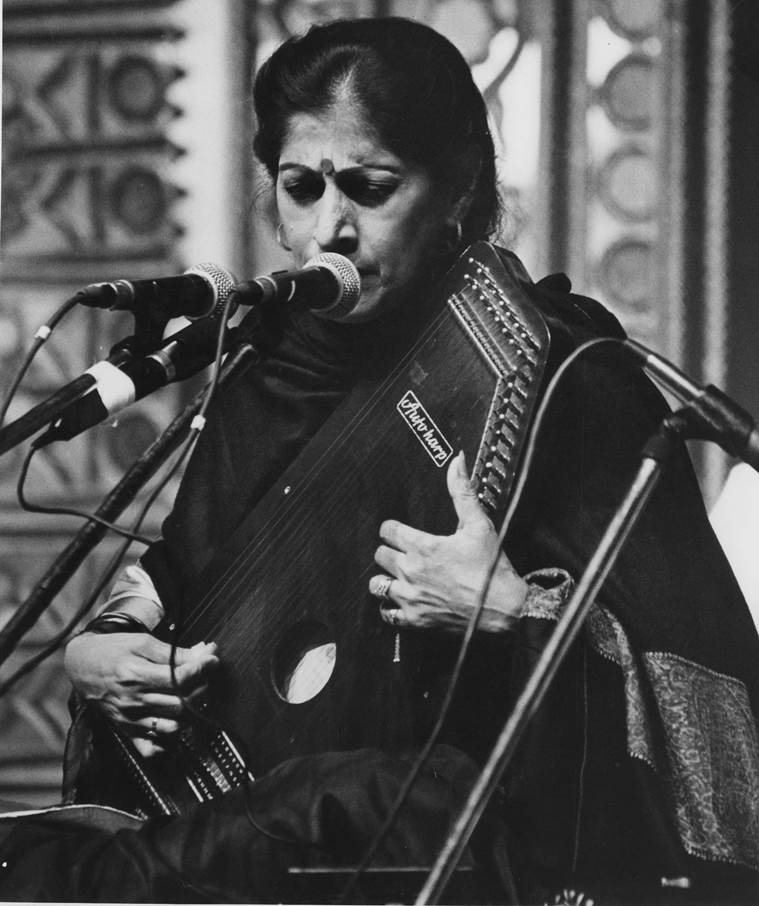 High notes: Kishori Amonkar forbids any lights on her face during the concert. "One cannot go into a trance then". (Express photo by Hemant Chawla)Conversing with Amonkar about her music is similar to the process of listening to her music. She weaves her stories with the fancy of a khayal singer and takes you in many unexpected directions. As prepared as we are, with some knowledge of classical music and a set of questions, she turns the tables. She becomes the interviewer. "Tell me what you know about music," she asks. After grilling us for 30 minutes, she appears to be relatively satisfied. She begins to talk about the secrets of the swaras.
One has to understand that my music starts from a note and not from a raga. It is the medium through which I express myself," says Amonkar. "My question to the guard of my building isn't if he knows a particular raga. It is whether he liked my music. For this, I have to know everything about the medium. How do these notes move? It's only when you understand the medium that you can surpass it. For that, you go to the beginning of the musical expression," says Amonkar.
Kurdikar was a gifted musician, an exacting guru and a doting mother, who lost her husband when Amonkar was only six. She was left with three children to look after, no money and a vast musical knowledge. "My mother wouldn't talk about music. She would sing and I would repeat. I would copy her without asking her anything. Aai was so strict that she would sing the sthayi and antara only twice and not a third time. I had to get every contour of the piece in those two instances. That taught me concentration. The guru needs to be this good. You cannot have a guru who constantly wonders, 'When will my student sit on the stage and do a programme? Will she go abroad?' That person can be a teacher, not a guru," says Amonkar.
She goes on to explain the difference further with the analogy of practice and sadhana. The former is about mugging things up. "Sadhana makes you see one step ahead and move further. You have to walk and run on your own. The guru gives you strength to be able to do that. If you don't, then you remain ordinary. My mother made sure I wasn't ordinary," says Amonkar. Apart from training under her mother, Amonkar learnt music from Anwar Hussain Khan of Agra gharana, Anjanibai Malpekar of Bhendi Bazar gharana, Sharadchandra Arolkar of Gwalior gharana and Goa's stalwart Balkrishnabuwa Parwatkar. Soon, young Kishori's reputation as a stage performer grew.
Kurdikar performed at a time when women singers weren't respected much. Amonkar remembers travelling overnight in third-class train compartments and falling asleep with her head on her mother's shoulder. She would accompany Kurdikar on the tanpura in the concerts. She wells up as she recalls the way organisers would treat her mother, speaking down to her, paying her little, and making her stay in someone's home and not at a proper guesthouse. She was denied the respect a classical musician desires and deserves. "I saw this shoddy treatment of a legend like her. It hurt me deeply. But my mother had three children to bring up, so she continued. I decided that when I become a musician, I would never allow any of this. And I don't. I always stay in a proper hotel suite, I make sure that I am provided with a car, which is available at all times, and that all the payments are made properly," she says.
As she learnt from her mother and other gurus, Amonkar also began to look for her own style, where she put emotion first. She was trying to expand the gharana's protocol of rhythm, adornments and structure to include elements of other gharanas. "There is nothing called a gharana. There is only music. It has been bound in these gharanas and that is like dividing music into specific castes. One should not teach the students the limits of this art. There are none. But one has to understand the grammar. Which is why, one is taught the alankaar, the ragas," says Amonkar.
In the 1960s and 1970s, she began singing to larger audiences. Her performances made their way into private music collections through cassettes and records. But at the age of 25, Amonkar fell silent. She lost her voice. It was inexplicable. Modern medicine or exercises, nothing could treat her. That was until she met a "saint" from Pune, Sardeshmukh Maharaj, who promised to give her back her voice through Ayurveda. It took two years for her to regain her voice.
The solitude this hiatus offered allowed her to contemplate her music in great depth. When she began to sing again, Amonkar found it easier to break the rules and shape a style of her own. This was unheard of in the musical circles. "Right from the beginning, I felt very lonely. First, because I had not known what my mother was teaching me. Through that constant singing and learning, I got a little glimpse into what's known as a note. From a note, I could get a glimpse into the variation of those notes. My mother would ask me about the difference between the 're' (rishabh) of raga Shuddh Kalyan and the 're' of raga Bhoop. The note's the same but the way it's hit in both these ragas is slightly different. So I had to look very deep within to find the answers," she says.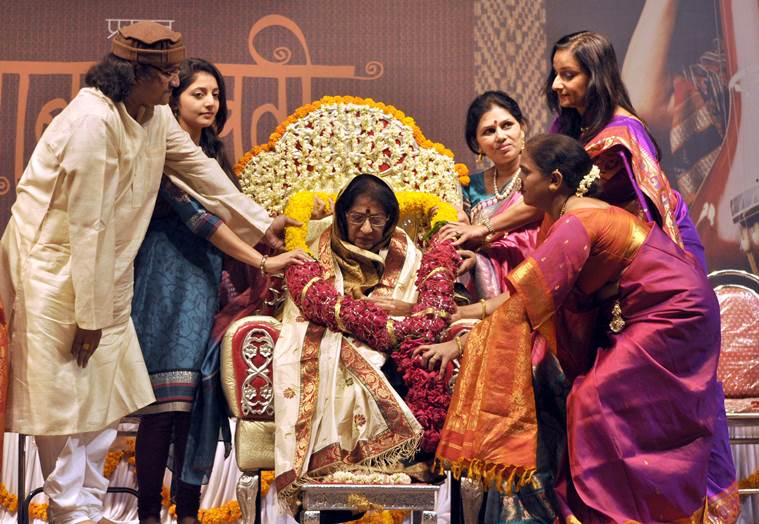 Indian classical singer Kishori Amonkar being felicitated at 'Gaansaraswati Mahotsav' at Ganesh Kala Krida Manch. (Source: Express photo by Shivakumar Swamy)Amonkar discovered that in between the major notes lie the shruti, which could evoke a gamut of emotions. This is when ragas became living entities for her. "When one reaches the raga's most sublime note, after delineating it with much love, the raga should stand in front of you like a person. It should be sung in a way that I see this person and you as an audience see it too. I am a human being but I can experience the abstract through my music. And that's why you still listen to me," she says. Her Meera and Kabir bhajans and the famous Sahela re — a bandish in raga Bhopali — have been known to offer such transcendent experiences.
But in the classical tradition, losing the connection with one's gharana to include other embellishments was blasphemy. "People called me a rebel. I don't think I am one. I am a vehement person and I speak the truth. When you've experienced the sublime, the abstract begins to acquire a form. Then what the critics said did not matter. It still does not matter," says Amonkar. She emphasises that she is her biggest critic. Tapes of her live performances play all the time in her house so that she can find faults and correct them.
Every Kishori Amonkar story is also about her impatience with the audience, her legendary temper. She has often been compared with her mother's contemporary, the iconic Kesarbai Kerkar, an outspoken musician, who was sometimes extremely rude to her audience.
Amonkar has famously refused to sing because she thought the audience was badly behaved. She was once about to perform at the Gulmarg Golf Club in Kashmir, where the audience included then Chief Minister Farooq Abdullah. Someone began passing a platter of pears around. Amonkar refused to sing further. When an industrialist's wife once ordered a paan during her performance, Amonkar screamed, "Am I a kothewali to you?" From editors and politicians to industrialists and famous artistes, many have faced Amonkar's wrath during concerts.
At the Nehru Park concert, the audience sat in a timid silence, not moving in the aisles. The soundcheck wasn't going well. Amonkar wasn't happy with the microphones, the sound, the monitors, the lights. "This is a complete waste of my time," she shrieked. Finally, Rashmi Malik, Chairperson of the Spicmacay Foundation, had to step in.
"People say that I am arrogant and temperamental. I just don't understand why. Have you ever seen me laugh at a concert, talk to my audience? I want to get involved and focus on the abstract. I have to forget my body then. For that I need my audience's help, not their interruptions. People have to understand that music isn't entertainment. It is not to be sung to attract the audience. Which is why I never play to the gallery. The audience cannot disturb the loneliness of an artiste," says Amonkar, who almost always sings in the dark and doesn't allow bright lights on her face. "One can't go into a trance with those lights on your face," she says. She also doesn't allow anyone in the green room before the concert and refuses to recognise or acknowledge senior musicians and critics after it. "I do not allow anyone in the green room because that's where I am matching my raga with my tanpura. I am not confident of the performance until that happens. After the concert, I am in a different zone. I do not have the strength left to be with anyone," says Amonkar.
At the Nehru Park concert, when she finally began, she delivered a series of astonishingly complicated taans. In her 80s, she sings with more effort, coughs a lot, drinks more warm water, gets irritated. "What you get from my music now is what you didn't get ages ago. There is so much more thehraav (stillness). I know my track and I know my destination. Whether I will reach there or not, I don't know, but I will do this till I am alive," says Amonkar.
She has been awarded the Padma Bhushan and the Padma Vibhushan for an exemplary career. She says she does not need the Bharat Ratna. "It's been given to Sachin Tendulkar. If that's the decision the government has taken, it's better that they do not include me in the same category," says Amonkar.
Humility is considered one of the most important virtues in Indian classical music and to its musicians. For Kishori Amonkar, that deference is due to her music only. She does not owe it to her audience, nor to those who host her, and not those who accompany her on stage. The perfection of her khayal is how she transmits her heart's stories. Her sublime Meera and Kabir bhajans are capable of moving one to tenderness. When someone like Amonkar sings and takes us closer to the abstract, she should be allowed that loneliness she craves, even a little arrogance.http://indianexpress.com/article/lifestyle/art-and-culture/the-loneliness-of-kishori-amonkar/