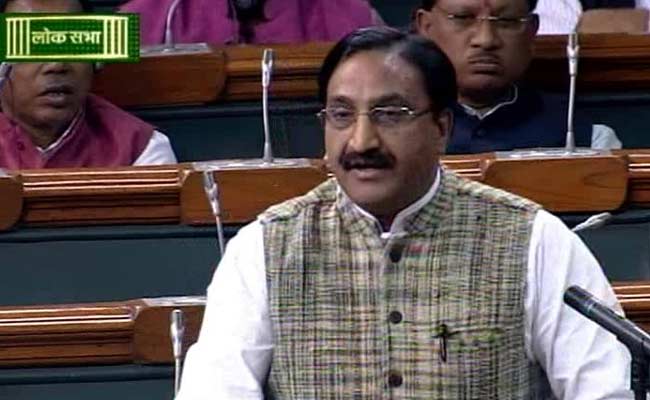 NEW DELHI: 
 During a debate in Parliament on Wednesday, a parliamentarian of the ruling BJP raised a roar of protests as he declared: "Science is a pygmy compared to astrology."
BJP MP Ramesh Pokhriyal, a former Chief Minister of Uttarakhand, was speaking during a debate in the Lok Sabha on a Bill to give more powers to the School of Planning and Architecture, which was passed by a voice vote.
"Today we are talking about nuclear tests. Lakhs of years back, Sage Kanad had conducted a nuclear test. All other sciences have been dwarfed before our ancient astrologers. Astrology is the number one science for the entire world," Mr Pokhriyal shouted over protests against his statement.
Outraged Left, Congress and Trinamool members criticized what they called eroding scientific temper in the country.
Congress MP Gaurav Gogoi said, "It is very important in our current environment that we promote scientific temper in education. We are seeing that this is gradually being eroded. Science is being mixed with religion and mythology. We must accord due respect and understand that there is a separation that exists."
Opposition MPs derided Prime Minister Narendra Modi's recent comment – referenced by Mr Pokhriyal – that Hindu god Ganesha's elephant head was attached by plastic surgery and Karna, a character in the epic Mahabharata, was a product of genetic engineering.
"If we take the Ramayana and Mahabharata seriously and if we really believe that those things existed, it would be playing truant with science," said Trinamool MP Saugata Roy.
Taking a swipe at Education Minister Smriti Irani, he added, "When an HRD minister spends four hours with an astrologer, it sends a wrong signal."
Ms Irani was criticized for visiting an astrologer in Rajasthan last month. She had said then, "What I am doing in my personal life is not the responsibility of media to report until and unless it affects my duties."
http://www.ndtv.com/article/india/in-parliament-bjp-mp-ramesh-pokhriyal-says-science-a-pygmy-compared-to-astrology-629671