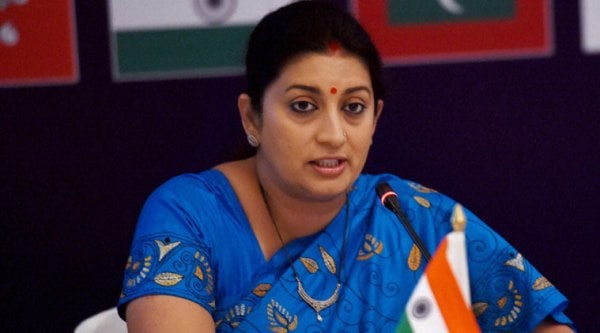 HRD Minister Smriti Irani and her office did not respond to phone calls and SMS texts.
Written by 
Amitav Ranjan
 | New Delhi | Posted: November 7, 2014 3:32 am
Days after he congratulated Smriti Irani on assuming charge as Human Resource Development Minister and sent her a job application with the reminder that he was an "RSS person" at whose Nagpur house she once had a "brief stay", Vishram Jamdar was named chairman of the Visvesvaraya National Institute of Technology (VNIT) Nagpur.
A panel of four names recommended by the HRD ministry for the same post was set aside and Jamdar's name was sent as the only option to the President for nomination. It was approved on September 15.
In a letter to Irani on May 28 — two days after she was sworn in as Union Minister — Jamdar wrote: "During your brief stay at our place in Nagpur & subsequent meeting in BJP office at Delhi, myself and my family members found an exceptional personality in you. We are all sure that under your able leadership the Ministry of HRD will achieve higher goals in respective field of HRD."
"I have enclosed my resume along with this letter & take this opportunity to give some more details, with specific focus on the tenure of a Member, Board of Governors, VNIT Nagpur during 2002 till 2012," he wrote.
In the letter, he referred to his RSS background. "Being recognised as RSS person I could remain there in VNIT Nagpur as BOG member in spite of the fact that Mr Arjun Singhji was HRD Minister during that period. This may probably speak of my work in VNIT Nagpur."
"With this background I earnestly feel to render my services as the Chairman of this college for the development & upgradation of this college. Incidentally the tenure of the present Chairman is also over in the month of May 2014 only. If given an opportunity as a Chairman VNIT Nagpur I shall be working whole heartedly & intimately for the Institute as I take it as my Vidya Mandir," Jamdar informed Irani.
Although appointments to 12 NITs were pending before Irani since June — panels had to be approved for submission to the President — the HRD ministry on August 29 singled out the vacancy in VNIT Nagpur on grounds that the institute was "continuously insisting on early nomination".
The ministry appended four names — Dr Shreeram Inamdar, Professor at University of Delaware; B M Munjal, Chairman of Hero Honda Motors Ltd; M G Parameswaran, Executive Director & CEO of FCB Ulka Advertising Pvt Ltd; and, Arun Jain, Chairman & CEO of Polaris Software Lab Ltd — besides giving Irani the option to "recommend some other suitable names to the Honourable Visitor".
A week later, Irani recommended Jamdar's name. The President approved it on September 15.
Under the NIT Act of 2007, the President, in his capacity as Visitor to NITs, nominates their chairpersons and members. Since 2008, the practice has been for the HRD minister to send a panel of at least two names to the President from a list of four or five drawn up by the ministry.
Prior to the enactment of the NIT Act, the chairpersons were directly selected by the HRD minister in his capacity as Chairman of the Council of NITs.
In July 2010, the ministry decided to approach the scientific community, CSIR, IITs, industrial and commercial institutions as well as industry houses to nominate persons of eminence for the posts of chairpersons of 30 NITs.
"This is with the purpose of utilizing the services of eminent persons and their expertise in channeling the available resources of the NITs in developing a pool of technical repository in the country," the ministry said.
The ministry had received 110 names including those of industrialists, academicians, scientists and retired bureaucrats. But this list was given a miss.
When The Indian Express sought his comments, Jamdar admitted writing to Irani. "I rendered my services since I was a board member right from the day it became VNIT in 2002 to 2012. Also because I got education from this college," he said over phone.
He said he continued to be associated with the RSS but said his interaction with Irani was "not much" before she became minister. "I met her a few times during any BJP meet," he said.
In the proposal to the President, Jamdar is mentioned as president of Laghu Udyog Bharti — it was the beneficiary of an institutional plot on Deendayal Upadhyaya Marg in New Delhi in early 2003 when the NDA was in power.
According to the VNIT website, Jamdar graduated in metallurgy from the college when it was the VRCE. It says "his association with the industry started way back in 1972" and he worked with "more than 40 industries".
He was chairman of the Dharampeth Polytechnic, Nagpur from 2010-2013. He was national president of the Laghu Udyog Bharti for three years and a member of the working group on labour formed by the PMO, the website stated.
Last month, Irani quashed the panel suggested for NITs at Calicut, Rourkela, Surat, Surathkal and Tiruchirapalli to recommend one woman executive from technology firms for appointment as chairpersons "to encourage eminent women professional leaders to envision NITs".
Irani and her office did not respond to phone calls and SMS texts.
#Smriti Irani takes oath as Union Minister on May 26
#Jamdar writes to her on May 28, seeks post of VNIT chief
#Appointments to 12 NITs pending, HRD ministry singled out VNIT vacancy on Aug 29
#Irani dumps 4 names recommended by ministry, forwards only Jamdar name
#Jamdar's appointment as chairman of VNIT, Nagpur cleared on Sept 15
– See more at: http://indianexpress.com/article/india/india-others/calling-himself-rss-person-applicant-praises-irani-weeks-later-is-made-chief-of-nagpur-nit/99/#sthash.dEzccuXo.dpuf