Protests outside Mamata's house over report that claims Bengal is unsafest for women
Edited by Surabhi Malik (With Inputs from IANS) | Updated: June 13, 2013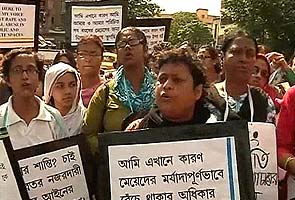 Kolkata: 
Women activists demonstrated outside Chief Minister
Mamata Banerjee
's residence in Kolkata this morning to protest against a spate of rape cases in the state. They wanted to meet Ms Banerjee and submit a memorandum of demands. But an hour into the protests, police dispersed the women activists and arrested 13 of them.
The protesters, led by Maitree which is an umbrella organisation of women activists, also wanted to meet Mamata to seek her response to a report released by the National Bureau of Crime Records which says West Bengal has the maximum number of crimes against women in the country.
Unable to meet Mamata, the activists left an "open letter" for her asking her why she had not spoken about the two recent and brutal rape and murder cases in the state.
The two incidents happened in quick succession and left Kolkata shocked. Last Friday, at Kamdoni village about 25 km from Kolkata, a 20-year-old college girl was brutally raped and murdered by six men. Three days later, a 13-year-old school student met the same fate at Gede in Nadia district.
The National Crime Records Bureau (NCRB) says Bengal recorded the highest number of crimes against women for the second year in a row in 2012. The state government however contested the data, claiming its disclaimers were not published.
According to NCRB, Bengal recorded 30,942 cases of crime against women in 2012 – of which 2,046 were rapes, 4,168 kidnapping, 593 dowry deaths and 19,865 cases of cruelty by husband or relatives.
But state Director General of Police Naparajit Mukherjee said rape cases had come down "considerably" in 2012. He attributed the hike in crimes against women to cases registered under Section 498 A of the Indian Penal Code, related to cruelty towards a woman by her husband or his relatives.
In 2012, West Bengal recorded 2,046 cases of rape – lower only than Madhya Pradesh and Rajasthan. In 2011, the state had recorded 29,133 cases of crime against women, 2,317 of these were rapes.
Related articles