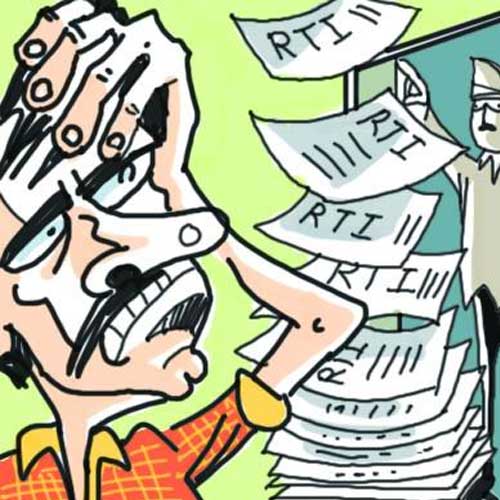 Representational purpose only –
Sudhir
Shetty/DNA
Even as India celebrates the eighth anniversary of the Right to Information (RTI) Act that made common man feel empowered and was instrumental in exposing nearly all big scams in the last few years, pendency of appeals and complaints piling up at the information commissions are making it toothless. According to estimates, across the country, several lakhs of appeals and complaints are pending.
Since October 12, 2005, when the RTI Act came into force, common man in India has embraced it whole heartedly using it for things like getting a ration card to exposing scams such as the 2G spectrum. Numerous attempts to dilute the transparency Act, hailed amongst the biggest achievements of the Congress-led UPA-I government, were defeated time and again by activists and the common man.
But what is easily defeating the RTI Act and the spirit of those using it is the poor functioning of information commissions in the states as well as the Central Information Commission. Issues such as pendency of appeals and complaints at the information commissions are killing people's enthusiasm towards the transparency act leaving them frustrated.
"My appeal at CIC regarding proactive disclosures by the Ministry of Defence and Railways was decided after two-and-a-half years. The Commission had asked the public authorities to comply with the order in eight weeks. But it has been two years since then and no action has been  taken on that decision as yet. I have filed one more RTI application to know what happened to the compliance of that order," CJ Karira, who is involved in running an online community of around four lakh RTI users, told dna.
Recounting experiences of many RTI applicants, Karira said a long wait at the information commissions for appeal is discouraging people in a big way.  "Information Commissions, which themselves are expected to help in ushering in transparency, are the biggest roadblocks as they are not even revealing details about appeals and complaints pending with them. Phones of some information commissions are not working as they have not paid their telephone dues," Karira added.
Pendency of appeals and complaints at the Central Information Commission  itself stands at over 19,000.
"More thanr 50,000 complaints and appeals are still pending with the Maharashtra Information Commission. Madhya Pradesh Information Commission has not settled even a single case in the past one year. It is headless. It even does not have a commissioner. So, basically the information commissions needs to pull up their socks otherwise the act soon will become meaningless," Venkatesh Nayak of the Commonwealth Human Rights Initiative told dna.