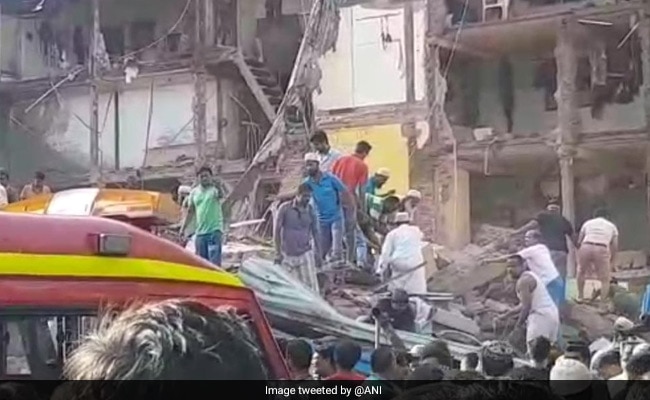 Mumbai Building Collapse Live: 34 Dead, PM Modi Offers Condolences
A five-storey residential building collapsed in Mumbai's Bhendi Bazaar area on 31 August, killing 34 people and injuring at least 47 others. Many are still feared trapped under the rubble.
The incident occurred two days after the city received torrential rains, which is suspected to have damaged the building.
Snapshot
Around 34 people have been killed after a five-storey building collapsed in South Mumbai's JJ Marg on 31 August
Around 40 people were injured and rushed to JJ Hospital, while several others are feared trapped under the rubble
Prime Minister Narendra Modi offered his condolences and called the incident "saddening"
Maha CM Devendra Fadnavis has announced Rs 5 lakh compensation to each victim's kin
Photos: Building collapse in Bhendi Bazaar, Mumbai
Speaking to the Indian Express, MLA Amin Patel said, "A notice to vacate the building was issued to tenants. Fifty per cent had vacated the building while the rest remained," he said. The structure was old and there were frequent complaints of leakages. Patel said six families were residing in it. The injured are being rushed to the nearby JJ hospital.
The Husaini building was located on Maulana Shaukat Ali Road, Pakmodia street opposite Husaini hall, a marriage hall of the Dawoodi Bohra community. A Saifee Burhani Upliftment Trust (SBUT) spokesperson confirmed the building is part of the cluster redevelopment of the entire area near Raudat Tahera. Mumbai building collapse: The top developments
Speaking to the media at the site of the incident, he said a notice to vacate the premises had already been issued and that the building had been categorised as 'risky'.
The building had been marked for redevelopment and the builders had been given permission to demolish the structure in May 2016…Most of the families had vacated and only a few were residing here. Action will be taken in case of any negligence.
Devendra Fadnavis, Maharashtra CM
Maha Govt to Probe Building Collapse
The Maharashtra government will conduct an inquiry into the Bhendi Bazaar building collapse, Minister Subhash Desai announced on 31 August.
Our priority is to pull out at the earliest those trapped under the rubble of the collapsed building. Once the rescue work gets over, the government will conduct a probe to ascertain the factors behind the building collapse. Strict action will be taken against those found guilty.
Subhash Desai, Minister
He said Chief Minister Devendra Fadnavis will chair a meeting to chalk out an action plan to rehabilitate those living in dilapidated buildings.
This particular building was already marked for redevelopment as it was dilapidated. A meeting will soon be held with the Chief Minister and an action plan will be prepared to rehabilitate those residing in such structures so that these incidents do not occur again, Desai said.
Building Came Down Minutes Before Playschool Started
About 50 children had a narrow escape when the building collapsed some 20 minutes before their playschool, located in the five-storey structure, was to start for the day, said a PTI report.
The school functioned on the ground floor of the Hussaini building located at Pakmodia Street in the Bhendi Bazaar area.
The structure collapsed about 20 minutes before the playschool was to start at 9 am, the father of a two-year-old child said.
Mumbai building collapse LIVE Updates
2.20 pm: A total of 29 people have been rescued from under the debris, CFO Prabhat Rahangdale said. Fourteen of them have been injured along with four fire brigade personnel who suffered injuries during the rescue operations
2.10 pm: The Chief Fire Officer has said that rescue operation are in full swing and about 10 to 15 people are still suspected to be trapped. In all 200 fire brigade and NDRF personnel are part of the rescue operation
2.00 pm: Prakash Mehta, state housing minister, after visiting site, said: "Despite the notices being issued by MHADA, residents did not vacate the building due to lack of trust on the SBUT and the government authorities. Now, we feel that the residents of the dilapidated buildings should be vacated and moved to a transit camp by using force to prevent such incidents in future. I will also tell the chief minister about using force for vacating dilapidated buildings."
1.50 pm: The death toll has now increased to 12 – 9 male, three female. Thirteen people are injured in the collapse, 11 of whom are in the hospital while two have been sent home after they were administered medical treatment.
1:20 pm: 23 people have been rescued from underneath the debris so far and sent to hospitals. Three fire brigade personnel were also injured during the operation.
1:15 pm: Srinath Rao is reporting from the ground that a man named Jaffer Rizvi is trapped under the debris and has been in touch with his family through WhatsApp since morning. 100 fire brigade and NDRF personnel are engaged in rescuing him. He has been told to stop using his phone to conserve battery. He is also being told to stay calm.
1 pm: 12229 buildings out of 14375 were built before 1940. Nine out of these are completely dilapidated.
12:50 pm: The total number of cessed buildings is 14,375. Nine out of these were notified by the MHADA as dangerous and unfit to live in.
10 Dead, several Injured After Building Collapses In Bhendi Bazaar, Mumbai
12:45: BIG UPDATE – Death toll rises to 10 (7 men, 3 women). 17 people rescued so far.
12:40 pm: Statement from SBUT (Saifee Burhani Upliftment Trust) below
"We are extremely saddened and concerned at this unfortunate incident and our thoughts and prayers are with the affected families. All the necessary support from the trust and the disaster management teams including MCGM, Mumbai Police, BMC and MHADA is being mobilized towards ensuring the safety of all tenants in the affected area.
The residents of the 117-years-old Husaini building (CS NO. 4329) in Bhendi Bazaar collapsed at 8.30 am today. This ground+6 building housed a total of 13 tenants which included 12 residential and 1 commercial. Out of these, the trust had already shifted 7 families in 2013-14.
MHADA notices dated 28-03-2011 and 20-05-2011 declaring the building dilapidated were issued along with offer of transit accommodation to the remaining tenants and occupants. At present the area has been cordoned off to carry out the evacuation process smoothly. We very sincerely thank the locals and all the government authorities for their prompt and immediate action."
12:35 pm: Notice to vacate building was served in 2011 
According to MHADA officials, the building was given a notice in 28/03/2011 asking to vacate the building as it was in dangerous condition. The MHADA issued a demolition notice for the building on 27/05/2016 to Saifee Burhani Upliftment Trust, which is implementing Bhendi Bazaar redevelopment project. The project is one of the first cluster redevelopment projects to be taken up in the city.
12:30 pm:  Update on the rescue operation
30 to 35 persons might be trapped underneath. Search operations by fire brigade personnel from the east, west and south side in progress using search cameras, hydraulic tools and rescue gears from rescue van. 125 firemen are at the spot. NDRF is working from the south and west sides. There was a sweets manufacturing unit and food preparation shop on ground floor according to the public. One high pressure line is in operation.
Persons from adjacent buildings rescued safely and 2 to 3 adjacent buildings vacated as a safety mesure. A total of 15 persons rescued from debris and sent to the hospital. Three Fire Brigade personnel have been injured.
12:25 pm: The building that collapsed is a cessed building. Now, what are cessed buildings?
There are 19,642 cessed buildings stretching from BMC's Ward A to G ie from Colaba to Mahim.
Cessed buildings are those, which pay a cess to the Mumbai Buildings Repairs and Reconstruction Board for upkeep and maintainance. There are 16,502 buildings which have been constructed prior to September 1940.
Buildings in Mumbai are allowed an FSI of 1.33. It means for a 1000 sq ft plot a builder can construct  1330 sq ft of space.
To tide over the problem of rehabilitating residents of the cessed buildings, the government brought in an amendment to DCR 33 (7) in 1999 to provide incentive FSI to builders for carrying out redevelopment work on cessed buildings.
12:20 pm: Our reporters on the ground are telling us that the building was 50 per cent empty after several residents vacated it. Shopkeepers around are saying that only six families remained in the building and had plans to move out.
12:10 pm: BMC commissioner Ajoy Mehta has reached the site of the collapse.
See photos of the rescue operations at the site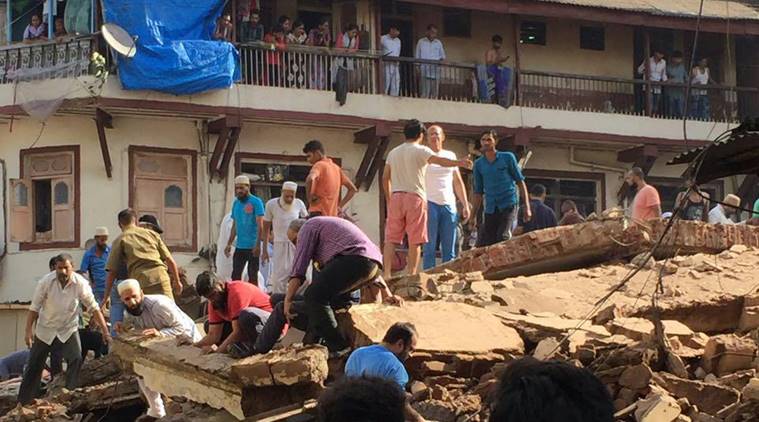 Mumbai building collapse: Three bodies have been recovered from the collapse site.