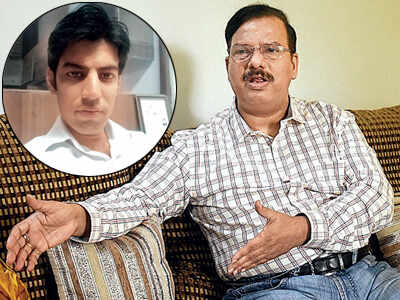 Vipul Saxena claims the group is not affiliated to any political party but will target 'anti-national media'.
Two ultra-nationalists, an ex-pilot and aviation engineer from Mumbai and a Supreme Court lawyer from Delhi, have formed a group to monitor the media for "biased and fake news stories", triggering concern among journalists of harassment and intimidation.
The group – India Against Biased Media (IABM) – has already filed 25 cases of sedition against Swara Bhasker in different police stations across the country, an equal number of complaints against an anti-establishment YouTuber with 700,000 subscribers, and lodged cases against multiple journalists for their tweets in the wake of an attack on Jawaharlal Nehru University student leader Umar Khalid.
As the group's initial actions prove, it makes no distinction between an actress airing personal views, a YouTuber fact checking government claims, and journalists tweeting news breaks. They are all "media" for it. Journalists and lawyers say the fact that its favourite tool seems to be a spray of cases against any individual the group deems to be "anti-national or anti-government" indicates that its members will focus only on browbeating media into submission.
Talking to Mumbai Mirror on Wednesday, Mumbai-based co-founder of IABM Vipul Saxena denied any political affiliation. "IABM is not affiliated to any political party and was formed as a platform after year-long deliberations between me and others. We discussed about forming a platform, and thought this will get some momentum a month later. But, within a week, we have received overwhelming support from more than 700 people. We have also been getting messages of support from abroad and even offers of monetary support," he said.
Asked who will determine what is "biased news" or "fake news", Saxena said he and his associates spread all over the country will do the job. "We are not against the media. We just want to have a fair and truthful version of news and events to be circulated so that foreign powers and anti-India forces do not misuse it to create social and religious disharmony. It is the responsibility of the Press Council of India, and there are provisions in the Press Council of India Act, but they have never issued any show-cause or summon to any media house or person for fake, biased, manipulated news. So we decided to shake up the system," he said.
The group filed cases against Swara Bhasker after she tweeted a picture of a man tied to a jeep "as it reminded people of the 'human shield' incident in Kashmir involving Major Nitin Leetul Gogoi last year".
YouTuber Dhruv Rathee has multiple police cases against him because he posted a video of Prime Minister Narendra Modi speaking about a tea vendor using gas from an adjacent gutter to make tea and called Modi a liar.
IABM has filed cases against multiple journalists for tweeting "irresponsibly" after Umar Khalid was allegedly shot at in New Delhi. Delhi-based Advocate Vibhor Anand, who co-founded IABM with Saxena, said: "Within 15 minutes of the incident, journalists and activists were tweeting that Umar Khalid had been attacked. What they should have reported was there was a firing incident near the Constitution Club where Umar Khalid was also present," he said.
Girish Kuber, editor-in-chief of Marathi daily Loksatta, called the setting up of IABM a matter of grave concern and said he wouldn't be surprised if the group has the government's blessings. "They don't seem to understand that criticising the government does not mean a person is anti-national and that the media cannot be cheerleaders for the government," he said.
Kuber said he himself has been a target of such cases. "A case for spreading communal disharmony was lodged against my paper at a Lucknow police station when Loksatta is not even circulated there. This is nothing but a form of harassment and intimidation. The I & B Ministry should clarify if what this group is doing is legal," he said.
Press Council of India head Justice (retd) C K Prasad said the PCI will always safeguard the freedom of the press, and if some group is harassing journalists, action will be taken against them.
High Court lawyer Abhinav Chandrachud said calling an elected representative a liar does not amount to sedition. "The definition of sedition laid down by the Supreme Court time and again is inciting people to take up arms against the government," he said.
Chandrachud agreed that IABM is trying to silence dissent with the threat of harassment. "In our country the process (of dealing with police or visiting a court) itself is punishment. Because even if you succeed in the end, by going through the process of a criminal proceeding or bail or a suit, you have already been punished," he said.
Advocate Chandrachud said the right to free speech includes a right to make a bonafide mistake. "Broadly speaking, let's say somebody makes a statement in the press that is later found to be false or incorrect. That by itself can't be something which is punishable, unless of course the intention was to incite people to pick up arms against the government or to cause defamation or contempt of court," he said.
Chandrachud also said that portraying India in a negative light or critiquing a government can never be an offence or a civil wrong. "People are entitled to their view as has been said in many cases. The answer to a speech that you consider wrong is more speech and not enforced silence," he said.
https://mumbaimirror.indiatimes.com/mumbai/cover-story/citys-ex-pilot-behind-group-aiming-to-bully-media-into-submission/articleshow/65417667.cms