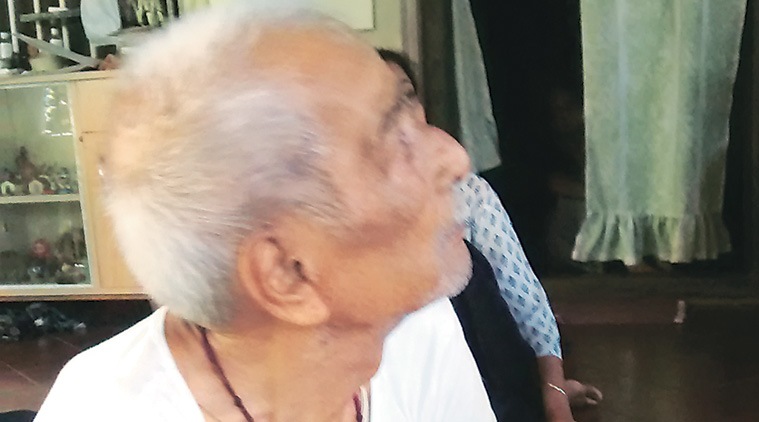 Victim Baliga's 85-year-old father RamachandraA former convenor of the NaMo Brigade, a youth organisation floated in Karnataka to drum up support for Prime Minister Narendra Modi ahead of the 2014 Lok Sabha elections, has emerged as a key suspect in the murder of an RTI activist that took place in Mangalore on March 21.
Police have launched a search to find Naresh Shenoy, 39, one of the founders of the NaMo Brigade who is closely associated with the RSS in Karnataka, after investigations revealed the involvement of three of his associates in the murder of Vinayak Pandurang Baliga, 51, barely 75 metres from his home.
A search was conducted at Shenoy's residence in Mangalore on Thursday as part of the murder probe. Police said he has been missing for over a week and his cell phone is switched off.
Baliga, also a BJP worker, was involved in a battle with authorities at the local Venkataramana Temple, where he prayed every morning, over alleged misappropriation of temple funds to the tune of Rs 9 crore, which he discovered by investigating and filing RTI applications.
He had filed as many as 92 RTI applications over various issues, including land encroachment and illegal buildings in Mangalore. But police believe he was primarily targeted over the row surrounding Venkataramana Temple, which belongs to the Saraswat Goud Brahmin community. Police sources said Shenoy was also associated with the temple and was considered an ally of some authorities Baliga antagonised.
Baliga, a bachelor who lived with his parents and two unmarried sisters in his ancestral home in Kodibial, a temple district in Mangalore, was hacked to death around 5.45 am when he was on his way to Venkatramana Temple.
Barely a week after the murder, Mangalore city police picked up two youths who were allegedly contracted to carry out the murder — Nishith Devadiga, 23, and Vinith Poojary, 26. Investigations since the arrest have confirmed their role in the murder, allegedly contracted through a chain of operators, including close associates employed by Shenoy, police sources said.
Investigations have found that the two persons arrested so far were contracted for a small sum by a person identified as Shivu, who in turn was allegedly contacted by Shenoy's associate Shrikanth. The police on Thursday issued public notices declaring Shivu and Shrikanth as prime suspects in Baliga's murder.
Shrikanth, a former activist of a Hindutva group in Mangalore, was employed by Shenoy to manage operations of a few hostels that he runs in the city, sources said. Investigations have found that another worker employed by Shenoy, identified as Vignesh, was at the scene of the crime with a getaway car, a Qualis, to help the contract killers flee the spot. Police sources said a search is on to find Vignesh and the car.
"There is a chain that has emerged but there are missing persons who need to be arrested to establish the linkages. We were fortuitous in getting the first break but a lot more work is needed," a senior police official said.
Shenoy is a powerful local leader closely associated with RSS leader Sullibele Chakravarthy, the mentor of the Yuva Brigade that Shenoy created in place of the NaMo Brigade after the general elections in May 2014.
Police are still grappling with the exact motive for the murder of Baliga, who had also taken on several local builders and educational institutions.
In case of Venkatramana Temple, he found that out of nearly Rs 25 crore received as donation by the temple between 2007 and 2015 for renovation, nearly Rs 9 crore was allegedly misappropriated. He also discovered that temple property was allegedly usurped by the temple's head, contractors were paid twice for the same job and bills were inflated for small jobs like media coverage of an event, an associate of Baliga said.
"After he found discrepancies in the accounts through various routes, including RTI and his own investigations, he approached the temple trustees and asked them for a clarification, but they refused. He then approached the court," said Ganesh Baliga, 41, a businessman who is a co-petitioner with the victim in the case.
"The documents he obtained clearly showed that at least Rs 8-9 crore of temple funds received from donors could not be accounted for," Ganesh said.
After a case was filed by Baliga against temple authorities, the Karnataka High Court directed a junior magistrate court in Mangalore to take up the matter. During the course of the case, the Venkatramana Temple authorities approached the court and offered to have the case settled through arbitration and agreed for a fresh audit of the accounts of the temple for the period between 2007 and 2015. The fresh audit was set to begin in the first week of April.
Ganesh said Baliga was also trying to make temple transactions and activities more transparent and in tune with laws in the country. "Apart from the funds, there is no inventory of the gold and other ornaments received by the temple. One of his aims was to ensure all donations to the temple were compliant with laws of the country because often donations involve black money," Ganesh said, adding that Baliga's killing is a blow to that goal.
Mangalore police commissioner M Chandrashekhar told the media last week that there was no evidence to suggest Baliga indulged in any extortion through his RTI activities.
Noted rationalist Narendra Nayak and several lawyers in Mangalore are now considering taking up some of the cases fought by Baliga to ensure they are taken to a logical end.
Baliga's 85-year-old father and 80-year-old mother are now in the care of his unmarried sisters, who work to support the family. "I knew him for over 12 years. He enjoyed a good reputation in the city. But he was a little short tempered," said advocate G D Bhat, whom Baliga often consulted.
Baliga's mother Jayanti said, "I have never cursed anyone in my life, but after I lost my son, I curse his murderers. My small family has been left with no caretaker."
See more at: http://indianexpress.com/article/india/india-news-india/namo-brigade-founder-is-key-suspect-in-rti-activists-murder/#sthash.n7NVk0ZH.dpuf